FEATURED POST
The mudslinging has already commenced between Bravo's Atlanta 'Housewives'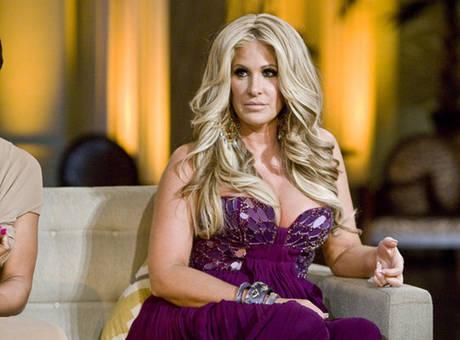 Last time we checked, there was plenty of room inside a can of peaches for more than one sweet, pitted fruit. (OK, this is already going unseemly. ) Unfortunately, "Real Housewives of Atlanta" star Kim Zolciak has grown sour of fellow cast member Marlo Hampton, who she'd rather not see return for Season 5. 
Bing:
More on "The Real Housewives of Atlanta"
 |
Kim Zolciak
 | 
Marlo Hampton
In an interview with
Hollywood Reporter
, the blonde Bravo bombshell (say that 10 times fast with a nectarous clingstone in your mouth) unloaded on Hampton, who got personal with Zolciak about her and her fiance's money problems during last season's reunion special. 
Kim Z. warned that "Marlo better never hold a peach" (i.e. not appear in the opening credits in non-housewife speak) and denounced her comments at the reunion as "just appalling to insult my family." For good measure, she added that Hampton's "language and her demeanor are just disgusting. " Apparently, a lot of things are "just" a lot of things to Zolciak.
Zolciak was, of course, referencing Hampton's on-camera use of gay slurs, a revelation that was only slightly more shocking than Hampton's subsequent denials and bold-faced lies. (See for yourself below.) So, really, Kim's got pretty solid character testimony there.
But in case these two scandalous, over-privileged Southern belles don't reunite when the series returns at a TBD date, here's a small taste of that aforementioned reunion fracas, and what we'd all be missing.