FEATURED POST
'Voice' judge says TLC show signifies the 'decay of Western civilization'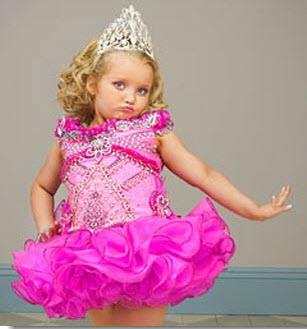 In case you couldn't tell by "Voice" judge Adam Levine's super-edgy tattoos, purposefully distressed T-shirts and regular appearances on
"American Horror Story,"
the
Maroon 5
front man isn't merely a pretty face on primetime TV -- he's a rebel. And rebels say awesomely profane things about a 7-year-old reality star's family in swanky men's publications.
Us
reports that while giving an interview with GQ magazine, Levine referred to TLC's juggernaut, "Here Comes Honey Boo Boo," as signifying the "decay of Western civilization." (And here we thought that arrived with
Christina Aguilera
's recent wardrobe choices.) The Jagger-moving musician and actor also clarified that he feels "Honey Boo Boo" demonstrates "complete f---ing ignorance and the most despicable way to treat your kids. F--- those people ... They're just the worst. Sorry, I'm so sensitive to that. Like, I don't know, man, it's upsetting." 
There's been no response yet from the Thompson/Shannon camp, but if Mama June's vitriol toward
"South Park"
 is any indication, Levine won't get away with his criticism scot-free. Which is probably OK with him, since he's such a fearless provocateur and all. (Sarcasm heavily intended.)
"The Voice" airs Mondays and Tuesdays at 8 p.m. ET/PT on NBC.