FEATURED POST
Promising singers and disturbing ending in pressure-packed start to Hollywood Week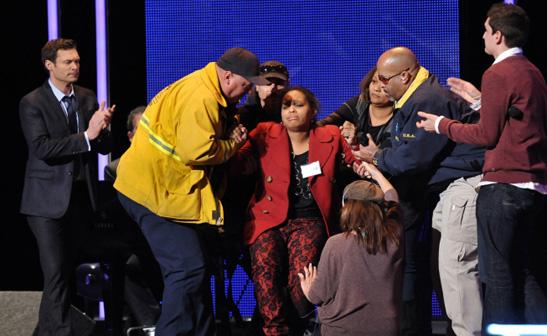 By Carla Patton
"American Idol" Hollywood Week is finally here! The preliminary auditions are over, and now we get a brief glimpse into what the contestants are like under pressure before FOX dresses them up and edits them into neat and tidy packages. The drama, the rapid-fire eliminations, the tears, the heroes … I love Hollywood Week. Have you seen all the people collapsing and falling in the previews for this one? Hell, yes.
Bing: More about 'American Idol' | Photos: See the hopefuls

As a side note, why would Howie Mandel organize a flash mob to reunite a biological father and son? Oh, because flash mobs solve everything. I forgot. Anyway, wheel out the stretchers. Hollywood Week is upon us.

More: 'American Idol' on BuddyTV | Plus: Non-winner 'Idol' successes

They begin at 309. The "REC" with a red dot next to it means they recorded this travel footage themselves! It's so personal I could get sick.

Look at Jennifer's leather-bow blouse! I bet you didn't know they could make blouses out of leather. But they did, and she isn't sweating a drop. The first round is Sudden Death, meaning half of the singers will go home the first day. They sing individually with no feedback.

Up first are that guy Johnny Keyser and my ultimate favorite of all, Heejun Han. I am obsessed with Heejun and will always be Team Heejun. Johnny sings first, and the judges obviously loved it. So much for "no feedback." Heejun sings next and is intimidated by Johnny, who he recognizes as the guy Jennifer fell in love with.

Heejun's mom helped him pack! He is nervous because everyone else is "so tall and pretty." OK, I love Heejun. But he needs to sing something besides that one Michael Bolton song. Jennifer loves him, too, clearly. Will Heejun and Johnny make the cut? Yes, obviously they will. But those people we never even saw will not be so lucky.
Elise Testone is a new face, and she was good! Baylie Brown is also in this group, along with Hallie Day, who killed it. They all made it through, along with some guy with a huge, blond flat top! Why can't we meet that guy? Why can't we see someone I hated getting eliminated? Who will be the first person to fall? Literally.

Jen Hirsh was fidgety, but managed not to fidget up the song. Lauren Gray, the last auditioner in St. Louis, got too into the song and kept singing way after Randy tried to cut her off. Was it cute? Meh. Jen and Lauren made it through, along with some other people we may never meet. (Evidently we can meet them all here. But LOL, who would do that!?)

Some singers we met just to see how bad they were. That one girl who kept asking to sing "just a tiny bit more, please … please?" was out just for ticking off Randy (Maybe? I don't know her fate. Or her name).

Another Steven Tyler pep talk later, Phillip Phillips is ready to perform. He's a little too Casey Abrams for me this season. But isn't he just so lovable? Speaking of Casey Abrams-types, Reed Grimm is in this group. He sang the "Family Matters" theme for his audition, and this time he's singing "I Got a Golden Ticket." He is overwhelmingly jazzy.

Ugh, Travis Orlando. He's too tragic for me to want to see him all the time. He just always looks pathetic and hopeful. And he's gone. Not this year, Travis. Not last year, either. But keep shaming your mom on national TV.

The guy who was born without ears got sent home, and so did Giant Mechanic Wolf. He managed to both go big and go home.

Who is this Adam Brock character? I do not like him. He's got a baby daughter and a 'tude that is unbecoming. He's got a good voice, but he needs to be less of a jag. Jim Carrey's daughter is also in this group. She looks like Miley Cyrus, another daughter of a famous dad.

Adam is in. Jane is out. They both called their featured family members, one of whom needs formula.

I bet J.Lo was happy to see all those girls that Randy and Steven voted in (just based on looks) go home.

David Leathers Jr., "American Idol" novelty, and Shannon Magrane, famous-dad-having-gi​ant, are in the same line. Shannon sang "Fallin,'" a song that needs to be put to rest. And David sang "Because You Loved Me." I like his voice and his cardigan. Randy likes those things, too.

Jessica Phillips, the woman "The Vow" could have been loosely based on, is also in this group, and she brought her adorable boyfriend. Her voice is even smoother than it was in her audition. Have we already discussed how much her boyfriend looks like Twitch from "So You Think You Can Dance"? Anyway, they all make it through, along with the vintage glitter queen and the cheerleader.

Oh, my god. I hope she's OK. But I cannot wait to see that girl fall off the stage.

We had to watch Erika Van Pelt and Creighton Fraker, who is looking more and more like Justin Timberlake by the day, and Aaron Marcellus, who I just love, before we could see anyone fall down. All three of them made it through.

Lauren Mink and Jeremy Rosado sang, but their performances were soon overshadowed by the moment we've all been waiting for: Symone Black falling off the stage.

And then we get a "To Be Continued" after Nigel called out, "Medic, please"?! You've got to be kidding me. Also, I thought she just got carried away in the heat of the moment. But it appears that she actually was just passing out. It was not as funny as I wanted it to be. It was very much like when that girl on an early cycle of "America's Next Top Model" passed out at judge's panel. I can't believe they would end the episode this way.
What did you think of Wednesday night's episode?
"American Idol" airs Wednesdays and Thursdays at 8 p.m. ET/PT on FOX.