FEATURED POST
Emily sends one bachelor home early on in the dramatic season finale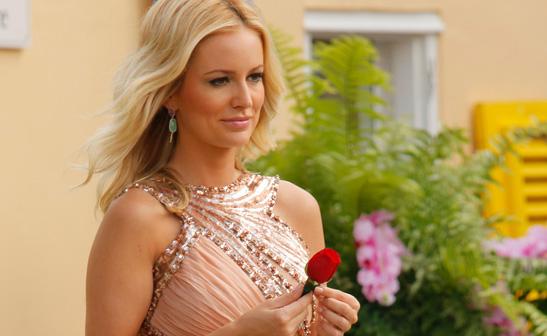 By Diane Vadino
Special to MSN TV
Welcome to the "most anticipated television event of the summer [that isn't the Olympics or about a half-dozen other shows that may or may not include tomorrow's premiere of "Bachelor Pad 2"]!" Chris Harrison introduces us to tonight's emphatically live broadcast of "one of the most surprising and emotional finales ever" -- with "shocking secrets to reveal." Only time will tell if any of that is true. So, here we go. We're still in Curacao (apparently all the money on the finale's travel budget went to Emily's dresses -- isn't it a "Bachelorette" law that we have to end in the South Pacific?), and Emily says she still doesn't know whose inevitable proposal she'll be contemplating later tonight. "I thought coming into today I would know who my guy was -- and I don't," she says. She's looking for more, she says, than "a beautiful, perfect proposal -- and I had that [with Brad], and that's not how it turned out at all." 
Bing: More about Emily Maynard | 'The Bachelorette'
First up on this night, we have Jef, who arrives to meet Emily's family (mom Suzy, dad David, brother Ernie, and sister-in-law-to-be Bethanny) wearing the Gap staff uniform of 1997 (white pocket T-shirt and jeans) and bearing flowers for Suzy and Bethanny. ("Those aren't for me," Emily says. "There'll be lots of them for you -- don't worry," Jef says.) Suzy lists two of the qualities Emily likes in her male companion as "has a sense of humor, waits on her hand and foot," which isn't an entirely nice thing to say, if you think about it. Jef, meanwhile, is giving the family the super-hard sell: "There's not a single ounce of me that would leave her, ever," he says. He is not so much dripping with sincerity as spraying it like fire hoses from every one of his pores. This is just as well for Emily's gun-shy family: "My first reaction is always going to be defensive -- after what happened with Brad and Emily, I saw her heart broken in a way that most people can't understand," says Ernie, who seems like a cross between a mortgage consultant and a drill sergeant. Presumably after admiring the way Suzy's forehead absolutely refuses to move, Jef lays out his case to David, and asks for his permission to marry his daughter: "Well, Jef, if you sincerely mean that [you're seeking my permission], then you certainly have my approval," says David. "Just looking at the smile she's got, it's obvious that she cares for you." 
Also: Why 'The Bachelorette' was so great this season
Emily's family is so wholly pro-Jef that they're ready to pack it in and go to the beach: "I'm not sure why we're even going through the actions of meeting another guy today," Suzy says. Even so, it's surprisingly awkward when Arie shows up and begins to babble about fishing: "I heard when it's overcast, [fish] like to bite. I don't know a lot about fishing," he says. For such a seemingly affable guy, Arie has a tough time bringing any of the Maynards around: "You seem very practiced and smooth," Ernie says, which is not entirely a compliment. It's not much better with Emily's dad, who literally snorts a tiny bit after fielding the same may-I-marry-your-dau​ghter question. "You seem like a very nice fellow," David says, mildly. 
Photos: 'Bachelorette' stars: Where are they now? | This season's contestants
Despite all that, Emily's family isn't letting her off the hook. "The best scenario is my parents saying, 'This is your guy,'" she says. Unfortunately, "it's hard for me to say one or the other," Suzy says. Emily thinks they're holding back: "How much of this is you guys not wanting to say in case I pick the other one?" They swear up and down that that's not the problem. Emily's maintaining that she's in love with two people, but her dad's not buying it: "I don't believe you can love two people: You're in love with one or the other now," he says. "Now I'm even more confused," she says. "The fact that I still don't know makes me wonder if any guy here is for me. I'm not sure if I'm 100 percent ready to get engaged at the end of all of this." 
This, it turns out, is the grand sum of the misdirection in this episode. Emily and Jef meet up for what looks like their most realistic date of the season, which is two people sitting and talking, somewhat defensively, about the future of their relationship. "What are you stressed out about?" Jef asks her. Soon, though, Jef flips it around. What's sort of interesting is the way he made this whole process about ensuring that Emily was right for him as much as he was right for Emily, which Ryan kept saying was his whole mission but failed to express it in a way that wasn't thoroughly annoying. Jef's still hoping to meet little Ricki, and he asks her what she would think if she were considering moving forward with a guy before meeting the most important person in his life. You can pretty much see the penny drop for her. "I would think it was weird," she says, making up her mind. "I think we have such a short time left we should just do it today." On the way to the pool where Ricki's splashing around, Emily warns that a thumb's down from Ricki could spell the end of things for Jef. But of course, it all goes swimmingly, from the moment he offers to high-five her open palm: "I heard you always have to have your goggles on. Safety first," he says. It's pretty adorable. "I just want to hold [Emily's] hand 'til I'm 110," Jef says. 
Would Arie have had a chance if his big date had come first? If he had met Emily's family before Jef? All we know is that the morning after the game-changing date with Jef, Emily's made up her mind: "I woke up and I really had a sense of peace about what I needed to do," she says. "What she needs to do" is Emily-code for kicking off Arie. Emily lays out everything for Chris Harrison: She was in love with Arie, but sometime between then and now, her feelings for Jef caught up to them -- and surpassed them. "I was so scared I'd get to the final day [and not know who my preference is]," she says. "I know that Jef is everything I've been looking for." Who knew the skinny hipster from Utah would be the last guy standing? Chris Harrison sums it up: "You are done. My advice to you today is to be as honest with him as you're being with me." 
The next 10 minutes play out like a reality-TV example of dramatic irony -- the one that's defined as "irony that occurs when the meaning of the situation is understood by the audience but not by the characters in the play." We are the audience. Arie (and herbalist Dina) are the characters. They have decided, on this day of pending heartbreak, to create a love potion from the herbs in Dina's garden. It's all tremendously cringe-y, like an outtake from "The Office." "We're here in Curacao, completely in love with each other," Arie says obliviously. "Tomorrow I am getting engaged." Well, so he thinks. Then Emily shows up, and she's distracted and jumpy and says "Thank you" and "You did a great job" (with the love potions) a dozen times. If this were last season, we'd already be halfway through "This Year's Love." "Do you want to sit down and talk a second?" she says. Then she starts crying, and Arie slowly comes around to the realization that his plans for the following day may need a revision. "I don't know what to do; I don't know what to say," Emily manages. "You know how I felt about you, from our very first dates and even beyond: It was going to be me and you, and I don't know anymore." The problem, of course, is that she does know. "I never thought I was going to have to make a choice between you and anybody," she continues. "I always thought it was going to be me and you." Then she more or less skips over the part about falling in love with Jef. "I want you to know I'm sorry. I don't want you to think it's anything you did or didn't do you really are like everything." Arie is clearly shocked. It's a blindside straight out of "Survivor." "I'm shocked that I completely thought we had something," he says. There are (man) tears. "I have more confidence with Jef," Emily responds. Arie tries to walk out, and she asks him to wait for her. "There's nothing to say," he says. "Good luck. I don't know what you want me to say. Thank you for sparing me the embarrassment tomorrow. I appreciate that." Somewhere, Ben is stomping his foot vigorously. Elsewhere, it's over for Arie. "I feel stupid, I feel naive that I had that dream for us. I feel like I'm a loving person and I deserve that back. I feel like I give way more than I get back." Chris Harrison momentarily brings us back to a stone-faced audience, which has the collective resigned, pained expression of having just watched film of a dead dog being kicked. 
It's done: Perpetual front-runner Arie's gone, and we have Emily in front of some buildings in Curacao. (Really: Was there seriously no money left for an ocean-view perch?) Instead of spectacular scenery, we get quite a cute proposal. "You really are everything that I've looked for so long. You are the perfect person for me," Emily tells Jef, who is wearing a dapper blue suit. "You get me better than anyone else has. I love you so, so much. I knew you were the one for me. You were the only one that got to meet Ricki. Arie's not even here. It's just me and you." "That's the best thing I've ever heard," Jef says. It really is quite adorable. His proposal goes on for forever, but the key line is: "I promise if you let me into your and Ricki's life, you'll never feel lonely ever again." What girl's not going to say yes to that? Jef takes a knee, says the words (you can hear the live audience swoon), and Emily, after a 10-second delay, puts her face in her hands … and says yes.