FEATURED POST
Anna Graceman sails through, Susan Boyle sings and the Kinetic King fades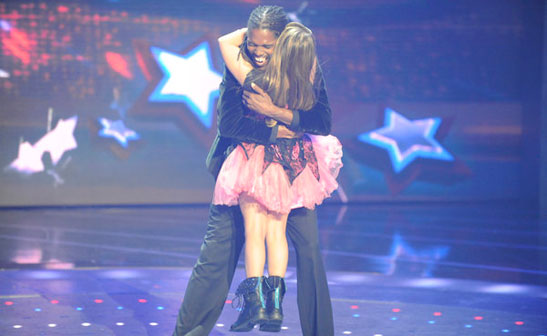 By Carla Patton
"America's Got Talent" offered so much talent this week that the viewers may have trouble deciding which five acts can move on. But somehow, the votes are in. The first group to receive results is made up of Gymkana, Steven Retchless and Silhouettes. This is not a total mystery; it must be Silhouettes. So Silhouettes moves into the finals. The rest of the results could be surprising, though.
Last Night on TV: Watch recaps | Photos: See Season 6's top contenders

Grandma Smage joined Nick Cannon and the acts in the Orville Redenbacher, just in time to make that guy in Gymkana feel even worse for bringing their act to a standstill by catching on fire. Then David Guetta performed with Flo Rida and Nicki Minaj. David Guetta is one freaky dude.

More: 'America's Got Talent' on BuddyTV | Video: Watch full episodes and clips
The next spot might be between Landau Eugene Murphy Jr. and Anna Graceman. But could this possibly be a situation where both of them go through? I like them both. And the act moving on is ... Anna Graceman. Aww, Landau! But Nick has one more trick up his sleeve! Landau is going through, too! Well-played, Nick, I'm glad you've still "got it." They both go through! What a rush.

The fourth spot will go to Professor Splash, Fatally Unique, Summerwind Skippers, or Landon Swank. This is tough competition, but I'm hoping it will be Landon Swank, or maybe Fatally Unique. And I want to see that fifth spot go to Smage Bros., for the record, even though The Kinetic King is still my boyfriend 4 lyfe. Landon Swank is through. Poor Fatally Unique.

Susan Boyle is here again to prove she's still the HBIC. Is this an original single? If so, who wrote this? What genre is this? Video game credits music? So many questions. Whatever, SuBo and her velvet dress got the standing ovation they came for.

Smage Bros. Riding Shows, The Kinetic King, and Snap Boogie are the final three acts. It's got to be between Smage Bros and Kinetic King, right? I think the judges will choose the Smage Bros, don't you? But let's not overlook that the Kinetic King mentioned the possibility of a Kinetic Queen! Me, me, me! Pick me. Nooooooooo! The Kinetic King is out of the running. Long live the King!

Who had less to say, the eldest Smage or Snap Boogie? In my opinion, their speeches were equally redundant. Sharon votes for Snap Boogie (if that is his real name), and Piers makes a big speech before voting for the Smage Bros. Howie declares that he can't do it, but he does, and votes for the Smage Bros.

So, who has the best chance at winning it all? The Top 10 is next week, and it's going to be great.
What did you think of the results?
"America's Got Talent" airs Tuesdays at 8 p.m. and Wednesdays at 9 p.m. ET/PT on NBC.