FEATURED POST
Two-time DWTS champion Cheryl Burke blogs weekly for MSN TV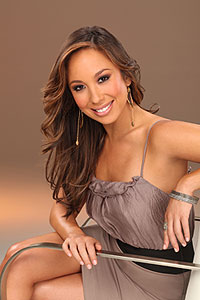 If you watched "Dancing With the Stars" this week, you saw a piece about pre-show rituals and superstitions each of the dancers have. Mine was hand sanitizer under my arms. Well, truth be told that was just a joke!
I actually don't have any superstitions or pre-show rituals. Maybe that makes me more odd than joking about the hand sanitizer!
Anyways, I definitely think that this week there were some surprises.
Jennifer proved that she's a force to be reckoned with.
Kyle continues to entertain and Bristol looked so graceful.
I think that Rick really proved that tall men can dance! Everyone was expecting him to be heavy and awkward with the Jive and he really impressed people. Carrie-Ann even labeled him a contender.
I thought the scores seemed a little uneven though, and it's always sad to see someone go home.
I haven't spoken to Michael about the elimination and the only controversy to me was not that it happened, but that Michael wasn't given any constructive feedback to work on. If you're going to tell someone they are terrible, advise them on how they can improve. Balance it out.
Rick and I are preparing our Samba for story week. Our routine has to tell a story and Rick really needs to be moving those hips. So far, it's a work in progress with those basketball hips of his, but I know that he'll be good to go come show time!
I'm hoping that every week shows that Rick's improving as a dancer.
Oh, and here's a fun pic to share with you of what you didn't see on TV. The ice cream man showed up at rehearsal--that was a highlight!