FEATURED POST
Singer Gavin DeGraw and Karina Smirnoff eliminated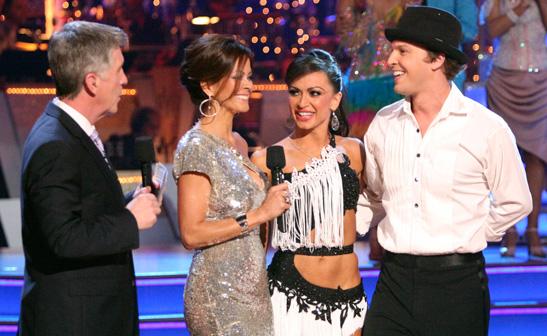 This week marked the first-ever elimination "dance duel." Jaleel and Gavin faced off with the cha-cha. Gavin admitted that he and Karina learned the cha-cha in one night and that Jaleel is a better dancer than him. Well, you have to give the guy points for honesty.
Bing: More about 'Dancing With the Stars' | Photos: See the dancers in action
Jaleel's cha-cha won over the judges unanimously, so Gavin graciously accepted his defeat. He talked about how fun it was for his family to see him on the show and praised Karina's coaching.
Last Night on TV: Watch recaps | Video: Watch clips and more
It wasn't a huge surprise to see Gavin go, but I'll certainly miss his dry wit and various hats.
Here's a quick look at how the remaining stars did this week:
Maria Menounos
Maria's sexy salsa was the judges' choice for this week's encore. Derek was so overcome with gratitude that he took his shirt off mid-routine. Shenanigans aside, this was a lively, difficult routine that Maria executed beautifully. Maria has really become an amazing dancer.
Melissa Gilbert
Melissa's salsa highlighted her great rhythm, but brought her control issues to the fore. It's hard to be too tough on her since she rehearsed for a week in spite of a neck injury. Melissa had been staging a comeback the last few weeks, but unfortunately this dance put a stop to her streak.
Gladys Knight
Gladys can't pull off the same fireworks we're seeing from the leaders of the pack, but her samba had its own special magic. Len called the dance "simple but effective," and Bruno praised her for playing to the audience.
William Levy
William's Argentine tango made for a nice comeback after his disastrous jive last week. His rhythm was very nearly perfect and he and Cheryl got in a couple of jaw-dropping lifts. William was dancing on a stressed ligament this week, so this tango seems downright heroic in retrospect.
Katherine Jenkins
Katherine's Argentine tango showed off her incredible strength and precision. Len compared it to a rose: beautiful on the outside, but with thorns underneath. Katherine was inches from a perfect score this week.
Donald Driver
Donald's sexy Argentine tango showed off his exceptional rhythm and control. Carrie Ann called the routine divine but Bruno took issue with Donald's "supermodel walk." Bet that's not something NFL champions are used to seeing. Donald has really upped his game the past few weeks, and I can't wait to see what he does in the next round.
Roshon Fegan
This hip-hoppy salsa never let up in terms of difficulty, but Roshon held his own. Bruno praised his timing, but Len counseled Roshon that sometimes "less is more." This was another excellent performance from Roshon.
Jaleel White
Jaleel's samba was a great dance: It had rhythm, style and even a little wiggle if you ask Bruno. Jaleel has been a contender all along, but he has yet to take the top spot on the judges' leaderboard. It was heartbreaking to see him drop into the bottom two again, so he'd better put a little extra oomph into next week's routine.
Who won the week: William and Katherine
Who needs to step it up: Melissa
"Dancing With the Stars" airs Mondays at 8 p.m. ET/PT and Tuesdays at 9 p.m. ET/PT on ABC.