FEATURED POST
Maria Menounos takes the lead in the semifinals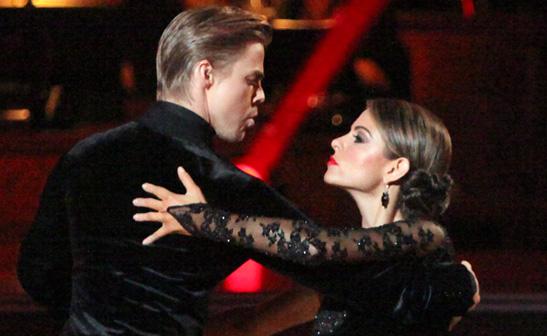 After the first dance, Len predicted that this would be the best semifinals in "DWTS" history. He just might have been right! This round had it all ... spills from Katherine, chills from Donald and thrills from Maria. William? Well, he shook his booty.
Bing: More about 'Dancing With the Stars' | Photos: See the dancers in action
Our four semifinalists finished with just four points between front-runner Maria and Katherine in last place. It's anyone's guess who will be heading to the finals!
Last Night on TV: Watch recaps | Video: Watch clips and more
Here's a quick look at how the stars did this week:
William Levy
William opened the semifinals with a smoking-hot tango. He and Cheryl tore up the floor! William's lines were fantastic and his intensity was second to none. Len proclaimed the dance "overall terrific," though he did comment on occasional flat-footedness from William. Bruno called it ace, and Carrie Ann praised the routine as well, though she commented on a slight lack of control near the beginning with William's turns.
William's Technicolor, booty-shaking samba was fantastic. He and Cheryl were really in sync and William's footwork was very nearly as good as his hip shaking. This number had the whole crowd on its feet! Carrie Ann said the routine had her at hello, and Len praised the choreography and William's rhythm.
Tango: 28/30
Samba: 30/30
Score: 58/60
Katherine Jenkins
Katherine's quickstep was lightning-quick and downright incredible! It had 1920s glamor, but plenty of sizzle as well. Her footwork was incredible, her timing was perfect and she really sold the routine. Bruno was left nearly speechless and Carrie Ann said Katherine brought her "A+ game" before declaring the routine maybe the best she had ever seen on the show. Len pointed out a slight hiccup during the beginning of the routine but called it "a fabulous number."
Katherine's belly-dancing-inspir​ed salsa was all quick spins and shoulder shimmies. She and Mark moved well together right up until the end, when Katherine slipped during a tricky spin at the end and couldn't catch her breath afterwards. Carrie Ann loved the routine and praised Katherine for pushing her boundaries. Bruno was blunter, saying that Katherine "unleashed the harlot" and called the routine wonderful in spite of the slipup at the end. It's not clear yet whether Katherine injured her back.

Quickstep: 29/30
Salsa: 27/30
Score: 56/60
Donald Driver
Donald's lyrical waltz showed us his softer side. He and Peta maintained body contact throughout the routine and his lines were gorgeous. He was so solemn and "in character" during the dance that it was a kick to see him grin at the end. Carrie Ann loved the emotional content of the routine but found Donald's footwork a bit lacking. Len called the routine "absolutely charming" and Bruno commented on how well Donald extended his lines.
Donald's tongue-in-cheek samba was more of his usual shtick – great dancing and plenty of sass thrown in. His hip work was excellent and he did a great job staying in sync with Peta. The best part was how he made it look effortless. Honestly, Donald looked like one of the pros out there. Len praised his lines, and Bruno said the routine worked beautifully. Carrie Ann gave out her second A+ of the week, because apparently paddles aren't expressive enough.
Waltz: 28/30
Samba: 29/30
Score: 57/60
Maria Menounos
Maria's smoldering Argentine tango showed off her incredible precision and control. The choreography never let up and Maria matched Derek step for step. There were some jaw-dropping lifts, but what really sold the routine was Maria's intensity. Bruno called the routine "tailored, enticing and exhilarating" and Carrie Ann commented on how much Maria has improved throughout the course of the competition.
Maria's saucy jive never let up for a second! She and Derek really sold it. This routine was fun, flirty and best of all, not something we've seen a bunch of times. Maria's rhythm was excellent and her body contact with Derek during some of the tight turns in the choreography was stunning. She did stumble slightly during the routine, but no one's perfect. All three judges loved the routine. Bruno praised its quirkiness – he said it shouldn't have worked, but it did.
Argentine tango: 30/30
Jive: 29/30
Score: 59/60
Who won over the judges: Maria
Who won over the crowd: William
Who needs to step it up: Katherine
"Dancing With the Stars" airs Mondays at 8 p.m. ET/PT and Tuesdays at 9 p.m. ET/PT on ABC.