FEATURED POST
Another castaway from the men's team gets the boot this week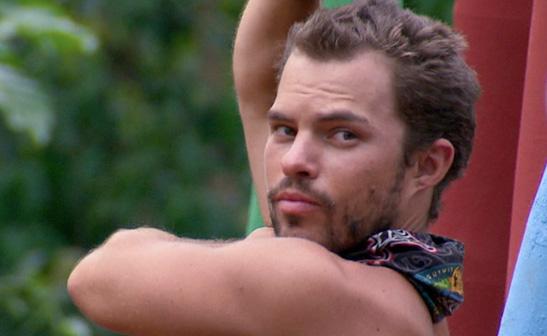 This week on
"Survivor: One World,"
while Troyzan worked to rally the underdogs to overthrow the reign of Kim, Chelsea and Sabrina,
Leif Manson
kept a low-profile. But his strategy couldn't save him -- and he was the latest castaway to get voted off and join the jury. "I tried to make a move," says Leif, "but the girls had their list and they were sticking to it!"
We caught up with the 27-year-old phlebotomist from San Diego to talk strategy, major moves and what's next for him.
MSN TV: Were you surprised that you were the one voted off this week?
Well, once Troy won the immunity challenge, I pretty much knew I was the next to go. I thought keeping a low profile would mean I wouldn't get noticed week to week, but these girls had a list and they're just pretty much running down it. 
Troy really was trying to round you all up to make a big move. What happened?
I think some of us just kept hoping we'd be able to work something out with the girls. I mean, I even talked to Kim to see if anything could happen, but they were pretty set on their game plan. And Troy was trying to talk to the others, and I was trying to talk to the others. Having talked to Kim, I knew about this list, so I was trying to tell the others about the list and that they were next. But no bites. 
It seems Tarzan actually voted against you.
I think he knew it was him or me, so by voting with the girls, he was essentially saving himself. As crazy as he seems, he's a smart man. He's not going out like that!
Do you feel like you got what you wanted out of "Survivor"?
I definitely learned a lot about myself from this experience -- and I wouldn't turn down the chance to play again! But it made me appreciate everything I have, just food, water, shelter, family -- all the basics. And I'm proud of the way I played and how I represented myself. I wanted to show the world that as a little person, I'm just as strong and efficient and capable as anybody else and I think I did that. Obviously, I would have loved to be in the final three, but I'm really proud of how far into the game I made it.
Is there someone you're rooting for now?
I'm definitely rooting for Troyzan. No one else is playing the game with that much passion, that much heart. And he's flying solo now, so he's got to work that much harder. He needed that immunity and he made it happen. I'd like to see him take it in the end. 
So what is a phlebotomist? 
I'm like a vampire. I draw blood. But I had to quit my job to do the show, so I haven't gone back to that yet. I'm trying to figure things out. 
What's next for you, then? 
Well, I'm hoping to get an agent in L.A. and see what happens with that. Yes, I've got the bug. 
"Survivor: One World" airs Wednesdays at 8 p.m. ET/PT on CBS.