FEATURED POST
Ludo Lefebvre says judges weren't expecting show to be so emotional, competitive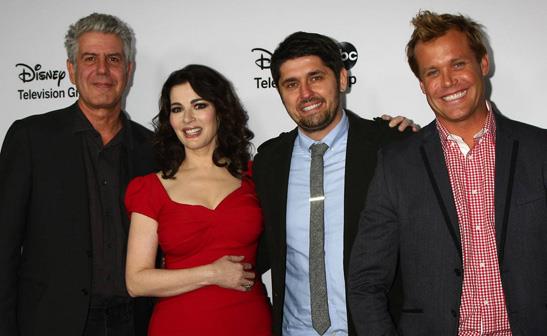 WENN
"Taste" judge Ludo Lefebvre confesses that his emotional attachment to the contestants grew so stressful during eliminations that it drove him and his co-stars to drink excessively. The sharp-tongued chef was known as the resident villain during his Season 1 stint on "Top Chef Masters," but he's showing a softer side now that he's on the judging panel of the newest ABC reality competition show.
Bing: More about Ludo Lefebvre | 'The Taste'
As the mentor to four aspiring chefs on "The Taste," Lefebvre has found himself more attached to the contestants than he ever thought he would be. And to make matters worse, the blind taste-test component of the program meant that, if he decided to cast off a particular dish, it would very well be own of his own team members. To deal with the stress of the competition, Lefebvre tells TV Guide that he and his fellow judges, Nigella Lawson, Brian Malarkey and Anthony Bourdain, snuck in spirits to help deal with their emotions.
More: 'Survivor': Where are they now? | TV reunions we'd like to see
He admits, "I was not expecting this show to be so emotional and to be so competitive. Oh, my God. I thought I was back on "Top Chef Masters" or "Iron Chef." Here we go again! It was a challenge. Nigella, I know, was so stressed sometimes on the set that she'd come to my trailer, and we'd do a shot of tequila, Don Julio. With Tony, too, sometimes we drank some bourbon. Tony also liked gin and tonics. Brian drank a lot of beer. So yeah, we all drank."
The Taste" airs Tuesdays at 8 p.m. ET/PT on ABC.