FEATURED POST
Fan favorite Troyzan spills on his nemeses, that all-girl alliance and who could still win this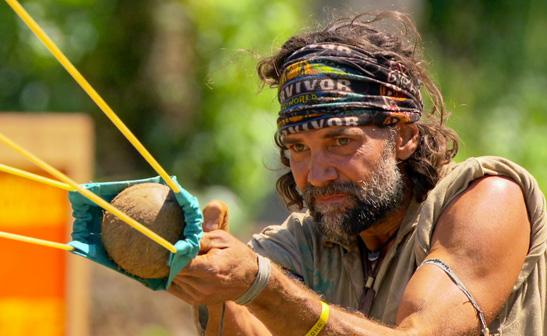 After more than 25 days on the island on "Survivor: One World," Troy "Troyzan" Robertson hoped he'd be the last man standing. Alas, the ladies of the Salani tribe had been plotting against him for weeks -- and when he didn't win immunity this week, he was out without a doubt. 

We caught up with the Miami-based swimsuit photographer to talk about his strategy, the girls' alliance and whom he's rooting for now.
MSN TV: We thought you'd be the last man standing, but it turned out to be Tarzan. Shocker.
Troyzan: It's actually not that surprising. Tarzan is not really a threat in any form, so it makes sense to keep him around. He's not going to go up against those girls. He's a vote when they need one, and when they don't need him anymore, they'll just vote him off. 
Do you think the guys versus girls thing screwed you?
People keep asking that, but there was never really an all guy alliance or all girl alliance. The guys never really got it together. Mike was always willing to go with the girls. And I really, really trusted Jay, but in hindsight, he was always going to go with the girls because he was so in love with Kim and Chelsea. Colton leaving was the turning point for me. That's when my alliance fell apart, really. But it never was really guys versus girls. The girls had some of the guys in with them from the start. 
You were really trying to get someone, anyone, to flip. Why didn't they bite?
I was really trying to get into their heads. I was trying to make them think, to make them nervous, I was trying to put a scare in them. Honestly, it was hard and I was doing anything and everything in my power, because it was seven against one. I felt totally alone, and in that environment, it was really rough. They put me in a tough spot -- and I'm a Leo. If you attack, I'm going to come roaring back. 
This week, though, the girls attack on you felt more personal. 
I just found them to be smug. All of them, they formed a clique right off the bat, but they really closed ranks as the weeks went on. And then they were just so smug about it. Kim, Chelsea and Sabrina especially. It made me not like them. You know, people say it's all the game and that they do things that they wouldn't do in real life, but that's bullshit. What you see is what you get -- what you are on "Survivor" is just an exaggerated version of what you are in real life. I'm exactly who I was on the show, but so are Kim and Chelsea and Sabrina and Alisa. She liked to say that it was all the game, but that's exactly who she really is. Kim seems sweet and unassuming, but she's really the one with all the power, the one pulling all the strings. And the way she does it is just insidious and deceitful. Right now, Kim has them all under her spell. She's a good talker and she makes people feel calm and comforted, and meanwhile she's manipulating them the whole time, plotting their demise. 
Do you think Kat has it in her to make a move?
Oh, Kat is really, really competitive. I think she's trying to play it safe, but I was really trying to get her riled up, trying to get her to think about how this was going and stop being a follower. All of those girls, they're playing out of fear. They're playing just to stay in the game. They're not playing to win. One by one, they're going to picked off, starting with Christina. Kat is going to have to stop following if she wants to stay in the game. If she steps up, she could make a major move. But she doesn't know the game enough. She's playing out of fear. But I would love to see her step up and make a move and really get in the game.
You definitely played a strong game. Would you play again?
I would leave tomorrow. I have so much unfinished business there -- and I was really in it to win. Even if they said to me, "Troy, there's no money, you have to play for nothing," I would do it in a second. I really thought I had it in me to win this, to take every immunity challenge, to be there in the end. So I would love to have another chance at the title of sole "Survivor." And the reaction from the fans has been amazing. I've been getting tweets and emails and people are saying that I played to win, that I played with my heart on my sleeve. I'm proud of the game i played. I'd love to play again. 
"Survivor: One World" airs Wednesdays at 8 p.m. ET/PT on CBS.