FEATURED POST
Joshua Ledet's departure sets up a Phillip-Jessica showdown for the finale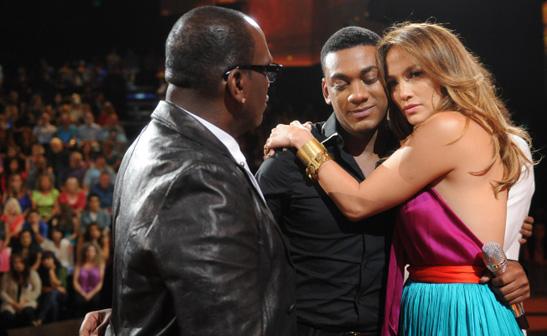 By Carla Patton
No more drama! The ""American Idol top 2 are revealed tonight. Who will join Phillip in the finale? Have we all pretty much resigned ourselves to the fact that he will win? You can just tell by the sound of female screams and panties dropping in the audience, and all the girls pressed up against that chain link fence for a sniff of that grey shirt!
Bing: More about 'American Idol' | Photos: See Season 11 highlights
Starting out, we get a group number -- our last terrible group number until the finale, which is sure to be chock full of them. Jessica looks cute in that little dress with the cutouts. Phillip is really into the music. Jessica and Joshua are just phoning it in. Do they know they're bound to lose this thing? The group number ends, and that was the best thing that could have happened for it.
More: 'American Idol' on BuddyTV | Video: Watch 'American Idol' clips and more
But the torture's not over. We have to watch this Ford music video in which the contestants play silent movie characters. Well, Joshua and Jessica played silent movie characters. Phillip was, once again, excused. I guess he got a doctor's note.
The top 3 contestants say that they've already won and are excited for whoever wins. They're very nice to one another. Joshua Ledet is up first to hear what Jimmy thought of him. Jimmy said it was not Joshua's best night, but it was a good night and the judges over-praised "I'd Rather Go Blind." He overcompensated on "Imagine," which didn't work. Jimmy called it overblown and over-emotional. I agree, and I think I also over-praised that first performance in the rankings. Jimmy thought there was something missing Wednesday night and criticized himself for giving Joshua a song with not enough melody.

Oh, my God. Then Jennifer Lopez, whose devil-owned soul is being sold for $1 a minute, had to take part in a product placement for whatever "Ice Age" movie is happening now. She was a voice in it, so I guess there's a joke there somewhere. Then the top 4, which Phillip was not excused from, had to "check out" some songs from "Ice Age: Continental Drift." Then they had to sing the most boring part of this stupid song -- something about being family before the dawn of man. Wow, that was no fun at all! Thanks for giving us that little glimpse into the exciting life of "American Idol contestants," Ryan.

Then Lisa Marie Presley performed, inspired by Lana Del Rey. I hope the "Idol" set designers don't get too many ideas from this set or from "Ice Age: Continental Drift." They already have too much stuff up there. This performance was recorded right before Dracula came to collect his bride.


Up next, Jessica Sanchez hears what Jimmy thought of her "triple play." Jimmy thought everyone needed a "shock and awe" moment at this point, and "My All" didn't come together enough for him. He also thought it didn't all come together for "Don't Wanna Miss a Thing." And what did he think of his own choice? He is doubting himself again, because Michael and Jermaine both sang that song. Jimmy said she was good enough to sing in the Grammys, though.
The producers are making the signal for Ryan to stretch the show out. So, he asks Jimmy and the women sitting next to him what they think of Donna Summer's passing. And with that somewhat awkward introduction, it's Adam Lambert singing "Never Close Our Eyes." Adam has really developed into the type of artist he wants to be, which I think he knew from the beginning. His glitter-rock, modern throwback is working. He couldn't give less of a rat about returning to the "Idol" stage, I'm sure. But it was nice of him to throw Nigel a bone and come back. Overall, with this plus Lisa Marie Presley's performance, it's turning into a somewhat creepy show. Adam sounded just like Freddie Mercury, and I think it was a great showing for him.

Now let's hear about Phillip Phillips -- if we can hear over the screaming. Jimmy thinks "Beggin'" was very good and proved once again that Phillip is original. Jimmy likes that Phillip is "willing to risk everything," but thought "Disease" was a snoozefest. And "We've Got Tonight"? Jimmy congratulates himself with Phillip's winning the night. Jimmy called it his best performance and flawless, and thought he dug deep down into the emotion of the song. All right, Jimmy.

Jessica and Joshua hit the stage to join Phillip. It's about to happen ... any moment now! Randy wishes them all luck. I just hope Joshua Ledet doesn't have to go out of this competition in that shirt. Jennifer talks a lot. Then Steven talks a lot. Anybody else have anything they want to say? (The producer is still making the "stretch" gesture).


And now it's time to find out for reals! The lights are dimmed! The first person going into the finale is Jessica Sanchez! What?! I did not see that coming. And the other contestant in the finale will be, of course, Phillip Phillips.

So Joshua Ledet leaves, with one final standing ovation. Sigh. There's little justice. I imagine this will be an even easier win for Phillip now. But hey, maybe Jessica will blow it out of the water for the finale. For his final performance, Joshua performs "It's a Man's Man's Man's World" one last time. I'm sad. I loved him! I hope he gets a record deal singing old soul hits, somehow, somewhere.

What do you think of Thursday night's results? Did America get it right?
The "American Idol" finale airs Tuesday, May 22, and Wednesday, May 23, at 8 p.m. ET/PT on FOX.