FEATURED POST
Phillip Phillips and Jessica Sanchez engage in a three-round vocal battle to cap season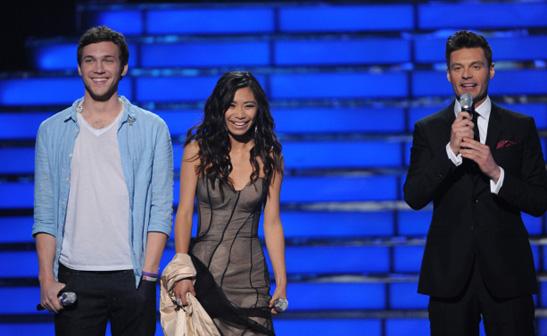 By Carla Patton
Who would ever have guessed that a novelty name would take one man and his guitar so far in a singing competition? No, of course Phillip Phillips is more than just a funny name from a novel I would have written when I was 12. He means so much to us now! And who would have guessed that Jessica Sanchez would be taking him on in the finale? Granted, Jessica is one of the strongest voices this season, but I was so convinced it would be Joshua Ledet that I spent most of the last week completely denying his elimination and thinking it would be a Phillip/Joshua finale.
Bing: More about 'American Idol' | Photos: See Season 11 highlights

It's the Philippines vs. the Phillippines (which is what Phillip's fans should call themselves). Have you guys heard this about the Philippines supporting Jessica Sanchez? It's not just "American Idol" anymore!

More: 'American Idol' on BuddyTV | Video: Watch 'American Idol' clips and more
The judges aren't looking very finale-like, but I suppose they're saving their wow outfits for the 
real
finale. This is just a pajama jam as we suffer through the final hours of this year's student council election. There seem to be a lot more (or maybe louder) Jessica fans in the house on this night, as Ryan Seacrest interviews them at the top of the show. Jessica says this is "crazy" and Phillip offers indistinguishable babbling because he does not give a single care!
Oh, spectacular! For Simon Fuller's pick, Jessica Sanchez is singing "I Have Nothing" by Whitney Houston. It's about time someone did this song right this season. Sorry about that, Shannon Magrane. Jessica seems nervous for the first time, opening the show because of the coin toss. It's a tough song to sing, but it was good enough to warrant a creepy car-wash attendant stalker ("Bodyguard" reference! Watch it, you guys. You will love all eight three hours of it).

Ryan Seacrest rushes us through Jessica's four phone numbers (one number for each hour to vote!) and the judges have nothing, nothing, nothiiiiiiiiing ... to say because we just can't afford the time. We can't even afford a moment.

They finally got Phillip Phillips into some non-gray for this episode. He's wearing blue, and it looks nice on him. He's singing "Stand by Me" by Benny King for Simon Fuller's pick. It's a bit easier and a bit more relaxed. I'm not entirely sure Phillip hit all the notes or cared if he did or not. It got really nice toward the end, though. Phillip has a sensitivity to him that is very appealing.
This show is very odd without the break for the judges' comments. Ryan sends Phillip off so the judges can "gossip" about Round 1. Jennifer calls Phillip a "modern day crooner." I'm not sure I "get" that. Randy thinks Jessica won Round 1, and I agree. We don't have time to hear what Steven has to say because we have to squeeze in the premiere of Jason Derülo's "Undefeated."
So, let's all just relax, let the contestants change their clothes and celebrate Jason Derülo's "healing process." Look! He's bedazzled-neck-brace​ free! Truly "undefeated." Except he might have been defeated by this melody, which doesn't sound ... great. Oh, Jason. Please don't stand on that chair! You'll hurt yourself again. Thank you for the memories and dreams, Coca-Cola.

So, what was Jessica Sanchez's favorite performance of the season? She can't sing another Whitney song, can she? I'll bet it's "Dance With My Father." But no, it's practically another Whitney song: It's "The Prayer" by Celine Dion, which she sang for the judges before the top 24 round -- a wise decision, because it's new to us. And she gets to wear a pretty long, pink dress. She feels more emotionally connected to this song, you can tell, and she absolutely nailed it. Way to go, Jessica! You were saving that for this moment, weren't you?

Phillip Phillips enjoyed Billy Joel week so much that he wants to sing "Movin' Out" again. I'll admit, I watched this performance back again. I didn't find it particularly remarkable that time, but it was one of his better moments tone-wise (and he can't really choose "We've Got Tonight" or "Volcano" so soon again, can he?). If Phillip wins this season, he owes Saxophone Lady a big peck and a check.


Steven gives Round 2 to Jessica again. Randy calls it a tie (cheap!), and Jennifer chooses Phillip. So, anyone could win.

Now, we will be subjected to the Winner's Songs. I don't know if there's any way these songs can be great, but at least they're not the same song anymore.

Jessica's winning single is up first. What type of artist mold will she need to break out of in a year or two? They've called her single "I Wanna Change Nothing," I believe, and it's a solid 5 out of 10. I don't find it particularly touching or catchy, but I assume she sang it well (we'll never know!). The lyrics were age-appropriate. A 16-year-old singing about how nobody knows what she's been through and how she's going to rebel sounds about right. Randy says he doesn't love the song but loves that she made something more out of it. She gave it "urban flavor," apparently. Jennifer agreed that, if it were up to her, she wouldn't have that be Jessica's first single either. Steven mumbled in agreement. So, we all hated the song! This doesn't bode well as we go into four hours of voting!

Phillip's song is titled "Home" -- straight, simple, and probably better for him as an artist. I bet he didn't get to write it, though. Oh, man. This song is good. As a non-teenager, I much prefer this song to Jessica's youthful pop ballad. It's road trippy and sensitive, and basically I am powerless to resist the charms of Phillip Phillips any longer. It was modern, fun and basically perfect. Damn. It has a hint of Mumford & Sons and a taste of Fleet Foxes. The judges rose to their feet, and we should just give Phillip the platinum microphone or whatever the meaningless trophy is now. Randy yelled about it for a while, citing Mumford & Sons and Fleet Foxes. Jennifer couldn't think of any other song that sounds like that (you need to listen to more music, J.Lo!). And Steven heard Paul Simon.
I have never witnessed such an obvious win before a finale before! OK, maybe Scotty last season. But still. Decimated. They'll both do well, but I think Phillip will have the title to shake. At the very end of the show, my unborn child, Scotty McCreery, returned to the stage to sing "Please Remember Me" as we look back at all the contestants Phillip Phillips groaned on out of here this season. I love you, Scotty. You are the "American Idol" of my teenage heart.
What do you think of Tuesday night's performances? Who's got the inside track?
The "American Idol" finale airs Tuesday, May 22, and Wednesday, May 23, at 8 p.m. ET/PT on FOX.