FEATURED POST
The guys fight for Emily's heart, while Ryan seals up this season's villain role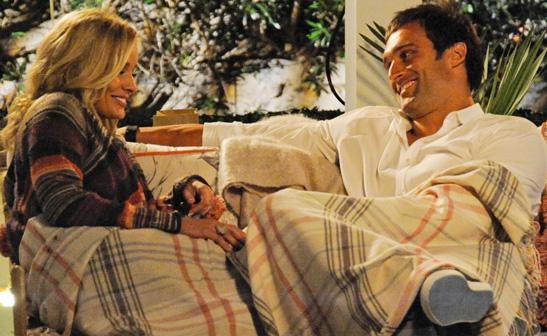 By Diane Vadino
Special to MSN TV
It's Episode 4 of "The Bachelorette." And whatever charms of Charlotte, N.C., we've left unexplored will remain ever thus: "You'll be leaving this mansion forever," Chris Harrison tells the guys, not at all dramatically, because we're about to travel to "the first stop on a worldwide trip": Bermuda.  The guys collectively whoop and holler until we arrive at their hotel, where we learn that there will be three dates: the group excursion, the one-on-one, and the "dreaded" (it's always "dreaded," in one of Chris Harrison's favorite recurring adjectives) two-on-one. Arie reads the first date card: "Arie, let's explore again." (He's kidding.) It's Doug. The guys razz him: "I think you're building it up too much in your head," one says. Doug is "over the top humble" (as Chris puts it later), but he does not take well to the razz.
Bing: More about Emily Maynard | 'The Bachelorette'
In fact, if Emily arrived for their date a minute or so earlier, she would have seen him in his less-than-happy state. But because she didn't, she's still worried that Doug is Mr. Perfect (better known as: ex-fiancé Brad Womack.) "I never see you getting grumpy or short," she tells him as they sightsee their way across the island. "This guy can't be for real." Emily asks Doug to name his flaws, and he's all, I'm toooo perfect, it's soooo hard. Emily says that those really aren't flaws. "That's really sweet of you," he says. But she's not being sweet, she says. "I could probably come up with better flaws than 'I'm too good of a mom,'" she says. But then he asks her to name them, and she's basically like, I'm toooo perfect, it's soooo hard. So she gives up, conceding that putting people on the spot is not the right thing to do. "I'm not a genius, but I'm not a dummy; I'm not wealthy, but I'm not poor. I'm just Doug," he says. "Maybe Doug just is that perfect of a person," Emily concludes. One thing he is not perfect at is getting the good-night kiss. Never before has a group of bachelors been so totally inept with this. "I don't ever make the first move -- ever," Doug says. At the exact moment that he should have gone for it, he says, "Shall we?" and they leave.
Photos: 'Bachelorette' stars: Where are they now? | This season's contestants
Next we have our group date, which pits the red team against the yellow team. Spoiler: The yellow team wins, so the red team (despite Sean's Division I football-playing competitive spirit) head back to the hotel -- there is some bellyaching about this and, actually, a tiny but noticeable bit of crying. There is some good news in this for Emily. She gets more time with yellow-teamers Arie, with whom she promptly makes out, and Jef. The Utah entrepreneur is afflicted with the same disease as Doug, and at the exact moment he should have gone for his own smooch, he instead says, "Should we go back?" (Is it because she's a mom? Because she's Barbie-doll perfect?)
The real drama, such as it is, is reserved for Ryan, who continues his devolution into total douchebag. He begins by calling Emily his "trophy possible wife." "She's been given great responsibility, and I want to see her do a lot with it," Ryan says. (And yes, he is cribbing from Spider-Man.) Everything he says sounds like it was stolen from the Olympics of annoying guy lines: "I'm not here to impress you but to make an impression on you." "There's a lot of depth here." (He's talking about himself.) Emily reminds him of his previous annoying lines, like the one about how he wouldn't love her if she gained weight: "Would you like [my figure] if it hadn't been to the gym because I was chasing your kids around?" "Some pretty kids..." Ryan muses. "You're trying to get out of answering my question," says Emily, in a record-setting (for this show) level of holding someone accountable for his words. "God designed you to be a beautiful woman. So, be a beautiful woman," Ryan says. He's no Bentley, but he sure is quickly turning into this season's villain. Jef, thank goodness, gets the rose. Ryan, of course, ably reworks this as positive news for himself (it seems that Emily intuited that he'd be mad if she gave it to Arie). "I just feel like [Ryan is] judging me," Emily says.
The two-on-one date goes by mercifully quickly. It really does look like torture. Accountant Nate seems to spend half the night -- at dinner in a room of caves -- talking about the quinoa. "We can get boxes to go if y'all are hungry later," Emily says. Then, to us: "This is going to be the worst date of my life. John (a.k.a. "Wolf") does a much better job of keeping his issues under control -- as seen when Nate breaks down in tears describing how much he loves his family and friends. All John has to do is sit back and watch Nate self-destruct -- which is exactly what happens. "I wouldn't be honest if I said I saw us together forever," Emily says to Nate. He's going home, and John has the rose.
All that's left for the evening is the rose ceremony -- which would have gone without any fireworks if not for Ryan, essentially, setting himself on fire. He does this by revealing that he has not come on "The Bachelorette" for the right reasons, the gravest of all "Bachelorette" sins: "If it doesn't work out I'm involved with the media back home -- let's do "Bachelor Ryan," he says. "Whether I end up with [Emily] or, not this is part of the journey that I'm walking." Here's hoping that he's the guy Emily curses out next week. (I still have a suspicion that that honor goes to Alejandro. I can think of no other reason why we've suddenly seen so much of him.)
Out on this night: Two guys who get more screen time walking out of the hotel than they did the rest of the season -- Charlie and Michael, who is so adorable. Here's hoping that guy is exceptionally boring, or Emily has made a terrible mistake.
Next week: London -- and Emily's F-bombs.
"The Bachelor" airs Mondays at 8 p.m. ET/PT on ABC.