FEATURED POST
NFLer Donald Driver and Peta Murgatroyd win the mirror-ball trophy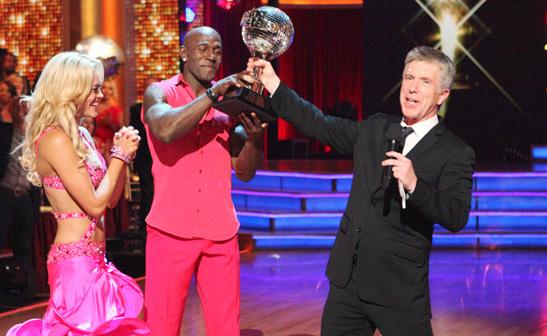 It's official: Donald Driver and Peta Murgatroyd are our Season 14 champions! Donald said he felt amazing and he sure did look happy dancing around onstage with the mirror-ball trophy.
Bing: More about 'Dancing With the Stars' | Photos: See Season 14 highlights
 
This finale came right down to the wire, with the final cha-cha wrapping up just minutes before Tom announced the winner. After the audience's votes were combined with the judges' scores, William Levy and Cheryl Burke finished third and Katherine Jenkins and Mark Ballas were the runners-up.
 
Last Night on TV: Watch recaps | Video: Watch clips and more
Here's a quick breakdown of each star's performances in the final week of competition:
William Levy
William's disco-infused cha-cha got the finals off to a rollicking start. The judges didn't have a single negative thing to say about this blockbuster routine. In the freestyle round, William and Cheryl went completely nuts. The Latin-infused routine never let up for a second. William kept up with his partner like a champ and the applause when he had finished was the loudest I've heard all season. In the final round, William and Cheryl turned in a sunny salsa that had the crowd on its feet – yet again. The judges joined in the lovefest. Bruno praised the number's spiciness and Carrie Ann told him he has true star quality.
Cha-cha: 30/30
Freestyle: 29/30
Salsa: 30/30
Score: 89/90
Katherine Jenkins
Katherine's first-round paso doble evoked a traditional Spanish bullfight. The choreography was as difficult as anything I've seen on this show and she nailed it. Her second-round freestyle had flapper flair. Carrie Ann praised her abilities as a performer and called the routine "the dance of a champion." Katherine and Mark's jive was lighthearted in spirit but incredibly tough when it came down to choreography. Katherine sailed through it like a pro!
Paso doble: 30/30
Freestyle: 30/30
Jive: 30/30
Score: 90/90
Donald Driver
Donald's moody Argentine tango had some amazing lifts in it! The routine struck a good balance between crazy acrobatics and intense dancing in hold. He and Peta turned in a countrified freestyle routine that was risky, but paid off! Len praised Peta for her unconventional choreography and called the dance "fantastic." Donald's intense, emotional cha-cha showed off his incredible grace and rhythm. It was downright flawless. Len called Donald the best contestant "we've had" – and it seemed to me that he meant in all 14 seasons.
Argentine tango: 29/30
Freestyle: 30/30
Cha-cha: 30/30
Score: 89/90