FEATURED POST
The former 'Facts of Life' star spills on her final three 'Survivor' adventure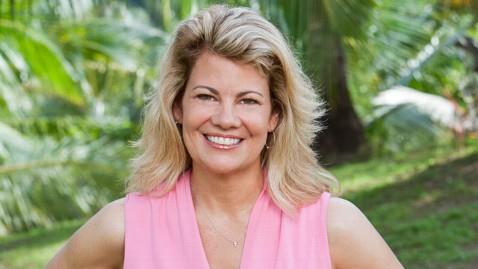 Former "Facts of Life" star Lisa Whelchel – who played the iconic Blair Warner – knew that hiding the fact of her former fame would be rough going. But she managed to get through nearly an entire season as anonymous Lisa, a good Middle American Christian lady, who yes, admits to being a bit "wishy-washy" – and she managed to make it to the final three. MSN TV talked to Whelchel about her flip-flopping strategy, the burden she carried into the show, and what's next for her.

Bing: More on "Survivor: Philippines" | Lisa Whelchel
MSN TV: How did you decide to do "Survivor"? Was it different for you than it was for the majority of the castaways, given your Hollywood history?
Lisa: It didn't feel like a different kind of decision for me – because I was really coming to it from a fan-based point-of-view. I wasn't thinking that it would be about reality TV or that stuff, it was more out of just the love of the game. I was approaching it like anybody else. Going in, it was 100 percent, 'I get to play this game that I love.' It wasn't until I got to the Philippines that it sunk in that this might have some other ramifications that I didn't think through.
When did you decide you wouldn't reveal your professional past to the other players?
I had presumed that it would immediately just come out, and then spread through the tribe. I never thought that I would manage to go through the game without it being a known fact. It was very shocking to me and a wonderfully pleasant surprise and really part of what this whole journey has been for me – just playing as Lisa, not as that persona. That was a surprise blessing. Skupin knew from day one, and Penner, too, obviously.
How did you feel when Penner told everyone at the final council?
I was kind of taken aback – I didn't expect it. But I probably should have. I know Penner and I know it reflects the show and I know that final tribal council and the drama that always plays out there. I should have seen it coming. But it caught me off guard.
And had you guys been in touch after you left?

Absolutely. We'd gone out to dinner with my brother and his wife, we are very close friends – I even said to him at dinner last week, 'for the big picture, in the story of the season, you outing me in the tribal council needed to be in the last chapter.' For great storytelling, it needed to happen.
He's a storyteller after all.
He sure is.
The interesting thing about your alliance with Skupin was you guys frequently didn't vote in the same direction.

We had a very unique alliance. We wanted to end up in the final two together, but we actually cared more about each other, personally, than about the two of us as an alliance. I said to him, with all the sincerity of my heart – and he said the same to be – 'if it's better for your game to vote against the way I'm voting, then vote that way. I really want you to play your best game, and if we can vote together, that's all gravy.' The truth is, we really just were rooting for each other.
Do you think that taking Denise to the final three to was a better idea that taking Malcolm, in hindsight?
I think so, even though they still said they would have voted Denise, either way, either one of them, sitting next to us, would have gotten more votes than either one of us. So it's a moot point. And Malcolm's young, he'll be just fine. I'm glad that Denise, an older woman with a strong family and some solid roots, won $1 million.
Going into the final three, did you think you had a shot?
I was realistic about Denise's story and the way she played the game – she played an almost flawless game. My only hope was that Abi would go back to Ponderosa – and since she didn't like Denise or Skupin – she would poison the well, so to speak and remind Artis and Pete that I had stayed loyal to the Tandang tribe as long as I could. But that was a double-edged sword, because when that alliance disintegrated, it was taken more personally.
Some people would accuse you of being wishy-washy.
I would agree with that. I wouldn't even try to debate that. Because what you saw on the outside was exactly what was going on inside. One minute, I wanted to play in a way that would reflect God and his character – loyal and trustworthy and not hurt people. And the next minute, I wanted to play this game the way it needed to be played, which is backstabbing and breaking promises and doing whatever it takes to get to the end. It was wishy-washy, because inside I was going through turmoil about whether this was just a game, or whether it was really a reflection of me as a person.
Plus: Want more "Survivor"? Meet the castaways from Season 25. 

And how do you feel about that now?
At this point, it was a game, and there are rules to the game – everyone's signed up, they know the rules to the game, and you make alliances that are going to be best for you in the end, and if they're no longer good for you, you get one that is good for you. And you don't necessarily tell them you're changing alliances, you just let them find out at tribal council! If I could do it again, I would understand that it's a game and not let my heart get so involved. Not just my heart, but my fear, too. My fear of judgment and fear of letting God down – which is way too big of a burden to carry. God didn't put that burden on me, I did. And I'm so glad I don't carry that anymore.
Would you play again?

I really don't know, sincerely. It's kind of like childbirth – you have to wait till you through it, and not only go through it, but let it maybe get to through the terrible twos as well before you can consider it again.
What's next for you? Are you going back to Hollywood? Or is it civilian life?

I am moving to California, and I would love another sitcom. In the meantime, I'm very excited, because I'm going to do some cohosting with Jeff Probst on his show. I'm just going to see how that works. So my "Survivor" adventure continues.
And this interview wouldn't be complete if I didn't ask you if you still talk to the rest of the "Facts of Life" girls.
I do! All of the cast was encouraging me along the way. In fact, I got a text from Nancy McKeon last night congratulating me and saying that fans everywhere were probably really thrilled that I actually quoted the "Facts of Life" theme song during the finale.
That was definitely a highlight for me!
Missed the finale? Check out our play-by-play of this week's episode.