FEATURED POST
Karla Davis, Kim Yarbrough, Tony Vincent and Erin Martin are eliminated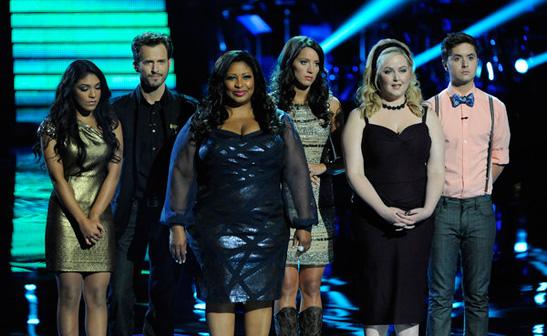 I want to kick off this night's recap boasting. I really do. I want to say for the umpteenth time that Juliet Simms has this in the bag, and her moving on to the next round came as absolutely no surprise. But, how can I try to come off so all-knowing when I was equally convinced James Massone and his NKOTB-knockoff swagger would be sent packing and wasn't!? Heck, my head's still spinning from the Arsenio Hall cameo at the outset.
Anyway. The "Survivors"...
Bing: More about 'The Voice' | Photos: Meet the contestants
Team Adam:
Mathai
Tony Lucca (deserving of the life preserver; Aguilera's overly harsh words the night before still have me perplexed)
Pip  
Team Cee Lo:
Juliet Simms
Jamar Rogers
James Massone
And so Adam's Three K's were left, Kim, Karla, and Katrina. Each gave an unremarkable performance in an effort to get the pass. I was certain Karla would be the victor, and still can't really believe it was Katrina Parker who got everyone's seal of approval, lumbering through No Doubt's "Don't Speak."
Last Night on TV: Watch recaps | Video: Watch full episodes and clips
After that lethargic face-off, Cee Lo's hangers-on taking the stage was more than welcome. Especially because we all knew Tony Vincent, back to being able to make his own song selection, would find the right one. He did -- "Sweet Dreams." Of course, he went with Marilyn Manson's version over the originators, the Eurythmics. Cheesa selected well, knocking "All By Myself" out of the park. Erin Martin -- gorgeous as all get out, and who many vocal fans want to get out -- chose a goodie, too. Her quirky vocals worked, for the most part anyway, on Elton John's "Your Song." Still, her nervousness was palpable. It really felt like anyone's game, even if Xtina didn't even know Tony's name. But it wound up going to ... Cheesa. Bit of a shocker, really.
Of course, not as much as Massone making it through so easily.
What did you think of this episode? Tell us on Facebook
"The Voice" airs Mondays at 8 p.m. and Tuesdays at 9 p.m. ET/PT on NBC.