FEATURED POST
Emily ascends to the throne as this season kicks off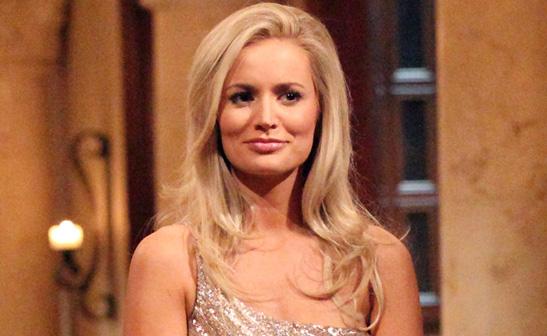 By Diane Vadino
Special to MSN TV
Doesn't it seem like just yesterday that Brad and Emily made out on a South African hilltop and pledged undying love to each other? Yes? Well, we all know how that went (poorly) -- and so Emily's back, with her six-year-old Ricki and sad stories and incredibly white teeth. She's 26, she wears tight sweaters and red pants to the park, and she's set on finding love so she doesn't have to go through that hassle ever again. ("I thought I was done dating!" she tells Chris Harrison about her post-Brad conclusions.) Here's the thing about Emily: 95 percent of the time she is incredibly, watching-water-boil,​ staring-at-paint-dry​ing boring, just a nervous smile and tremendously big eyes. Then there's five percent of the time where she just drops the act and snarls -- she did this once on "After the Final Rose" and it was, no joke, electrifying. Please God let us see more of the interesting Emily and less of the perfectly coiffed pageant queen, or this season is going to be deadly. 
Bing: More about Emily Maynard | 'The Bachelorette'
As we get up to speed on the realities of Emily's life in Charlotte, NC, as a single mom and collectively try to figure out how she afforded that McMansion she shares with her daughter, we meet a few of Emily's bachelors. We have: douche-y Kalon ("I used to be a womanizer"); cutie Ryan, who has the world's happiest golden retriever ("I played eight years of pro football"); single dad Tony ("I buy and sell lumber and plywood"), sole African-American guy Lerone, who has the world's smallest dog and does not look like Shemar Moore but seems to think he is equitably attractive; singer/songwriter David ("Emily is exactly the kind of woman I'd want to be with ... well-postured"); Charlie ("I may have had a head injury but there's nothing wrong with my heart"); entrepreneur Jef ("I like being underestimated"), and race car driver Arie ("There's one thing I'm worried about...."). Regular viewers will remember that Emily's PDF (poor, dead fiancé) was also a race car driver, and en route to a race when he died in a plane crash. 
Photos: 'Bachelorette' stars: Where are they now? | This season's contestants
What does Emily want? She wants not to discuss the PDF ("To be honest i don't want to talk about that anymore" -- we'll see what the producers think of that) and "a minivan full of babies." "Let's not open with that speech to the guys," Chris advises her. 
Of course, Emily could be actively vomiting on the ground, and it wouldn't slow up the fawning greetings she gets as the guys exit their limos. This episode of "The Bachelorette" is like the first 10 minutes of a war movie where you're still trying to figure out who's sticking around for the rest of the show. We have: Sean; single dad Doug ("I'm a hugger, is that okay?" -- surprise, it is); "fitness model" Jackson; Joe; Kyle; Chris; Aaron ("I am high school biology teacher but I'm here to have chemistry with you," he says -- and his students self-immolate from hysterical laughter); Alessandro (who lists his hometowns as, variably, Brazil and Minneapolis); and "party MC" Stevie (with a boombox). Someone says, roughly, that "Life's not measured by the breaths we take, but by the moments life takes our breath away" cliché. But we have too many more guys to stop and really let that soak in -- there's Randy ("You stuck out in my mind"), accountant Nate ("You smell really good"), Brent, "Wolf," Travis ("This egg is a symbol of you and Ricki"), rehab counselor "Music Mike," marine biologist Jean-Paul, and Alejandro from Medellin. And then -- of course, somebody has to arrive by helicopter. This season, it's Kalon. "Whoever this is, we're all going to hate him," someone else says, and that someone else is right. "She's a princess, and she looks like it," Kalon says, annoyingly. 
Next we have the evening's cocktail hour. The guys basically all bleed into one big, fawning mass except for the guy with six kids; Jef, who comes off as surprisingly cool, and Sean, who gets into some sort of weird passive-aggressive fight with Kalon. Then there's Doug, who, in lieu of an ostrich egg, has brought Emily a letter from his 12-year-old son, attesting to his own positive attributes. It is an utterly successful move, and it wins Doug the first-impression rose. "I'm just glad helicopter guy didn't get it," says Sean, while the rest of the guys grumble in agreement. 
Faster than ever, we have the rose ceremony. A million boring white guys get roses. Lerone does not, which is disappointing, as it would be nice for this experiment in diversity to last longer than a single hour. Father-of-six Brent is out and drawing all kinds of inappropriate conclusions from his dismissal. Jean-Paul, too, is gone, along with David the singer -- which means, if nothing else, we'll be spared reprises of the "Emileeeeeeee" song we heard earlier in the evening.
"The Bachelor" airs Monday, May 21, at 9 p.m. ET/PT and Mondays at 8 p.m. ET/PT on ABC, beginning May 28.