FEATURED POST
Don't think Motown music and ballroom dancing go together? Week 6 aims to prove you wrong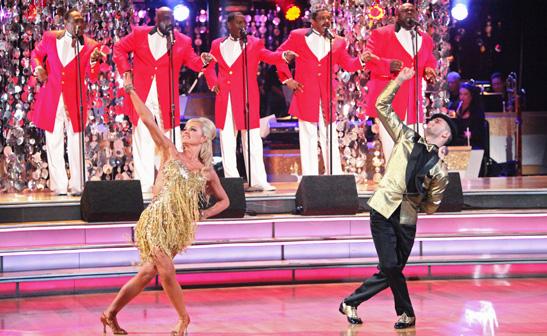 By Laurel Brown
Hey, it's Smokey Robinson! That's actually kind of awesome. Good choice, "Dancing With the Stars." Even if he looks terrified to the point of paralysis. The singing is still nice. And ... Smokey Robinson!

Bing: More about 'Dancing With the Stars' | Photos: See the dancers in action
And then it's Martha Reeves (sans Vandellas)! And the Temptations! Holy crap, this is an incredible lineup for a "DWTS" airing! Of course, an opening-of-show medley seems a little less than these legends deserve. Oh, they are going to keep performing? That's a little better.
More: 'Dancing With the Stars' on Buddy TV | Video: Watch clips and more
Now that the singing is done for now, it's time to move on to the silly costumes. Mark Ballas looks like someone wrapped him in gold-colored tin foil. And Tristan MacManus has glasses. Actually, after last week's insanity, this isn't so over-the-top.

Appropriately, considering the theme of the night, Gladys and Tristan are up first.

Gladys Knight and Tristan MacManus
Dancing the rumba

My Comments: I know it doesn't actually affect the dancing, but it almost seems unfair that Gladys is friends with all of these Motown people. It's also really, really cool.

It's fortunate that the Temptations aren't being judged on dancing. They weren't all in sync at the beginning. And hey! Gladys and Tristan sneaked onto the floor there. I have to say, Gladys has never looked more natural on the dance floor than she does tonight. There may be a couple of steps that are a little bit off, but not by much. And the performance is, quite frankly, lovely. She's just sort of radiating happiness. Probably having a live performance of "My Girl" going on in the background doesn't hurt.

Judges' Comments
Len: "If I could judge purely with my heart, you would be top of my leader board." "You are the most charismatic dancer... It is so appealing. It's just easy like Sunday morning." "If I was at home, I'd be on the phone now."
Bruno: "It's undeniable, you have star quality." "I like my rumba a bit steamier. I don't expect you to turn into Lady Gaga!"
Carrie Ann: "If any night is going to belong to anyone, tonight is going to belong to you." "The truth is, there was a lot of forgetful moments."

Scores: 7+7+7 = 21

Who are the singers going crazy in the balcony? Apparently they're a band called Human Nature. Is Motown revival a thing?

Whatever. Barry Gordy is in the audience!!! I honestly didn't know he was still alive. He is.

Maria Menounos and Derek Hough
Dancing the foxtrot

My Comments: Maria and Derek get Martha Reeves for their dance. I don't know if it's the lighting or the camera filters, but things have gone semi black and white in the ballroom. But the color came back for the dancing. Maria and Derek seem to be having fun as usual out there. There is a sort of "skipping" quality to this dance. Only partially because there is actual skipping. Other than a few slightly off bits, the dance is pure loveliness.

As an aside, Maria totally looks like Jane Sterling on "Mad Men" dressed like that.

Judges' Comments
Len: "This was a joy to my eyes, and, listening to Martha, a joy to my ears."
Bruno: "It was a gleaming blend of sophistication with elegance." "You caught up brilliantly."
Carrie Ann: "You're so precise, you're like the edge of a diamond." "Your shoulders came up for the second half of the dance."

Scores: 8+9+9 = 26

Roshon Fegan and Chelsie Hightower
Dancing the rumba

My Comments: I have trouble hearing the name "Smokey Robinson" without saying "and the Miracles" in my head. Oh well.

Roshon is maybe a little too aggressive to be "sensual," but it does work for sexual. So that's probably close enough. He looks very good out there overall. A couple of the arm movements feel a little false somehow, but that's a minor problem. This doesn't have the emotional impact of the previous dances, but it's a technically excellent performance.

Judges' Comments
Len: "The movement was clipped and jerky, it was like painting-by-numbers.​"
Bruno: "What you lack in size, you make up in fire."
Carrie Ann: "You definitely got a little sexy there at the end." "In general, I felt your moves were a bit over-exaggerated."

Scores: 7+8+8 = 23

Katherine Jenkins and Mark Ballas
Dancing the samba

My Comments: The Temptations are back up for this one. I really like the Temptations ... They've aged well.

Katherine and Mark start out fast. It's not the most Latin-looking of dances, which might be a problem. Katherine doesn't look quite as comfortable in this as in some others, but that doesn't mean the dancing isn't good. It is. The funky, bizarre sections in the middle are especially impressive. There might be an upper limit to the Latin feel possible when dancing to the Temptations. Not her best dance but better than most still for Katherine.

Judges' Comments
Len: "Was there an earthquake, or did Katherine just shake this place?" "I'm going to call you the midwife, you keep delivering every week."
Bruno: "You can bounce, you can funk -- the both of you!"
Carrie Ann: "Tonight, you let it loose! Amazing!"

Scores: 10+9+10 = 29

Len is not giving up that 10, is he?

Donald Driver and Peta Murgatroyd
Dancing the foxtrot

My Comments: They're making the Temptations sing twice in a row? No complaints here ...

These are very blue costumes. Very. That was a very dynamic beginning to the dance. It doesn't really match the rest of the dance, but still kind of cool. Speaking of the rest of the dance, it looks pretty good. Donald is having a small amount of trouble with the standard men-doing-the-foxtro​t-look-silly thing. But only slightly. Mostly he just looks elegant. He also has managed to keep a nice smile on his face throughout most of the performance. That's impressive in itself.

Judges' Comments
Len: "I thought you were going to come out and show me some fireworks. You didn't. You came out and exploded on this floor!"
Bruno: "Donald, you are a showman! Pizazz! Confidence! Power!" "You put so much into it, you nearly fell over at the end."
Carrie Ann: "I didn't mind dancing with you ..."

Scores: 9+9+9 = 27

Melissa Gilbert and Maksim Chmerkovskiy
Dancing the Viennese waltz

My Comments: Ah, Maks is back to normal! I'd been getting worried that he was going soft this season. Nope!

Smokey Robinson is back for this one. He does have the smoothness to go well with a waltz. Hey, he's smiling now! Smokey doesn't look quite so terrified with a smile.

Melissa and Maks begin with a very pretty spin. And then give us a whole bunch more, since this is a Viennese waltz and all. This is actually a very lovely dance. Melissa looks to be hitting her steps and isn't being overshadowed by Maks the way she has in the past. It's not as exciting a dance as some, but it was pretty and well done.

Judges' Comments
Len: "I saw rotation, I saw romance, I saw control." "You lost a bit of energy as you got near the end..."
Bruno: "Wonderful rotation!" "Towards the end you got a little bit kind of passed out, but I think you're going in the right direction."
Carrie Ann: "You work so hard, and it is finally paying off. I see artistry blossoming in you." "Watch those shoulders, too ..."

Scores: 8+8+8 = 24

Is it just me, or does the "DWTS" announcer sound like he has laryngitis?

Jaleel White and Kym Johnson
Dancing the cha cha

My Comments: And it's more Temptations! Have I mentioned that I like these guys? Because I do.

Like with that earlier samba, it's kind of hard to see the Latin in a Motown beat. But they're doing their best with it. Jaleel even manages a crazy, splits-like trick that we'd normally expect out of a pro. The rest of the dance looks like fun, and Jaleel seems to have gotten back into his groove. Overall, this is a very, very impressive dance from a performer who's been struggling lately.

Judges' Comments
Len: "You're back."
Bruno: "You burned that floor! That was the biggest sizzler of the season!" "You've come back big time!"
Carrie Ann: "Consider the A-game brought to the table!"

Scores: 10+9+10 = 29

Yep. That's a comeback.

William Levy and Cheryl Burke
Dancing the rumba

My Comments: Smokey Robinson is back for this. Did Martha Reeves go home? We only heard from her that one time. Speaking of smoky, that could not have been up-to-code when William and Cheryl filled the rehearsal space with smoke.

It kind of looked like William and Cheryl weren't actually going to dance, just nuzzle. But then they started. Which is good, because passion is definitely on display here. It's actually hard to tell if this is a good dance or not. Not when the sexiness is coming on like this. Basically, we're watching vertical, rhythmic sex. Yay for family entertainment! Questionable messages aside, this is really a good dance. And you cannot argue that it's not entertaining. It's very, very entertaining.

Judges' Comments
Len: "It was a little bit on the raunchy side." "I wanna see the forward and backward hip action -- that wasn't there at all." "It was good, but I can't go into ecstasy like some people here." (Bruno: "He needs Viagra...")
Bruno: "Absolute and utter filth. And I loved every minute of it." "Please don't jump off the balcony! You two are wired for sex."
Carrie Ann: "On behalf of all of the women out there, I thank you." "I don't think that was your best dance."

Scores: 9+8+10 = 27

Bruno likes the sex.

And now going the other way, Smokey Robinson is filling the pre-Marathon time with "Tears of a Clown." This is an incredibly good song. One of the greats.
Now for the final dance -- in the Motown Marathon, each of the couples will dance a simultaneous cha cha. The last couple standing gets the most points. Keep reading to see who goes out when.

Motown Marathon
8. Gladys Knight and Tristan MacManus -- 3 points
7. Maria Menounos and Derek Hough -- 4 points
6. Roshon Fegan and Chelsie Hightower -- 5 points
5. Melissa Gilbert and Maksim Chmerkovskiy -- 6 points
4. Donald Driver and Peta Murgatroyd -- 7 points
3. Jaleel White and Kym Johnson -- 8 points
2. William Levy and Cheryl Burke -- 9 points
1. Katherine Jenkins and Mark Ballas -- 10 points

This totally made me think of the dance shows of bygone eras. Or maybe those crazy dance interludes on "Laugh-In" ... Of course, the only actual dance show I ever watch was "Dance Fever" in my early years. But still.


"Dancing With the Stars" airs Mondays at 8 p.m. ET/PT and Tuesdays at 9 p.m. ET/PT on ABC.