FEATURED POST
The remaining hopefuls on how it feels to be an 'Idol,' Skylar-Colton rumors and more inside stuff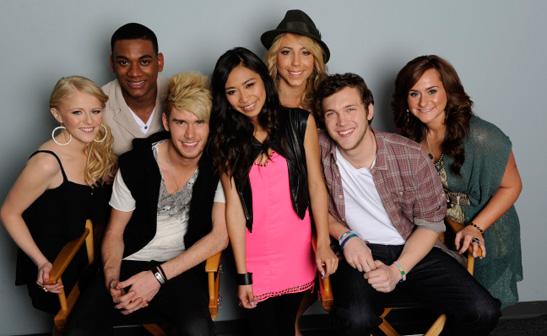 By Minh Nguyen
Special to MSN TV
MSN TV was invited to the "American Idol" press tent to interview the top 7 on a sunny Tuesday, a day when they were rehearsing for their big Wednesday performance.
Bing: More about 'American Idol' | Photos: See the top 7 singers
All seven are all so unique, nice, talented individuals that we don't want to see anyone go home. And no, we don't ever want to talk about this again, but Skylar Laine and Colton Dixon are not dating.
More: 'American Idol' on BuddyTV | Video: Watch 'American Idol' clips and more
MSN TV: We got this from a tweet: How does it feel to be on "American Idol" and have a chance to win?
Elise Testone: It feels like everything I've worked for is coming to the surface. I want it more than anything, mainly because I've seen how I've affected people in my life. And that's what it's all about --being an inspiration for someone, being an "American Idol", not just being a perfect-pitched singer but being someone that can change lives and bring out positive energy through song.
Joshua Ledet: It's definitely a great feeling. It feels so surreal. I can't believe this is actually happening. I've been watching this show on television since I was a little boy. Now that I'm actually living it, and people are watching me, it's ridiculous. It's a privilege and an honor to be here.
Phillip Phillips: It's crazy to be on "American Idol." I can't even explain this. Everyone in this competition, we want to have a career in music. If I don't win this thing, it's not going to break my heart. It's going to suck for a little bit, but it's not the end of the world because all of our careers are just starting. You can't look at it as a bad thing. Winning this thing would be awesome. But just being on "American Idol" and having people say we've inspired them, it's really cool to say that because a lot of people inspire me.
Colton Dixon: It's such a blessing to be here. Plus, I didn't want to audition this year. My sister dragged me in, and here I am. Every day, I look around, and I see Phil jamming on his guitar upstairs and Skylar wailing. It's like, "Wow, I'm good enough to be here? That's crazy!" Just to think that I have a one out of seven chance is so crazy. Oh, my word!
Jessica Sanchez: It's pretty insane knowing the probability. It's so much fun being here with the other contestants and getting the comments from the judges. They're just trying to help us. Even if I did go home now, which I don't want to, I'd be so happy with how far I've made it already.
Hollie Cavanaugh: We all feel really blessed to be here. It takes huge artists to sell out to 23-million people, and we did it in a week. We're working with the best producers, musicians and the best of everything.
Skylar Laine: Yeah, people work so many years to get this kind of exposure. We've worked hard for this, but we have to be thankful every day. The things we do, people that have worked 20 years in Nashville or L.A. don't even get to do.
What kind of messages have you been getting?
Elise Testone: I've gotten really sweet messages from people saying I'm their hero or I've inspired them to try out for the school play or my style or clothes, some people saying, "I had the worst day, but I kept playing your song and I felt better." Those are all the reasons I'm doing this, and it just makes me feel so good inside.
Phillip Phillips: I've seen a lot of weird tweets -- some nasty ones. It's pretty graphic [laughing], but there's been some good ones too that just say we love you and support you. I love all the people that support me. I've seen a bunch of kind of tweets. I've seen everything. 
What is something you didn't know as a viewer that you're now experiencing as a contestant on "American Idol"?
Elise Testone: The only thing with that is I never watched the show. I didn't have TV. I always have been working my butt off since college. I've never been in-depth in the process, so I don't know what to compare it to.
Joshua Ledet: It's so much more work. It's working seven days a week from eight in the morning to 10 at night. We have our rehearsal time. Then there are shoots and video shoots and wardrobe and meetings -- all kinds of different things we have other than the show. So, it's a lot. This is our life right now. Then we have time to spend with our family and go out and have fun and relax. Most of the time, we're here working.  
Do you feel like an "Idol" when you're up there?
Elise Testone: Yes, I do. I feel that when I'm on stage. I feel great because I know people are looking up to me, and I'm doing what I'm supposed to do. I feel like there's nothing else I'm supposed to be doing.
Colton, you and Skylar Laine … Is the pseudo-romance still lingering out there?
Colton Dixon: Yes, it's still lingering. We still get tweets every day about Skylar, not my sister. I'm going to clear that up first. That would be weird. Skylar Laine and I would be weird, too. Neither my sister nor Skylar Laine and I are dating. Skylar Laine and I are great friends. It seems really strange to have people thinking we're dating. We're all equally close. If I have to pick anyone, I'd have to say Phil because we relate on similar levels. We all get together so well. There honestly isn't one person that sticks out too much.
Jessica, is it a bit overwhelming because you're younger than the other contestants?
Jessica Sanchez: I'm a minor, so I have to go to school. I have to do other stuff. Before this happened, I was a normal teenager and hanging out with my friends. It is a bit of a challenge, but I'm always up for a challenge. I love it so much, and I wouldn't change it for the world for anything else. 
"American Idol" airs Wednesdays and Thursdays at 8 p.m. ET/PT on FOX.