FEATURED POST
Smooth crooner added to singing competition as country star's adviser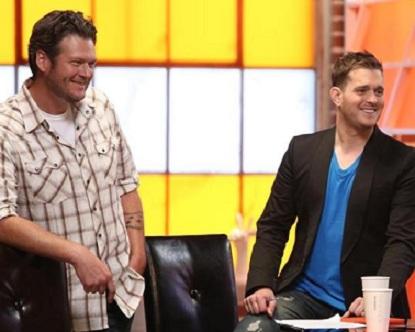 Just so there's no confusion, we're big Blake Shelton fans. At least in the context of his presence on "The Voice." He's funny, sincere and maintains a particularly 
hilarious Twitter feed
during its broadcasts. But if we're being totally objective, his musical taste can skew a bit one-dimensional toward the country realm. That's exactly why NBC's announcement that Michael Bublé has joined him as a Season 3 adviser could provide a huge boost when it premieres in September. 
Bing: 
More on "The Voice"
 |
Michael Bublé
 |
Blake Shelton
Buble's own preference for standards and ballads isn't always our cup of Chai, but it makes for an interesting contrast with Shelton's twangy, 10-gallon-hat roots, and may create unexpected results somewhere in-between. Also, it just so happens that Bublé shares Blake's comedic tendencies, as we've witnessed on his
memorable "SNL" appearances
.
Bublé already began taping early episodes on Monday, and judging by the above on-set photo, he and his new co-worker are enjoying their jobs entirely too much.
"The Voice" Season 3 premieres Monday, Sept. 10, at 8 p.m. ET/PT on NBC.