FEATURED POST
The fur flies in the cattiest, nastiest reunion show … ever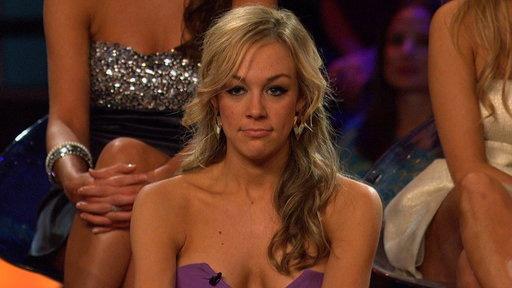 By Diane Vadino
Special to MSN TV
It's the show we've all been waiting for! Honestly, if this season had been half as entertaining as this episode, it would have been twice as entertaining as it actually was. I just did that math, and what we've determined is that "The Bachelor" was 25% as good as "Women Tell All." Correct me if I'm wrong. In any case, I'm guessing it was that much better because Ben wasn't here for most of it. As soon as he and his floppy hair and his "our conversations were really deep" showed up, the show ground to a sticky, irritating halt. Luckily, we had about 90 minutes of show before that point. 
Bing: More about 'The Bachelor' | Photos: See the contestants
We begin -- apropos of entirely nothing -- with a quick round-up of where our favorite (and less favorite -- I'm thinking of you, Kasey) past franchise contestants have been. Apparently, they've all been to Vegas, and in each other's pants. If the "Bachelor" really was a family -- let's just say that the kids, in fact, would not be alright. The only interesting bit here is a bizarre meeting between Frank and Ali. Remember Frank? He was the douche who decided halfway through his season with Ali that he was going to get back together with his ex-girlfriend. He's still with that girlfriend -- and she must have been thrilled when he dashed off to this "Bachelor" convention (and back into the now-single Ali's arms). Everyone makes cooing noises about their chemistry, and someone alludes to a seemingly bright future between them. Frank should really, really stop this. 
Last Night on TV: Watch recaps | Video: Watch full episodes and clips
At last, we begin the proper "Women Tell All" debate. "Where to start?" Chris Harrison asks. Where, indeed? We have a brief montage of the season's most ridiculous moments -- Courtney and Blakeley figure prominently, as well as Jamie's horribly misguided seduction attempt atop Ben's lap. It's a real feat, to earn the title of "this season's most awkward moment" -- but as she tries to figure out how to French kiss Ben, Jamie's in it to win it. Speaking of winning, we see quite a bit of Courtney and her favorite catchphrase. P.S.: breaking precedent, in which the final two ladies are sequestered in their fairy-tale towers, Courtney's here tonight. Lindzi's not, because she didn't spend the past couple months bad-mouthing these very, very irate women and because no one would tune in just to watch her grovel.
Our first subject for discussion is Blakeley. "You putting your ... 'blessings' out," Chris says. "Do you think that might have stepped on some toes?" Blakeley agrees that her massive boobs might have been better sheathed, but she seems to feel strongly that she is more sinned against than sinning, and she's clearly waiting for Courtney to emerge from her backstage hideaway. We also visit with Brittney, whom you might remember showed up with her grandma only to leave the show a couple episodes later. "There was no attraction to Ben whatsoever," she says. "My time is precious, and I had better things to spend my time on." Samantha disputes this, but Brittney's having none of it: "[Samantha is] like the chihuahua in the house! Just stop talking! Shut up!" 
Those two subjects thus dealt with, we move on to Shawntel. You remember Shawntel: She met Ben, thought he liked her, showed up at the house, and was pilloried for having the temerity to show her ugly face and fat thighs. This was the women's worst episode, and the abuse they handed Shawntel certainly rivaled the best of what Courtney had to offer the rest of the season. "You just don't learn," Chris says as Shawntel takes her seat. Shawntel tears up as she watches the footage of her episode: "That was only the second time I watched it," she says. "I muted it a lot when I watched it the first time. The stuff about my body image, and about being uglier in person -- it was really hard." A number of insincere-sounding apologies are offered, Erika (of the "Who is she?" plaint) among them, but it's Emily to the rescue: "If you were not stunning, the women would have been like, Here's your rose!" It's the only time Shawntel smiles in her segment. Speaking of, Emily's up next -- or, as Chris introduces her, "the hottest rapping epidemiologist in all the land." Chris asks where it all went wrong, and Emily sensibly says that once she went after Courtney, things between her and Ben were permanently spoiled. It's not something she's sweating at this point: "I wouldn't have wanted to fall for someone who fell for what Courtney was putting forward," she says. She didn't like the skinny-dipping much, either, saying that Ben wasn't showing the other women the respect they deserved: "You're just thinking about sex -- you're not thinking about a relationship." As for her take on Ben now? "He made his bed," she says, to applause. "And now he can lie in it." Nicki comes up on stage -- you can see how much she still likes Ben and thinks she should be in the competition: "I went into that rose ceremony thinking if he really wants a shot at true, open, honest love, it's me," she says. That might have been true, but it seems unlikely that that was, in fact, what Ben was looking for. 
The main attraction is next, and it's Courtney. What to say about Courtney? She arrives to extremely muted applause -- none of the women shown are clapping. She apologizes. Blakeley is perhaps the most aggressive: "What did I ever do to you to say 'That's the kind of girl your boyfriend cheats on you with?'" Courtney doesn't have much to offer but tearful apologies. Jennifer has a different problem: "Six days in, and you didn't even know my name," she says. Unfortunately, most of America still can't remember Jennifer's name, so Courtney might have actually won some points there. "I was just trying to keep my head above water," she says. "I'm not a mean spirited person -- it brought out the worst in me." That much, anyway, is probably true. "I don't know, I'm sorry," she mutters. For all the build-up, this segment isn't particularly enjoyable to watch -- Courtney's been too unpleasant to root for at all, but neither is it entertaining watching the other women vent their outrage. 
Finally, we have Ben. "You are the best man I have ever met in my entire life," Nicki says. It is almost literally impossible that this is true -- it's a shame that she still has it so bad for this guy, no? Has she not actually seen his hair? Or listened to him speak? She wants to know what went wrong, beyond the obvious: "I loved our conversations, they were really really deep..." The whole thing is that blah and that meaningless. Is it possible that he's the worst bachelor ever? He sounds like he checked out of this whole "journey," if you will, two months ago. 
The end of the show is rescued by a last-minute interlude between Jenna and Monica. You remember Jenna -- she's the crazy blogger who asked Monica if she wanted to "share a tampon." Monica has, incredibly, brought a tampon for Jenna, but not before describing her as "bat **** crazy." Monica is so incredibly nuts -- and for the record, her near-seduction of Blakeley seemed more authentic than anything Courtney pulled with Ben. Monica for "The Bachelorette"! 
"The Bachelor" airs Mondays at 8 p.m. ET/PT on ABC.