FEATURED POST
Actor Jack Wagner and Anna Trebunskaya are the next to be eliminated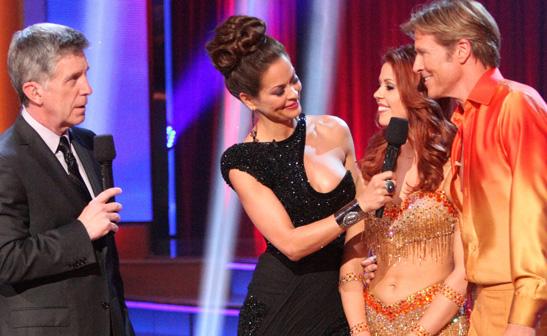 This week's elimination was tough. Jack Wagner had a rough time in the last round, but turned in a cheerful samba this week that the judges called his best to date. Unfortunately for him, all of the dances were also excellent this week and someone had to be the one to go.
Bing: More about 'Dancing With the Stars' | Photos: Meet the cast of Season 14
Jack wished the rest of the contestants good luck and he and Anna danced a sweet little waltz together.
Last Night on TV: Watch recaps | Video: Watch clips and more
Here's how the remaining stars did this week:
Katherine Jenkins
Katherine's elegant, emotional waltz was the best dance of the season so far. She turned in a performance worthy of one of the pros and got a nearly perfect score for her trouble. Katherine is a gorgeous dancer with great musicality. She could end up being the brightest star this show has ever seen.
Maria Menounos
Maria's sexy rumba was a revelation! The routine was full of tricky spins and dips that Maria pulled off beautifully. Also, she and Derek might have kissed at the end. They're both denying it, but not too strenuously. Bruno compared Maria to Aphrodite, the goddess of love, and he wasn't wrong. This was easily Maria's best performance.
Roshon Fegan
Roshon's Michael Jackson-themed samba was nonstop fun. He brought a ton of swagger and style, and honestly looked like he was having the time of his life. His hips were open, his knees were loose and his spins were right-on. Roshon really knocked it out of the park with this one.
Sherri Shepherd
It was an open question whether a slow dance like the rumba would suit bubbly Sherri. Well, it did! She sold every bit of the dance, from the rather intricate slow spins to the moody, sensual spirit of the routine. Sherri is awfully tough on herself in rehearsals, but it seems to be working. I can't wait to see what she does next week.
Jaleel White
Jaleel played it cool during his rumba, but there were some tough spins and lunges in that dance! He's a talented dancer with great stage presence and the crowd loves him. It was nice to see Jaleel back up in the heights of the leaderboard after last week's so-so jive.
William Levy
William's open-shirted salsa was so intensely intricate and demanding that Len nicknamed the Cuban actor "William the Conqueror." His energy was incredible and his feet were flying. He even grazed the top of Cheryl's head with his thigh during a floor spin! Katherine topped the leaderboard, but William probably won everyone's hearts and ... minds.
Donald Driver
Donald's elegantly brooding rumba really showed us his emotional side. Carrie Ann called the routine mesmerizing, though she pointed out that there were "a few little lifts" thrown into the choreography. Donald has been steadily climbing the leaderboard, so look out above.
Melissa Gilbert
The jive is a tough dance but Melissa really put her mind to it and turned in amazing performance. She's still having a tiny bit of trouble keeping up with Maks, but ... it's Maks. This was definitely a comeback for Melissa, but can she keep the momentum going?
Gladys Knight
Gladys' foxtrot was stately and elegant, if a bit simple. Her stage presence continues to impress and her footwork was clean and precise. This is a really competitive season, however, and she and Tristan will have to shake things up a bit if they want to keep dancing.
Gavin DeGraw
Gavin's rumba was a big improvement over his other dances this season. He totally sold the dance emotionally, which is key with the rumba. Len praised his hip work and musicality and noted that Gavin has improved every week. One more good dance could make his disastrous Week 1 foxtrot fade from our collective memory, so let's hope he puts in the rehearsal time.
Who won the week: Katherine, William and Maria
Who needs to step it up: No one and everyone -- we had a four-way tie for last place this week.
"Dancing With the Stars" airs Mondays at 8 p.m. ET/PT and Tuesdays at 9 p.m. ET/PT on ABC.