FEATURED POST
There's more squabbling than racing in this contentious episode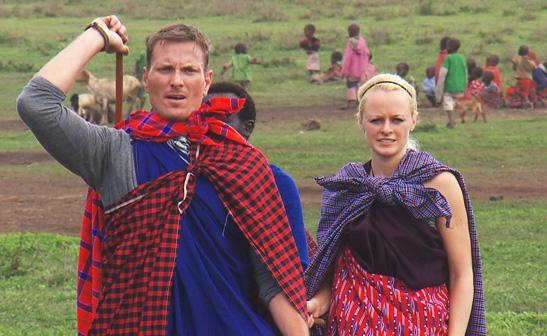 By Diane Vadino
Special to MSN TV
We're in Azerbaijan! Specifically, in the one travel agency in the city of Baku handling all of the teams' onward travel to tonight's destination: Kilimanjaro, Tanzania, by way of Nairobi.
Bing: More about 'The Amazing Race' | Photos: Meet the teams
One by one, the teams stop by -- beginning with pack-leaders Rachel and Dave -- and make their reservations. They're all going to be on the same morning flight, so there's little drama in terms of travel routing -- all the intrigue is instead focused on the the teams' personal dynamics. For example, "kindergarten teachers" Jamie and Nary might not be cops, fellow law enforcement officers J.J. and Art reveal: Apparently, at the fire-dancing night in Baku, one of them confidently asked Art and J.J. about the border patrol agents' "UC" -- "undercover" -- operations. "Teachers are friendly and .. more social," Art says. Meanwhile, Jamie and Nary are reminiscing about their friendship that should have any alert viewer concerned for their future prospects in the race. It sounds like Jamie shot herself by accident ("My gun went off") and shattered her femur. "Nary slept in [the other] bed and never left my side," Jamie says. Not all teams are obsessed with rooting out the truth: "They can be FBI agents for all I care -- they're still nicer [than Art and J.J.]," says Brendon. 
Last Night on TV: Watch recaps | Video: Watch clips and more
The fighting does not stay behind in Baku -- when the teams arrive in Nairobi, to transfer to the flight to Kilimanjaro, the squabbling continues. Apparently Brendon and Rachel push past enough grumpy, sleep-deprivate teams that both irritated words and gestures are shared. "Did you see that? He pushed him and then he flipped him off?" Art says of Brendon and Ralph. Then Vanessa and Rachel get [back] into it: "Put on more sparkles," Vanessa says to Rachel, who says something about Vanessa being 38. (She's 31.) " Yes, I'm 38, and I still look better than you," Vanessa says. "Honey, get your nose done before you get your boobs done." As Nary puts it: "Now it's getting feisty." Or Mark: "It's like watching kids in a lunch line." 
Rachel is distraught: "I don't think anything mean about her. All she does is say mean things and name call." Vanesa, meanwhile, is over it: "I didn't make her cry -- her lack of self esteem made her cry." If that wasn't enough, Art and J.J. pick that moment to interrogate Jamie and Nary on their true occupations: "How do you know about 'UC operations' and 'caseload'? Nobody talks like that unless they're in law enforcement." The women prove tougher to crack than Art and J.J. might have thought: "It's kind of silly, with all this confrontation [to bring this up]," Jamie says. "We just wanted to stir the pot," Art admits. Nary: "Art and J.J. think they can intimidate us." Honestly, if the arguing were cut from this episode, it would have been about 20 minutes long. No more "Big Brother" teams, producers -- they're bringing down the vibe. 
Back to the game, finally, the teams race from the Kilimanjaro airport to the Arusha airstrip, where three charter flights, 15 minutes apart, will ferry the teams to Ngorongoro Crater -- one of the most spectacular sights in the world. Art and J.J. fly with arch rivals Brendon and Rachel on the first, but everyone's too delighted with the scenery to fight; they're followed by Bopper and Mark and Rachel and Dave, with Nary and Jamie and Vanessa and Ralph bringing up the rear. From above, the teams see amazing African wildlife: jackals, giraffes, lions, and a literal sea of flamingoes. "It's like a herd of tigers," Mark says of some wildebeests. 
Once they've landed, teams pick out "a safari vehicle" and direct a driver to the rim of the crater, where they retrieve their clues from a Maasai warrior. From there, they pick out bikes, and choose from two tasks: Marksmanship or Courtship. For the former, teams need to throw a traditional Maasai weapon at a rotating target; in the latter, teams jump for a minute. (Sure, they're 8000 feet up, but it's basically the easiest challenge in the history of the show.) "I want to do the marksmanship [challenge]," Dave says, continuing his streak of choosing any challenge that's at all related to his military experience, even if it's much, much harder than the other one. Team Big Brother heads instead to Courtship, and is in and out of there in a few moments. On their way to the next challenge, Brendon helpfully advises the arriving Kentuckians: "Hey, Mark and Bopper -- Courtship!" Rachel and Dave are still bickering when we leave -- all anyone needs to know is that it at one point involves Dave saying, "Don't misconstrue my support as yelling." Mark and Bopper sail through the courting ritual: "I hope it didn't mean that me and [Bopper] was courting," Mark says. Bopper blows kisses to the crowd on his way out of the village. 
The next task is substantially more difficult than hopping up and down: Using an already set-up camp as an example, teams have to pitch their own tents, complete with solar-heated outdoor shower. "The attention to detail -- I won't have any problem with that, especially with my OCD," Dave says, in a curious mix of self-deprecation and arrogance. It isn't long, though, before the jokes are over, and he and his wife are fighting again: "I'm sick you just pouting, 'This isn't right, this isn't right,'" Rachel says. "You're the most negative person I know in this freaking universe." J.J. overhears this: "That," he says, "is why we did not do this with our wives." Pitching a tent sounds easy, but these tents are super heavy-duty versions, and they look exceptionally awkward. "This tent building was extreme," Rachel says to Brendon. At one point, Mark warns Bopper not to fart on him, as they heave the complicated rigging system into place. Rachel and Dave sneak into first place, followed by Mark and Bopper. Art and J.J. are next ("You look as though you need a drink," the tent judge says to J.J.), followed by Rachel and Brendon. "Some nasty words are being spoken back and forth," Phil says to Team Big Brother, disapprovingly. 
It's coming down to Vanessa and Ralph and Jamie and Nary -- but it's not much of a contest, as the remaining all-girl team is far beyond everyone else. They're calm in their defeat, though, even after Vanessa and Ralph leave for the Pitstop: "This is what a lot of guys at work have wanted -- me and Nary in the shower together," Jamie says, as they set up the water dispenser. "But we're not looking so hot right now." Task completed, they see a herd of elephants en route to the Pistop and actually stop their jeep to get a better look at them. "Ooh, there's elephants!" one of them says. "What a great end to our day." When the women arrive, though, Phil has an even better conclusion: It's the season's second non-elimination leg. They're still in it!
"The Amazing Race" airs Sundays at 8 p.m. ET/PT on CBS.