FEATURED POST
A disastrous error threatens to destroy one team -- at the final Pit Stop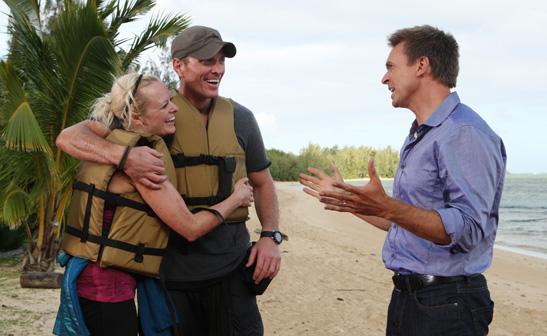 By Diane Vadino
Special to MSN TV
Previously: Kentucky buddies Mark and Bopper bowed to the inevitable -- and go back to Clay County after suffering a mortal wound at a game-ending Bollywood challenge. 
Bing: More about 'The Amazing Race' | Photos: Meet the teams
Sunday night: We're headed back to America -- which means we're at the end of this season's "Amazing Race." Phil takes us on a brief trip back through the episodes: Remember Maiya and Misa, who ran in the opposite direction of the Pitstop? Dave, the clown who couldn't do math? Joey Fitness and Danny? Jamie and Nary? We were "bewildered in Baku" and "taken aback in Tanzania," and now we're left with the final four teams -- who are actually preempted by a lengthy recap of Kentucky soul brothers Mark and Bopper. (Never before has a fifth-place team earned such a devotional. But they -- "the best friends competed with their hearts on their sleeves," as Phil describes them, and the season's most popular team -- deserve it!) Unfortunately, we're left with four other pairings: still-squabbling couple Dave and Rachel; occasionally (but not terribly) quarrelsome couple Vanessa and Ralph; bickering couple Rachel and Brendon, and the border patrol agents, who are just sort of jerks a lot of the time. 
Six-time leg-winners Dave and Rachel are the first to leave Cochin, at 1:51 p.m. -- and we're headed for Hiroshima, Japan, and then Miyajima Island. Everyone's on the same flight there, so we have a chance to quickly visit with the four remaining teams -- particularly Dave and Rachel, whose contentious relationship has been a recurring theme this season. "I don't necessarily view Rachel as my wife," Dave says. "I view her as my teammate, my peer." Rachel has an alternate, and probably more accurate suggestion for how Dave views her: "Solider," she says. "Solider." 
Once in Japan, the teams begin a fairly epic trek to the island -- by bus, train, and then by ferry. A tiny bit of jockeying occurs, and Rachel and Brendon miss the first bus. ("They never know where they're going," J.J. says.) But the most seemingly meaningful one occurs when Dave and Rachel, who'd arrived too late for the train, also miss the ferry. The super-bad news: The leading three teams got the last one for the night, and Dave and Rachel won't be able to get to the island until morning. "This just proves that every second counts," Dave says, petulantly. 
It turns out that Dave is wrong, and the delay actually doesn't count for much: Much like in Argentina, the clue arrives at dawn, so Rachel and Dave don't actually lose any time at all. (Or, as Rachel puts it, "[Dave] can take his poopy pants off now.") Teams are first directed to pay their respects at the city's serene but sorrowful peace memorial, and then to travel by bullet train to Osaka and its TV 8 studio. Art and J.J. and Vanessa and Ralph take cabs, while the other two travel by public transportation -- the slower choice. When Vanessa and Ralph's cab gets lost (just the first unfortunate event in a problem-plagued leg for them), Art and J.J. have the challenge all to themselves: "Who wants to bring home the chicken?" reads the clue. It turns out we're at an insane Japanese game show, in which players have to run along a treadmill, grab three chickens hanging from the ceiling, and then race all the way to a mat -- a mini-Pit Stop. It's hysterical, and very hard, and when Art's done, he gives the host a massive hug. From there, the teams go to the Umeda Sky Building for their next clue. 
Vanessa is forced to do the chicken challenge to stay even with Ralph, and it's hard to think of a more difficult job for someone who just sprained her ankle. "I'm hoping it's nothing all too physical," she says, on the way into the studio -- but of course, it is one of the season's most physically demanding. Ralph's face, as he begins to understand the nature of the Roadblock, is a mask of terror. "I don't know what to do!" Vanessa wails. Ralph is all for quitting and taking the penalty. "I'm telling you what to do," he says. "How many times are you going to do this -- 'til it breaks?" Vanessa, for once, is an absolute picture of grit: She takes off her long-sleeved top and helmet and literally says to herself, "I can do this." She grabs the third chicken. "You're going to have to run like you've never run before," Ralph says, prepping her for the end. She dashes down the treadmill, falls, and ends up in a pile of balloons. She does it one more time -- and makes it. 
The other teams have moved on to the Roadblock: Bingo Shout Out or Photo Cut Out. In the former, teams play a complicated version of bingo involving sushi; in the other, they need to convince 30 passersby to pose in giant cut-outs of sumo wrestlers. Only Rachel and Dave take the sumo challenge, while everyone else goes for sushi. They're still fighting, by the way: "Silence is golden," Dave says, about some perceived failing of Rachel's. "Then why don't you shut the **** up?" At least Rachel sticks up for herself -- small victories. Though this seems like it could be a hard task, true to form they handily convince the 30 people to pose -- and they're the first ones to leave for the Pit Stop, at Osaka Castle. 
Art and J.J. are en route to sushi bingo: "Old men love sushi, and old men love bingo," Art says. It's possible that even now none of the teams know precisely how it works: The bingo caller yells out types of sushi, and then everyone has to match the fish and the letter to string five hits in a row. It looks like they're just sort of randomly throwing the fish down on the board. Art and J.J. finish first -- stuffing their mouth with the five winning pieces of sushi, which was a random addition to the challenge -- while Brendon and Rachel make their way through their own board. Vanessa and Ralph are still playing when Team Big Brother heads for the Pit Stop. 
Much is made here of the three trailing teams failing to find it -- at one point, nemeses Big Brother and border patrol run into each other -- but it's pretty clear that Vanessa and Ralph won't be able to make up the time lost on the chicken challenge. "I'm really hoping another team got lost or abducted by aliens," Vanessa says, as they finally get into the taxi. It doesn't happen, though -- they're out, in fourth place. "I would never want to do this with anyone else," Ralph says. "From here on out, it's smooth sailing -- unless there are rubber chickens," Vanessa says. 
But we're moving on: to Hawaii, for the final leg of the race. After a 12-hour flight, teams are directed to a vague destination involving twins -- which Dave and Rachel's cabbie realizes refer to the twin towers in Pearl City. Dave bonds with his ex-Army driver, and he quickly loses J.J. and Art, who'd been trailing them. Team Big Brother is clued in on the answer by the cab dispatcher at the airport, so it's only the border patrol agents who have no idea where to go. They're directed to "a statue of a guy of a boogie board" -- definitely the wrong place -- and wander around lost until a passerby takes pity on them and explains the answer. 
At the towers, Dave and Rachel are first to the challenge: to pull themselves up the length of the 45-story tower and then to rappel, face-forward, down it. "This is like extreme 'Amazing Race,'" Rachel, of "Big Brother" says. From the top of the tower, teams can see a flag marking the next stop -- across some water at Sand Island State Recreation Area. There, teams face a pretty easy-looking Roadblock (at least for anyone who still has any upper-body strength left after the tower climb) -- all they're doing is shaving ice (14 quarts worth) from an ice block. Rachel and Rachel, waiting for their partners to finish, can see Art and J.J. rappelling down the face of the tower. "They look like little bugs -- I want to squish them," Dave's Rachel says. 
From there, teams are instructed to go "by foot" to helicopters. Pilot Dave is all too cool for school about it: "I'm normally not a passenger," he says. Rachel and Brendon, meanwhile, make the cataclysmically bad decision to take a cab -- which they realize after enough time to put them very solidly in third place. "I don't want crazy Rachel right now," Brendon says. He gets her anyway. 
Rachel and Dave are first to the next task: "Become North Shore lifeguards [and] rescue a distressed swimmer." This involves Rachel manning the Wave Runner and Dave pulling the swimmer onto a sled -- it's not very hard. The next part, though, is: All the teams are directed to Coral Kingdom Gate by taxi: "To have your fate completely in the hands of a stranger" is stressing Dave out. Wherever their driver drops them off, they're soon stand-up paddling across a body of water -- and then running down the path to the final Pit Stop! But Art and J.J., we see, are in first place -- Dave and Rachel skipped a task! (Misa and Maiya, in particular, are stunned.) As they backtrack, Art and J.J. face the final task: sledding down a hill and then rolling a disk into a net. And they face it, over and over and over again: Art just can't stay on the sled. It gets much, much worse for them when Dave and Rachel show up -- and they realize that they were actually wasting away their lead. J.J. is visibly in pain, while Art pretty much hates nothing in the world but sledding. Inevitably, Rachel aces the sled -- and then the bowling. And since they know the way to the Pit Stop already... 
Art and J.J. and the newly arrived Rachel and Brendon find themselves duking it out for second. Rachel and Dave are first. "It was awesome to spend a month together," Rachel says, crying when she talks about how difficult it was for her when Dave was in Iraq. Art and J.J. are second: "Not bad for a couple of old guys," says Art, who is going to have nightmares about that sled for the rest of his life. "'The Amazing Race' has tested our relationship in ways I didn't even think was possible," Brendon says. But what do Bopper and Mark -- by far the most likable team in the final five -- have to say about this, something producers obviously recognize by including them in this season's final thoughts? "You took two boys from the middle of the country and took them around the world," Bopper says. Is it too soon to start looking forward to them in All Stars?