FEATURED POST
The show's most successful team ever on how they won the prize, even with all the fighting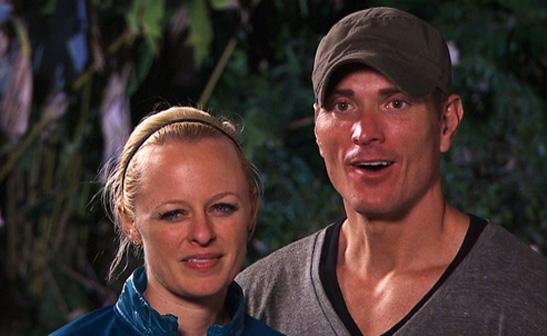 By Diane Vadino
Special to MSN TV
Rachel and Dave Brown, a combat pilot and Army wife, destroyed the competition on this season's "Amazing Race, " ultimately winning a record-setting eight legs as well as a million-dollar prize. They were, in fact, so dominant that not even skipping a task -- and having to backtrack to finish it in an "Amazing Race" finale first -- kept them from the prize.
Bing: More about 'The Amazing Race' | Photos: Meet the teams
We spoke to them about bickering their way through the race (they say it just motivates them to be better), Rachel's domination on the sled challenge, and picking up clues just like Katniss.
When did you first realize that something was wrong when you hit the mat the first time last night?  
Rachel: We had no clue [something was wrong] until Phil said, "However … "
Dave: The other racers were just as astonished as we were. But then there was the "However," and Phil's eyebrow raised.
What went through your mind when you heard that?
Rachel: My first thought was, "He's just kidding."
Dave: I was absolutely baffled. I had no idea what had happened. Phil alluded to the fact that Roadblock had not been completed, so we left the mat and just thought about it briefly. Strangely enough, we're on the main thoroughfare and there's a woman having a cigarette, and we asked her if she recognized [the place in the clue] and she said, "Yeah, it's about a quarter mile down the road." We ran the whole way, and then saw a mud road with a small "Amazing Race" banner. Then we followed it and I spotted fresh footprints.
That was kind of an amazing moment when you knew you were on the right path because of the print. It was like something out of "The Hunger Games."
Dave: We just knew there had been teams running around with their crews.
When you got to the sled challenge, what place did you think you were in?
Rachel: We thought [Rachel and Brendon] were definitely ahead of us. They had been right behind us at ice shaving.
Dave: I was talking to J.J., and he mentioned that Big Brother hadn't arrived yet, and that's when I realized we were contending for first place again. When we left, though, I noticed that there were ATV tracks, and I thought maybe J.J. threw us off. Your mind is just completely racing at this point. That's why, when we were crossing the pond again, I was, like, "I'm proud of you either way" because we really didn't know.
Every team comes off the "Race" saying that communication is the most important element. But it seemed like you guys actually didn't communicate very well. What were you doing right that we couldn't see from at home?
Rachel: We can have little spats, but we let them go. It's not something that holds us back.
Dave: Believe me, they incorporated every argument Rachel and I had. We are both very competitive people and very controlling. Rachel pushes my buttons, and that motivates me. And I push her buttons, and that motivates her. I think what most people would perceive as bickering or arguing, we used it to motivate each other. But ultimately, above and beyond [what we did right was] our attention to detail, and our detailed analysis of the Detours and Roadblocks. We really took time to assess which would be better for us.
Rachel: I think it's something you saw in the last episode, with the sumo wrestlers or the sushi. We said, sushi sounds like it's something out of our control, and we don't want things to be left to chance. We'd rather be able to drive our own success.
Dave, what do you think was Rachel's best moment on the race?
Dave: The sled. Art and J.J. are both very competitive, and they were attempting it like 50 times. She was actually able to complete it within two attempts.
How'd you do it, Rachel?
Rachel: It was a complete balance thing. I just squeezed my core and tried to stay on for my life. The first time I went down, it felt like I had rug burn all over my body. The second time, I was just not going to have to do it again.
What will you guys use the money for?
Dave: Rachel and I are both very sensible, frugal people, and we're going to use this money to pay off our mortgage and provide financial stability, and we'll invest quite a bit of it.
Rachel: And I think I'm just going to really splurge and buy something [small] in one of those Skymall magazines we saw all the time.