FEATURED POST
Celebrity chef's new show tackles the hotel industry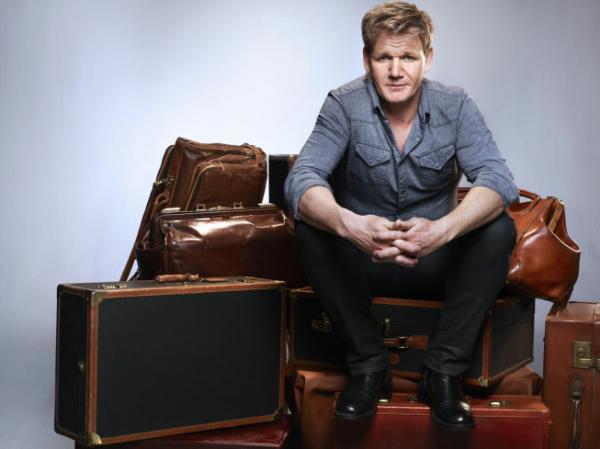 Two prevailing thoughts emerge while watching Gordon Ramsay's latest show "Hotel Hell."
One, the celebrity chef has found a new group of people to yell at. And two, he has too many FOX shows. "Hotel Hell" is Ramsay's fourth program on the network, and it premieres over two days starting Monday, Aug. 13. In the opener, Ramsay takes on the owners of a stately but struggling inn in Vermont.
Bing: More on 'Hotel Hell' | Gordon Ramsay
But before you write the Scot off as a culinary version of Ryan Seacrest -- a comparison Ramsay loathes -- check out this husband and father's take on the hospitality industry, consumer advocacy, and what he sees as an undue reputation as a hothead.
Plus: Reality stars that need introductions | 'Dancing With the Stars' All-Stars
Ramsay sat down and chatted with MSN TV after a recent panel promoting his show at the Television Critics Association's press tour in Beverly Hills.
MSN TV: It seemed like the reporters in that panel were trying to rile you up and get you to yell. Do you get that a lot?
Gordon Ramsay: Yes. A lot of it gets misconstrued because people think it's anger. Yeah, I get pissed off. Yeah, I get upset. But I want things to be done right. Why do I want it right? Because I care. That's what never comes across properly. How much I care. I'm in the industry. This is not something I just do. This is my life. So, whether it's s----- service in a restaurant that's arrogant and obnoxious or it's food that's bland or a hotel room that hasn't been made over properly, I care.
Do you think your fans wish they could yell as much as you do?
I understand this is a politically correct world and the importance of that but we've got to be real. I've got to get things done. Yes, I know I'm not saving lives but I think that level of drive is healthy today. I think competition is healthy as well. I look at obesity, for instance. That's the biggest frustration on my mind. Everyone's singling out the kids but it's the parents. If you have children and you nurse them to become obese, it's the same as driving under the influence. Like with that, you should be held responsible. It's from the beginning. You don't have to be rich to eat healthily. I keep it real.
What made you want to do "Hotel Hell" and rehab inns and bed and breakfasts?
I'm not rubbing people's faces in it. I mean it. I take this show very seriously. Whether it's a $400 a night or a $200 night establishment, I don't care. We've got to get it right. That's the way I am. The minute I start taking shortcuts as an individual in this industry, I'd rather not do it.
Will viewers stop staying in hotels after seeing your show?
I hope not but everyone has had a bad hotel experience. The objective of "Hotel Hell" is to appeal to that commonality. Americans don't have long breaks. You don't have the holidays that we have in the U.K. All you have is these weekends away so they're more precious, I think. So booking a hotel now will be a lot more happier and evident in terms of great experiences on the back of "Hotel Hell." Don't be put off by the title. 
While promoting "Hotel Hell," you mentioned several times that customers don't complain enough. Can you explain that notion?
We don't complain enough. When you go into a clothing store, you don't buy a shirt or a pair of pants that don't fit properly. The same goes for a hotel or restaurant. You've got the right to ask for better. The more we complain, the better things are going to get.
You've been accused of overexposure now that you have four FOX shows. What's your response to this kind of criticism?
It's different sectors of the same industry. I would've preferred the program to have gone out back in April like it should've but I don't get involved with the politics of scheduling. But it's all the hospitality industry. "Hell's Kitchen" and "MasterChef" are similar shows but one deals with amateurs and the other deals with professionals. "Hotel Hell" is an extension of "Hell's Kitchen." What you have to realize is the difference my shows are making in people's lives. The phenomenon of "MasterChef" with 57,000 applicants, is amazing and viewers are dictating it. Do I ever get tired of Ryan Seacrest on "Idol" two or three nights a week and his radio show and his show on E!? No, I love the guy. But I don't understand the comparison. I don't get caught up in TV stardom. I work friggin' hard. I just got out of prison for a new show in the UK called "Gordon Behind Bars." I set up a cottage industry called Bad Boys Bakery that sold lemon slice (tarts). All the glamour and the glitz that goes with studios and cameras were put aside for this documentary style show. We're talking about doing something like it in the U.S. We've had 15 million viewers in the last four weeks.
What made you want to do "Gordon Behind Bars"?
The objective is doing something positive in a system that hasn't changed in three decades. It's dysfunctional and 72 percent are reoffending and there are 92,000 inmates. Sadly, my little brother has been inside and he's still suffering from addiction. And it was about keeping one foot on the carpet. I never get carried away. They were trying to rile me today and poke at me. I take that s--- everywhere I go. I'm used to it now. It's like come on guys. Can we be a little bit more stimulating?
With all of these shows and projects, would you say your passion is still in the kitchen?
My passion is in my level of perfection of food and that's in the kitchen mainly. But I like that other side. I'm 45 now. Do I want to spend 18 hours a day of my life in a kitchen? Not really. No. I always like to move forward. They always make a big deal. "Hey, your show is being dropped." But I've had 12 seasons of "Hell's Kitchen." Before anything gets canceled, I want to make sure I'm onto the next thing to continue moving forward. I like jumping off the bandwagon before I'm told to get off.
"Hotel Hell" premieres Monday and Tuesday, Aug. 13 and 14, at 8 p.m. ET/PT on FOX.