FEATURED POST
Katherine Jenkins holds on to her lead with a nearly perfect waltz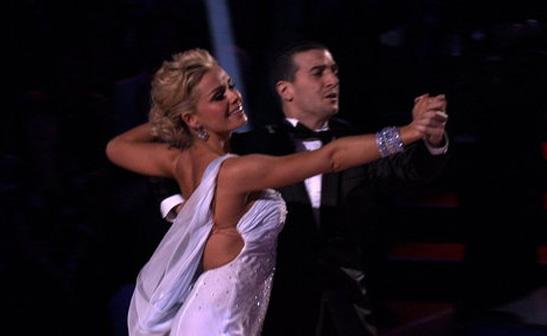 It was an emotional week as the stars danced routines to commemorate the most memorable year of their lives. Most of them cried at some point during the show, which was honestly kind of weird. That said, all of the stars danced well, and it was a good show. Katherine's waltz was the standout performance. It was beautiful, moving and deceptively simple looking. Roshon's Michael Jackson-inspired samba brought the crowd to its feet and Maria's sexy rumba was a nice surprise.
Bing: More about 'Dancing With the Stars' | Photos: Meet the cast of Season 14
This could be a tough elimination week as absolutely no one turned in a bad performance and we've got a five-way tie for last on the judges' leaderboard. I hope you all voted!
Last Night on TV: Watch recaps | Video: Watch clips and more
Here's a quick look at how the stars did this week:
Jack Wagner
Jack's happy-go-lucky samba was a bit more toned down than last week's jive, and that was a good thing. He and Anna moved beautifully together and Jack really had the choreography down pat. His knees were a bit stiff during some of his spins, but his hip work was great. Len praised Anna's choreography and called the routine Jack's best. Bruno praised his rhythm and Carrie Ann called the routine "effervescent." After a tough second week, Jack is back in the game.
Score: 24/30
Maria Menounos
Maria's sexy rumba was full of tricky spins and dips, as well as a maybe kiss? Derek really put his all into choreographing this one. Maria did an amazing job both keeping up with him and selling the emotion of the dance. Bruno compared Maria to Aphrodite, the goddess of love, and praised her for dancing to a very difficult song. (A breathy slow-jams cover of Madonna's "Material Girl.") Carrie Ann praised Maria's flow from step to step, and Len called the routine fabulous. This was easily Maria's best performance.
Score: 27/30
Gladys Knight
Gladys' foxtrot was stately and elegant, if a bit simple. Her stage presence continues to impress, and her footwork was clean and precise. As always, Gladys' rhythm was perfect. Carrie Ann praised the improvement to Gladys' frame that was evident in this routine. Len was quick to point out that he and Gladys are the same age, which seemed like a precursor to some nasty criticism. Turns out he just wants to be a Pip. Gladys really showed us what she's made of this week -- let's hope she can keep it up.
Score: 24/30
Roshon Fegan
Roshon's samba was nonstop fun. He brought a ton of swagger and style and honestly looked like he was having the time of his life. His hips were open, his knees were loose, and his spins were right-on. Honestly, I can't think of anything bad to say about the routine. The judges weren't much help there, either. Len grumbled a bit about a lack of "traditional samba content," but you could tell by the glint in his eye he loved it. Carrie Ann did feel there were some timing issues with the routine -- and got booed when she said so. Roshon really knocked it out of the park with this one.
Score: 25/30
Gavin DeGraw
Gavin's rumba was slow and sensual, but still a bit clunkier than a rumba ought to be. His hip work was excellent, though he had some trouble with transitions. He totally sold the dance emotionally, which is key with the rumba. Bruno pointed out that Gavin had a bit of an issue with some of his pivots, but the other judges were quite positive about the routine. Carrie Ann praised his attention to detail and saw a sensual tenderness in the routine. Len praised his hipwork and musicality and noted that Gavin has improved every week. One more good dance could make his disastrous Week 1 foxtrot fade from our collective memory.
Score: 24/30
Katherine Jenkins
Katherine's emotional waltz was close to flawless. She was completely caught up in the music and turned in a performance worthy of one of the pros. Her elegant carriage and gorgeous footwork were classic waltz, though there were a lot of fancy spins that set Len off. His criticism was all for Mark, though. He found no flaws in Katherine's performance. Carrie Ann was moved to tears by the routine and Bruno called the routine sensational. This was the best dance of the season so far.
Score: 29/30
Sherri Shepherd
Sherri's rumba was absolutely beautiful. It was an open question whether a slow dance would suit energetic, wacky Sherri. Well, it did! She moved beautifully and turned in some downright gorgeous legwork. Len praised the routine's triple spins and added a very emphatic "Well done!" Bruno praised Sherri's commitment to the routine and the emotional resonance of her performance. This was a truly moving dance.
Score: 24/30
Melissa Gilbert
The jive is a tough dance, but Melissa really put her mind to it and turned in amazing performance. Maks' routine was supercharged with tricky spins and kicks, but she mostly held her own. Her posture left a bit to be desired and she lost the thread of the song for a few beats in the middle. Bruno praised her mastery of the tricky opening sequence Maks crafted, and Len declared her a contender. This is definitely a comeback for Melissa -- but has it come too late?
Score: 24/30
Jaleel White
Jaleel's suave rumba was a breath of fresh air during a round of intense emotional routines. He played it cool, but there were some tough spins and lunges in there. Carrie Ann declared Jaleel "back in the game," and praised his gliding steps. Len thought he was a bit stiff in the arms, but the crowd did not agree. Bruno seconded Len, though, and told Jaleel to work on his upper body movements. All in all, a good performance for Jaleel following last week's so-so jive.
Score: 25/30
William Levy
William's open-shirted salsa was absolutely electric. His energy was incredible, and his feet were flying. The choreography was very intricate – so much so that William actually grazed the top of Cheryl's head with his thigh during a tricky spin – and never let up for a second. Len called him "William the Conqueror," and Bruno simply shook his hand and told William he hated him. Carrie Ann called the routine "ridiculously hot," and who am I to argue? This was a coup for William!
Score: 28/30
Donald Driver
Donald's elegantly brooding rumba really showed us his emotional side. His knees were a tiny bit stiff, but his hip work was excellent and his movements flowed well. Carrie Ann called the routine mesmerizing, though she pointed out that there were "a few little lifts" thrown into the choreography. Bruno praised Donald for pushing himself to the limit, and commented on his excellent control and precision throughout the dance. Donald has been steadily climbing the leaderboard, so look out above.
Score: 26/30
Who won over the judges: Katherine, William and Maria
Who won over the crowd: William, Katherine and Roshon
Who needs to step it up: No one at this point!
"Dancing With the Stars" airs Mondays at 8 p.m. ET/PT and Tuesdays at 9 p.m. ET/PT on ABC.