FEATURED POST
Network says move not in response to recent events, sparks online debate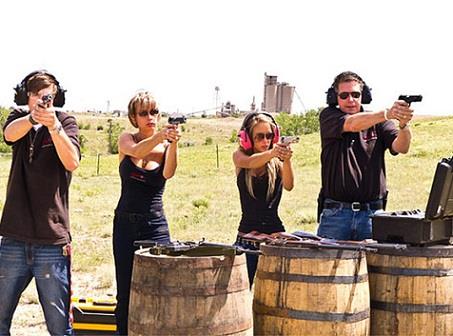 Major networks have often delayed or outright canceled content in the wake of national tragedy that might be deemed insensitive or inappropriate. So it was no surprise that, following the shootings in Newtown last Friday, ABC briefly pulled the violent 
"Scandal"
 finale from its website, FOX pushed back episodes of 
"Family Guy"
 and 
"American Dad"
 that featured either violence or religious satire, and Showtime aired a special disclaimer prior to this past Sunday's explosive 
"Homeland."
 However strategic their motivations, these were all the right and respectful decisions.
And now, 
FOX News is reporting
 that Discovery has opted not to renew reality series "American Guns" -- which depicts the overlapping business and family lives of former Alma, Colo., police 
chief-turned-gun-sho​p
 owner Richard Wyatt, his wife Renne and her teenage children, Kurt and Paige -- for a third season, despite growing ratings. 
Discovery denies any direct connection to the shootings in Newtown and only confirmed to FOX News that production has indeed ceased and no more episodes have been ordered. It's hard to blame the network reps remaining apolitical about the move, but even more difficult to ignore the PR nightmare that would have shadowed the series' return. 
Even if Discovery's neutral stance reflects the truth, and "American Guns" was nixed before the tragedy in Newtown, the network will likely absorb some collateral criticism from this divisive topic. Since the cancellation was announced, viewers have besieged the 
"Guns" Facebook page
. One user, F Houston Smith, sounded off: "You folks at the Discovery Channel are spineless for caving in to political correctness. Shame on You!" Mark Angel, another Facebook user, posted: "Discovery I will no longer watch any of your shows due to your political agenda."
Do you think Discovery canceled "American Guns" as a result of public sentiment following the tragic events in Newtown, and if so, do you agree with the decision? Let us know (and please be respectful of those directly impacted by the shootings) in the comments below.