FEATURED POST
Fan favorite falls as another teams bleeds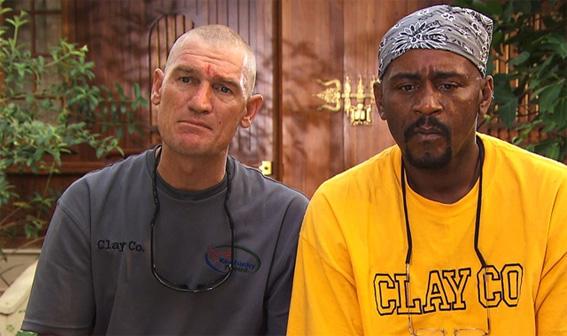 By Diane Vadino
Special to MSN TV
Last week: Despite a freakout that involved contemplating his own death-by-Bollywood, Mark (and Bopper) finished a diabolical dancing task -- and just barely survived, thanks to a non-elimination leg. 
Bing: More about 'The Amazing Race' | Photos: Meet the teams
There's just one episode left before next week's finale -- and we're still in chaotic Cochin, India, at "the former residence of the Dutch governors," Bolgatty Palace. At 6:53 a.m., a confident (mostly) Dave and Rachel leave to pick up a clue at a temple: "The only team that can beat us is ourselves," says Rachel, sagely. Twenty-seven minutes later, Brendon and Rachel leave, listing their tormentors as they go: Ralph and Vanessa ("We just want them to go home," Rachel says) and Art and J.J. (the latter is shown telling Team Big Brother "You guys couldn't follow your shadow on a bright, sunny day." Speaking of, Vanessa and Ralph are next out of the gate, with the border patrol agents a couple minutes behind them. "Vanessa is not very interested in physical challenges, so hopefully a physical challenge doesn't impede us," Ralph says, forebodingly. Finally, we check in on Mark and Bopper, who last week were, of course, nearly eliminated as Mark had to perform his Bollywood routine 12 times under a broiling sun before moving forward. We think Mark's just laying on the bed, but he's actually hooked up to an IV dip. "Mark's been close to a heat stroke, ever since he got hot from the dance," Bopper says. Mark adds, resolutely: "We're gonna stick in it." 
At the temple, teams are instructed to remove their shoes before greeting a holy man. Most go on to a "mats and matting" workshop -- but Rachel and Brendon, in second place, take the Fast Forward. (Rachel and Dave are ineligible since they've already completed one, as have the border patrol guys, and Vanessa and Ralph pass it up, thinking they got there too late.) When Rachel and Brendon get to the site of the Fast Forward, though, they discover that -- in a repeat of a challenge from season seven -- they'll need to shave their heads to skip all remaining tasks and go straight to the Pitstop. Predictably, this is a bigger deal for Rachel then for Brendon: "I don't want to shave my head -- I paid $500 for extensions," Rachel says. "I'd be so sad." She seems genuinely, thoroughly freaked out by the prospect of losing her hair: "I spent years and years trying to get my hair to look good. You want me to shave my head?" Brendon answers, "I don't know, whatever. If we're out, we're out." Rachel just can't do it, and they head for the Roadblock. 
There, they find the other teams facing a difficult challenge, which involves spinning rope and then winding it onto a spool. Sounds simple, but it's actually incredibly labor intensive. As they wind the rope, J.J. freaks out when he realizes that none of the teams have taken the Fast Forward. ("I don't want to talk about it," Rachel tells them when asked how it went.) Rachel continues to defend her decision to not take the Fast Forward: "[Season 7 winner and past head-shaver Joyce] was really cute and skinny and pretty," she says. "I need hair to be pretty -- I already feel enough about my big nose." It's actually really sad, and if you thought you couldn't feel bad for Rachel, this exchange might change your mind. It's less aggro than usual, and just depressing. J.J. is well aware that their decision to forego the Fast Forward could give the Kentuckians an opening: "Doesn't anybody think?" All the teams seem irritated by the fact that this challenge is so tedious: Manning the spool, Dave says, "the hand-crank was a 10-inch nail -- I have no skin on my index finger right now." Rachel cheers them on. Dave replies: "Babe, I don't need positive reinforcement right no -- I appreciate silence." Back at the Pitstop, a team that actually acts like they like each other -- Mark and Bopper -- are ready to go: "The sun is shining on two old dogs, and we're gonna make it count." They're about three hours behind the rest of the pack.  
Vanessa and Ralph are the first to leave for the Detour -- Vanessa trips and twists her ankle, but it's a lot of yelling for not so much injury, and she limps it off. When they collect the next clue from a barber, they discover: Pachyderm or Pack a box. The first challenge looks like a total dream and involves decorating a lovely elephant and then wheelbarrowing some dung. The second (which pays tribute to India's spice trade) looks terrible, and involves processing 10 boxes dried ginger. Everyone goes to the elephants but Art and J.J., who simply choose wrong. While the other teams merrily paint their elephants and then push the wheelbarrows around, the border patrol agents are forced to pack 10 boxes of ginger, which sounds easy but involves a complicated, multi-step process -- Art and J.J. tough it out, but it's hard to imagine Vanessa or Brendon's Rachel handling this challenge well at all. All three of the leading teams finish the elephants challenge before Art and J.J. move on, with Dave again praising Rachel's "Midwestern work ethic." (Because people in the other parts of the country don't work hard?) Art and J.J. make their funniest/only joke of the season as they role-play Dave and Rachel while shoveling ginger: You don't do anything, Rachel -- you're an idiot," one of them says. It's worryingly close to real-life. 
Meanwhile: Mark and Bopper face, and quickly complete, their Speedbump, which involves painting a tiger on a man's stomach. (Bopper: "I had no problem with it, other than it being on a man's belly.") Then they decide to take a chance and go for the Fast Forward -- which, of course, no one's done. Bopper gets his head shaved, and Mark just sort of looks on and laughs as the Indian challenge-minders pass him the trimmers. "He can cut my leg off while he's at it -- I don't care," Bopper says. It's coming clear, though, that without the benefit of a big bunch-up on a flight or similar, they're not going to catch up. It's depressing just to write this -- they were one of the best, most engaging, and most likable teams the show's ever had. 
Rachel and Dave finish up the Pachyderm challenge and head for the Pitstop, which is located on an island accessible only by ferry. With a narrow lead over Vanessa and Ralph and Brendon and Rachel, they nervously wait for the ferry to leave, which will secure the win: "Honestly, babe, I'll pay this guy if we can go," Dave tells Rachel, gesturing to the ferryman. Just before those two teams arrive, the boat leaves, giving Rachel and Dave first place, with the next two teams close behind. When they reach the Pitstop, Phil oversees a ridiculous continuation of the spat between Rachel and Vanessa that's somehow lasted all season: "She doesn't like my sequins," Rachel says, then complains about how Vanessa also made fun of her nose job. "I said you get your boobs done [first]," Vanessa says. "It just makes sense." 
Art and J.J. are yelling at each other ("Dude quit yelling -- you're being a little bitch," Art says to J.J.), but it slowly becomes clear that the Kentuckians probably lost this leg before they started. Though the border patrol agents have taxi/rickshaw trouble on the way to the Pitstop, they're the ones coming back for next week's two-leg finale: Mark and Bopper, despite running a basically flawless leg, are out. "[The race] was one of the most humbling experiences of my life," Mark says. Bopper recalls all of their adventures: "I had no idea what i was missing out on," he says. They leave in fifth place -- the same as last season's big fan favorite, 60+ farmers (and ultimate gut-it-out-ers) Bill and Cathi. "Unfinished Business," anyone?
"The Amazing Race" airs Sundays at 8 p.m. ET/PT on CBS.