FEATURED POST
Basic-cable network's new reality slate tries to appeal to its core and draw new viewers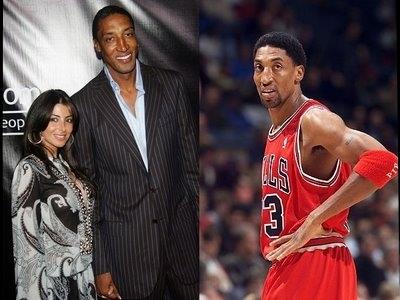 WE tv has found great success with reality shows about manic brides and D-list celebrities and their families. After all, this is the basic cable network that brought us "Braxton Family Values" and its spin-off, "Tamar & Vince," as well as headed-for-the-altar​ offerings, "My Fair Wedding" and "Bridezillas."
So it's comes as no surprise that WE tv, which has been creating women-centric programming for 11 years, announced a non-scripted development slate Wednesday that includes a reality series about former NBA great Scottie Pippen and his second wife, Larsa, and an offering called "Single Brides." The show follows women who plan their dream weddings without even being engaged.
Bing: More on WE tv | Scottie and Larsa Pippen
"We're extremely excited about our current development slate featuring programs about bold, powerful women who are unapologetic for the way they live their lives," Lauren Gellert, WE tv's senior vice president of original production and development, said in a statement. "The shows we are developing explore women's secret temptations, fantasies, and their exciting and fun adventures."
Plus: TV shows men secretly love | 2012: The year in reality TV
There are seven proposed shows, all of which are eligible for the 2013-14 season. Read on for more details:
1. "Big Pippen" spotlights Larsa and Scottie Pippen, a famous Chicago power couple. She's a self-described Middle Eastern princess from a wealthy family and he's one of the city's most beloved sports icons. From private jets to designer digs, diamond rings and NBA championships, the Pippens live a truly charmed life. Add in her overbearing family and his clan from Arkansas and this duo is perfect for reality TV.
2. "Bedroom Confidential" is a docu-soap/social experiment featuring five female friends who allow cameras access to every aspect of their lives, including their bedrooms.
3. "Chasing Ballroom" is docu-soap about real-life "Dancing With the Stars" types who indulge their fantasy of being dancers. From the private dance lessons with ballroom pros to the elaborate costumes, high heels and glitter-infused make-up, these women are putting it all out on the dance floor to turn their "what if?" dream into a reality.
4. "Divas for Jesus" follows a group of fabulous Christian women whose faith consists of guns, god, gossip and great wine. Monday through Saturday, these glamorous Nashville ladies live upper-class lifestyles working and playing hard. And on Sunday they ask for forgiveness and cleanse their fabulous little souls.
5. "Powerlist" takes a look at successful, self-made women who refuse to choose between having an amazing career and a family. Working to have it all, these women -- and their BIG personalities -- have arrived, and they're intent on staying at the top.
6. "Shoe Whores" (working title) is a dating show that examines the relationship between women and their shoes. But what happens when a woman is asked to choose between her favorite pair of pumps and an eligible bachelor?
7. "Single Brides" examines the newest extreme female phenomenon… women across the U.S. who plan elaborate dream weddings including the venue, cake, music, flowers and, of course, the dress. The only thing missing is the groom. This docu-soap follows fiancé-free ladies as they plan their dream weddings while continuing to date in the hopes they'll find the right bachelor to meet them at the altar.