FEATURED POST
Lindsey Pavao, Katrina Parker, Erin Willet and Jamar Rogers are eliminated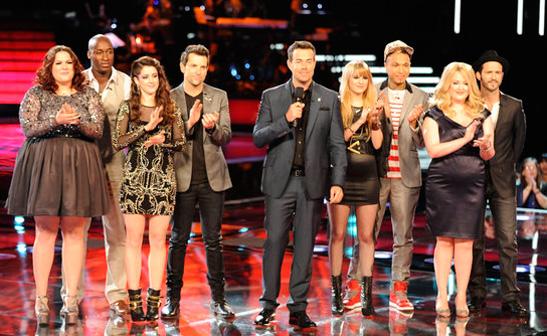 Note to NBC: I appreciate the fact that you have a ratings winner here with "The Voice," and a sophomore season that never even veered toward slump, but all this filler? Just give us the results! I, for one, did not need to catch up with last season's "Final Four," and while Christina Milian is adorable, I never need to go into the Sprint lounge again.
Bing: More about 'The Voice' | Photos: Meet the contestants
OK, regarding the former ... I guess Vicki Martinez's performance with former coach Cee Lo sounded good and her record, "Come Along," did drop earlier in the day, but the shout-fest that featured Cyndi Lauper proving she "Moves Like Jagger" on her admittedly raucous '80s hit "Money Changes Everything" drove me to my medicine cabinet for some Advil.
Last Night on TV: Watch recaps | Video: Watch full episodes and clips
It took effect just in time for the results.
Aguilera copped out, giving both Chris Mann and Lindsay Pavao 50, even going so far as to say she wanted America to decide. Thanks to that move, it went to Mann, 104-96. Had Xtina given Pavao some love, it woulda been different.
Levine had the guts to actually weigh in, giving Tony Lucca 60 to 40 for Katrina Parker. It was the right thing to do; Lucca's so much farther along -- he's ready. America agreed and Lucca took it 108-92.
Shelton copped out as well, going the 50/50 route with Erin Willett and Jermaine Paul. But, considering the fact that Willett's father passed away during all this, and it was actually the girl's birthday on Tuesday, we can give Blake a pass. America wasn't half as considerate -- Paul won handily-with 123 and Willett in the low '0s.
And then, who I was waiting for all night (and who is ALWAYS last): Juliet Simms ... versus Jamar Rogers. Cee Lo, too, did the right thing, voting on the previous evening's performance, and with the track record of both contestants, it had to go to Juliet, from a judge's perspective. Cee Lo leaned 60-40 in her favor. He knew America was hung up on Jamar's back story. Catch is, America seemingly wasn't...not nearly as much as Rogers clearly thought anyway. Simms landed at 123, and Rogers didn't even break 100.
While Lucca is a force to be reckoned with, this episode was basically the season finale, folks. 'Cuz Simms has got this.
Yeah, I said it.  
What did you think of this episode? Tell us on Facebook
"The Voice" airs Mondays at 8 p.m. ET/PT and Tuesdays at 9 p.m. ET/PT on NBC.