FEATURED POST
New York's Jermaine Paul takes the Season 2 crown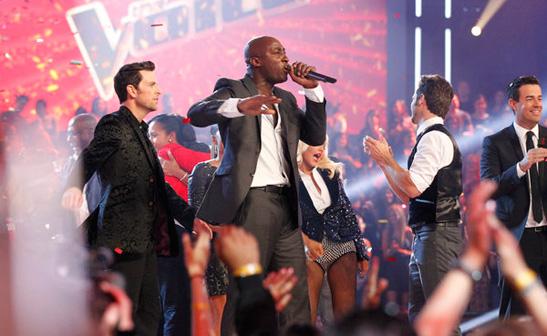 It began with Jermaine assembling the motley crew of James Massone, Pip, and Jamar Rogers for the Jackson 5 hit "I Want You Back." It was fun and all, and certainly trumped what followed -- the FloRida/Juliet Simms duet and the downright horrible "Chris Mann Trio" (Lindsay Pavao and Katrina Parker in tow) -- but that ain't sayin' much.
Bing: More about 'The Voice' | Photos: Meet the contestants
After what some producer decided was a blooper reel but really wasn't aired I began watching the clock.
Last Night on TV: Watch recaps | Video: Watch full episodes and clips
9:43 p.m.: Was that Hall & Oates doing "Rich Girl" with Jermaine, Chris Mann, and Tony Lucca handling background vocals? Why on earth?
9:51 p.m.: Four female cast-offs butcher Stevie Wonder's "Superstition," which has been happening on "Idol" for years.
9:59 p.m.: An admittedly funny but oddly out of place "Parks & Recreation" sketch, features Amy Poehler. Couldn't they have just announced the winner at the outset of this week's episode of that underrated NBC comedy?
10:01 p.m.: Juliet, RaeLynn (yay!), Jamar, and Erin Willett plod through "With a Little Help From My Friends." I begin to worry about Juliet.
10:04 p.m.: Balloons descend from the rafters, a faux finale!
10:09 p.m.: A tribute to Purrfect, Cee Lo's cat. Not kidding. Though I wish I were.
10:21 p.m.: Tony Lucca brings Jordis Unga back and they roar through Fleetwood Mac's "Go Your Own Way." I ponder if Lucca pulled this whole thing off after all.
10:30 p.m.: Lethargic "SNL" sketch about Cee Lo. Then Carson plugs this week's "SNL," with Will Ferrell as host. He'd be a sight for sore eyes right about now.
Then there was Justin Bieber, and his performance of new song "Boyfriend" was a nice injection of energy and slickly produced/choreograph​ed. He's merged Usher and Justin Timberlake nicely, and built a sweet bridge with this tune from 8th graders to ... well ... high schoolers.
Off to the Sprint lounge where the pleasant Christina Milian (who'd be a nice replacement for Aguilera, BTW) has gathered the "final four." The tension and anticipation is palpable.
Carson announces 4th place, Chris Mann, and I was actually surprised it wasn't Jermaine, thinking Mann would be 3rd. But, wait, Tony Lucca is ... Stunned! Still, I think, it's obviously Juliet Simms. But, no, Jermaine Paul took the title.
Unexpected. Unbelievable. Hey, America made the calls ... I bet they won't buy his CD, though.
What did you think of the results? Tell us on Facebook