FEATURED POST
Final eight singers bring on their 'A' game with hopes to win America's votes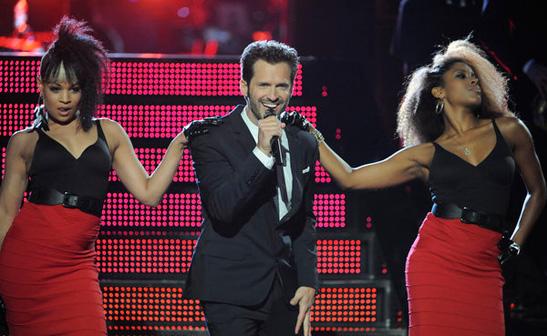 Down to the final eight on "The Voice," it has somehow, somewhere along the way, become anyone's game. Hot damn, how'd that happen? (Maybe around the time James Massone got blown out?)
Bing: More about 'The Voice' | Photos: Meet the contestants
One singer from each team will be gone by Tuesday night, and while I can happily tell you who I want it to be, I can't tell you who it will be, largely due to the fact that they all did "their thing" so well.  What's more, if the Teams Adam and Cee Lo performance that took place midway through Monday night's episode is any indication of what could happen should they tour this summer, then by all means, gang, book it. (Teams Blake & Christina not so much.)   
Last Night on TV: Watch recaps | Video: Watch full episodes and clips
But, as always, first things first:
Tony Lucca opened the show, and was totally in the zone on "How D'Ya Like Me Now?" When he took the stage I was looking (hoping) for his guitar, but Lucca was feelin' it and the unexpected fancy footwork was welcome, even by Christina. She remains (passive) aggressive when it comes to Lucca though, and Carson cutting her off made things even more awkward. Oh, and Lucca and Levine covering Britney tunes (which she suggested)? Great download, especially if Levine took on "Not a Girl, Not Yet a Woman." 
Erin Willett took "Without You" down tempo-wise, but her vocals, and the emotion they gave way to, was a thing of beauty. I was ready for her to go 'til this. Jermaine had a mouthful of fingernails backstage, no two ways about it.
Chris Mann selected "Ave Maria" (no, that's not a typo), saying he didn't "care if it's cool." It most definitely wasn't, nor the white scarf, but he could certainly open for Il Divo and sell a ton of merch. Xtina rushing up to hug him was "Awkward Aguilera Moment 2." I predict he'll be gone by next week (and would like for him to be), but the show is called "The Voice" and he's got a monster one.  
Jamar Rogers, who obviously thinks he already has this all in the bag (which is off-putting), chose "If You Don't Know Me by Now," and I was thrilled. Mostly because I'm for Simms all the way, and he needs to be gone in order for that to happen, and this was the tepid '80's single that could punch that ticket. But, man, Jamar brings it EVERY time. Soaring vocals, bordering on something spiritual. (Sidenote: Has anyone else noticed that Simms is ALWAYS last?)
Jermaine Paul did not surprise when it came to the song he tackled: Journey's "Open Arms." Not the choice, or the fact that he did a solid job with it. Levine told him he was no longer a backup singer thanks to his stab at Steve Perry. America, do you agree? Jermaine versus Erin is a toss-up.  
Katrina Parker managed to "save herself" last time around by rocking Pink's "Perfect," so I was surprised she brought it down with "Killing Me Softly." But it was the Fugees' rendition, and Parker was up for the up-tempo end of the equation. Even so, my bet is she won't make it to next week.
Lindsay Pavao sang Bon Iver's "Skinny Love," and might have been better served with something more popular and less folksy. She positively glowed, though, and like Jamar, appears to prefer the pressure. She didn't miss a beat, sang with confidence, and it was SO nice to see her smile. 
Juliet Simms' nerves have been getting the best of her towards the end here, and picking a James Brown song made ME nervous. "It's a Man's Man's Man's World"? Why, Juliet, why? Why not "Dream on"? But, she kicked her nerves, the song, and America in the crotch. Adam called her the one to beat and Xtina (after making it about herself: "Aguilera Awkward Moment 3") said Juliet sings from her heart. Total showstopper. Simms sizzled.
It's on.   
What did you think of this episode? Tell us on Facebook
"The Voice" airs Mondays at 8 p.m. ET/PT and Tuesdays at 9 p.m. ET/PT on NBC.