FEATURED POST
Battle Round 2 loaded with upsets and regrets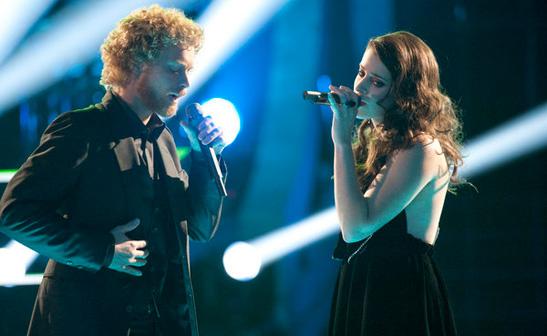 Many fans of the series believed the judges got one or two wrong last week. I happen to think that's exactly what kicked off this week's episode. Christina Aguilera put Sera Hill up against Geoff McBride with Aretha Franklin's anthem "Chain of Fools." While advisors Lionel Ritchie and Jewel preached "character" and "emotion" respectively, a visibly shaky and clearly outmatched Sera walked away with just that ... the match. It was the evening's biggest upset. And it was just beginning!
Bing: More about 'The Voice' | Photos: Meet the contestants
Blake's initial bout saw two contestants more fit to fight one another: self-proclaimed Jersey Girl Charlotte Sometimes and Austin's Lex Land. Curiously, Shelton picked the first of a few odd song selections for the night, Foster the People's "Pumped Up Kicks." These two ladies absolutely stalked each other in "the ring," but it was Charlotte "This Time."
Last Night on TV: Watch recaps | Video: Watch full episodes and clips
In what was positioned (wrongly, I say) as a can't miss win for Cee Lo's Juliet Simms, he put the gravelly-voiced rocker against Sarah Golden, whose rocking is exactly what got her into the competition in the first place, via Gaga's "You and I." Yes, Simms won (and is even my pick for the whole shebang), but Golden proved a formidable opponent, and just killed it. Unfortunately, "Stay With Me," with raspy Rod on vocals, proved too perfect a fit for Simms.
In more outmatched news, Levine had Whitney Myer square off with Kim Yarbrough on Mary J. Blige's "No More Drama," which is exactly what ensued -- drama. How could it not when it was so obvious the 50-year-old Yarbrough would own the tune, especially being twice Myer's age? That said, Myer went down singing, with Blake even commenting that it was like he "was watching one of those diva concerts," and even opting for Carson, as opposed to choosing between the two.
In what was positioned (correctly, I say) as the "most original performance of the night," Xtina's Lee Koch took on Lindsay Pavao with Nirvana's "Heart-Shaped Box" (remember I mentioned odd song selections? Blake admitted to not even knowing the tune!). It proved a truly interesting and entertaining performance, and match. But Pavao sent Koch packing. Or should I say baking?
The next ... um, inspired...song choice was Foreigner's "I Want to Know What Love Is," which Cee Lo assigned to friends Jamar Rogers and Jamie Lono, the latter of whom rocked some serious nerd chic. The friendship they kept speaking of was genuinely evident during the performance, which made the difficulty of Cee Lo's decision palpable. Jamar ultimately took it, although Lono did too ... in stride.
What did you think of Monday night's audition episode? Tell us on Facebook   
"The Voice" airs Mondays at 8 p.m. ET/PT on NBC.