FEATURED POST
William Levy and Katherine Jenkins dazzle with near perfect routines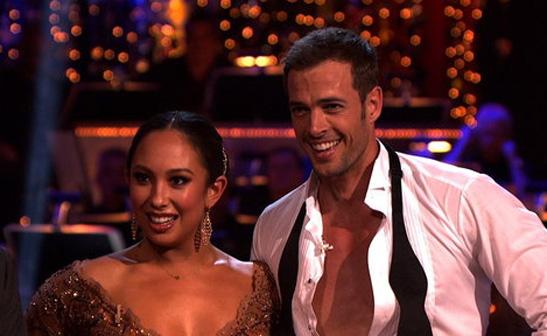 Latin Week was pretty darn hot! We saw near perfect Argentine tangos from William and Katherine, and Maria was nipping right at their heels with her stunning salsa, as was Donald with his own smoldering Argentine tango. In fact, the only real hitch this week was Gavin's downright loopy samba.
Bing: More about 'Dancing With the Stars' | Photos: Meet the cast of Season 14
Here's a quick look at how the stars did in this round:
Last Night on TV: Watch recaps | Video: Watch clips and more
Jaleel White
Jaleel's energetic samba was a showstopper! He had the choreography down pat and was having a great time on the floor. The crowd was in his corner and Len praised Jaleel's rhythm. Bruno was a fan of Jaleel's "unstoppable wiggle," but Carrie Ann cautioned him to watch his arm work getting out of hold. Jaleel is going strong, but he has yet to take the top spot on the judges' leaderboard. Maybe next week?
Score: 24/30
Melissa Gilbert
Melissa's hip-shaking shoulder-shimmying salsa was gorgeous, and this is in in spite of the neck brace she sported during rehearsals this week. (She suffered from whiplash after her injury last week.) The routine highlighted her great rhythm – and Maks' addiction to tricky spins! Melissa more than held her own. Bruno called it "wild and untamed," but said she lacked control. Carrie Ann praised Melissa's newfound confidence but agreed that the routine lacked control. Melissa was staging a comeback the last few weeks, but her salsa was a real setback. Let's hope the fans turn out for her.
Score: 21/30
Maria Menounos
Maria's sexy salsa had the crowd on its feet. It was a lively, fun, incredibly sexy routine that she executed beautifully. Also, she and Derek kissed ... again. Just in case the actual dancing wasn't hot enough for us? Maria has really become an extraordinary dancer. Carrie Ann praised her hip action and Len had nothing but love for Maria. This was a knockout routine – Maria is definitely still a contender.
Score: 27/30
Katherine Jenkins
Katherine's Argentine tango was very nearly flawless. The routine showed off her incredible strength and precision. She and Mark moved well together, and there were two stunning, difficult lifts. This routine really brought down the house. Len compared this tango to a rose: beautiful on the outside, but with thorns underneath. Bruno praised both the choreography and the storytelling of the routine. Not to be outdone, Carrie Ann said Katherine's legs are the best she's seen in the history of the show. Katherine was one point away from a perfect score – will she bridge that gap next week?
Score: 29/30
Gavin DeGraw
Gavin's samba ... had some really cool special effects at the beginning? The dance was a bit frenzied and Gavin seemed lost pretty much throughout the routine. None of the judges had anything positive to say. Bruno said that Gavin "really went for it," but he didn't mean that in a good way. Carrie Ann just shook her head and praised Gavin's energy. Len didn't mince words – he called the routine a "sham-ba." (See, Bruno has not cornered the market on puns.) Gavin has escaped elimination twice, but I wouldn't bet on a third reprieve.
Score: 19/30
William Levy
William's Argentine tango was smoldering and intense! His rhythm was very nearly perfect and he and Cheryl got in a couple of jaw-dropping lifts. This routine made for a nice comeback after William's disastrous jive last week. Carrie Ann called it "ridiculously amazing," and Len praised the routine's sensuality and color. Bruno was beside himself – I think he was actually purring. William was actually dancing on a stressed ligament, so it's all the more amazing that he turned in such an exceptional performance.
Score: 29/30
Gladys Knight
Gladys' spirited samba was a real departure from her usual stately, elegant routines. She really had fun with this one! Gladys can't pull off the same fireworks we're seeing from the leaders of the pack, but she's got her own special magic. Len called the dance "simple but effective," and Bruno praised her for playing to the audience. Carrie Ann pointed out a few mistakes Gladys made but echoed the other judges when she said Gladys is a joy to watch.
Score: 22/30
Roshon Fegan
Roshon's salsa capitalized on his two greatest strengths in this competition: energy and hip-hop action. The pace of the routine was brutal, but Roshon held up his end of the stick admirably. Bruno praised Roshon's timing and Carrie Ann was a fan of his mojo. She said the routine was charming words "sexy in a Disney way," which sounds about right to me. Len did caution Roshon to slow down a bit and see that sometimes "less is more." This was another excellent performance from Roshon, but he doesn't seem to have quite the fan base as some of his competitors. Let's hope the votes come in for him this week.
Score: 26/30
Donald Driver
Donald's Argentine tango was measured and very, very sexy. He and Peta moved seamlessly together – you'd have thought they were long-standing tango partners, in fact. Donald's rhythm was excellent. Carrie Ann called the routine "divine," and praised his control during the routine's lifts. Len agreed that the lifts were spectacular, but wasn't totally sold on the routine as a whole. Bruno liked the routine but thought Donald's "supermodel walk" broke up the overall flow. Another fabulous performance from the man who topped the leaderboard last week!
Score: 27/30
Who won over the judges: William and Katherine
Who won over the crowd: William and Katherine
Who needs to step it up: Gavin and Melissa
"Dancing With the Stars" airs Mondays at 8 p.m. ET/PT and Tuesdays at 9 p.m. ET/PT on ABC.