FEATURED POST
Jaleel White and Kym Johnson are the latest to get the hook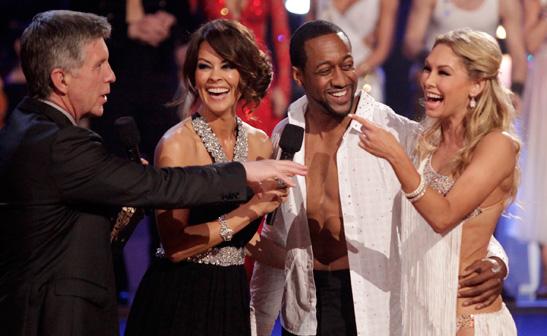 Classical Week has come and gone, and so has Jaleel White. He's been up and down throughout this competition, and this was definitely a down week. It's still no fun to say goodbye to him. He's a great dancer and a genuinely funny guy.
Bing: More about 'Dancing With the Stars' | Photos: See the dancers in action

The dance duel was a rumba, and Roshon's was judged superior by all three judges. It was a tough call for Carrie Ann at least, who called Roshon and Jaleel roughly equal, and Bruno and Len agreed that both couples danced well.

Last Night on TV: Watch recaps | Video: Watch clips and more
Jaleel confessed that he thought he would only last about three dances into the season and said that his friends on the show and his fans helped him get as far as he did. He even praised Roshon and called on Len to "give him a 10." (Jaleel did get in a lovely jab at Len just before the dance duel. He said, "Len is the old guy outside the grocery store who won't give the kid any money for candy." Then he called Jaleel the kid outside the candy store.)
Here's a look at how the remaining stars did this week:
William Levy
In spite of the fact that he was dancing on an injured ankle, William turned in a top-notch Viennese waltz. The judges praised him for tuning in to his emotional side. William was also the team leader for the group paso doble and he and Cheryl absolutely sizzled out on the floor.
Donald Driver
Donald's Viennese waltz was full of crazy dips and spins, but he made it work. The judges had nothing but praise for his performance and complimented both his passion and his technical precision. Donald more than held his own against William in the paso doble – he's a real contender at this point.
Katherine Jenkins
Katherine's Grecian rumba was gorgeous, if a little bit understated. She and Mark moved beautifully together, as always, and Katherine's lines were gorgeous. It seemed like she had a little more fun with the group Argentine tango, where she and Mark turned up the intensity. Katherine doesn't show any signs of slowing down!
Maria Menounos
Maria's paso doble earned her this season's first perfect score from the judges. It was bold, dramatic and never let up for a minute. Maria and Derek also turned in a fierce performance in the group paso doble. These two are magic together and the sky's the limit.
Melissa Gilbert
Melissa's Argentine tango was a winner with the crowd and a loser with the judges. Carrie Ann called the routine "Cirque du Soleil gone wrong" because of all the lifts. Melissa did better with the group paso doble, but it was still a rough week for her. It's hard to see her lasting much longer in this competition.
Roshon Fegan
Roshon danced two tangos in one night. His solo Argentine tango got mixed reviews from the judges. Bruno called him out for wobbly legwork, but Carrie Ann gave him a hug and said "welcome back." Roshon and Chelsea distinguished themselves in the group tango. It was tough to see Roshon have to dance his way back into the game once again.
More: Q&A: Roshon Fegan of 'Dancing' Season 14
Who won the week: Maria
Who needs to step it up: Melissa
"Dancing With the Stars" airs Mondays at 8 p.m. ET/PT and Tuesdays at 9 p.m. ET/PT on ABC.