FEATURED POST
Two bachelors go home -- one stirred, one shaken -- in Croatia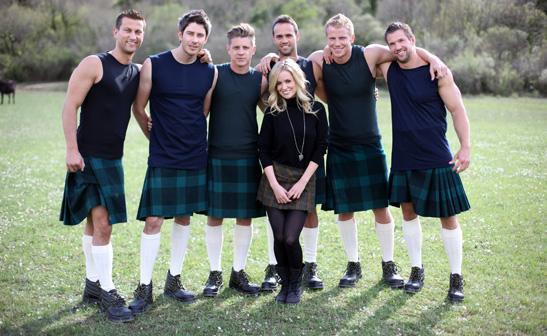 By Diane Vadino
Special to MSN TV
This week, the bachelor pack travels to Croatia. Shooting any iteration of the "Bachelor" franchise in a tourist spot can impact that destination's bottom line by huge amounts of (American) dollars (er, we imagine that if "Bachelor Pad" traveled somewhere, it would actually make people less likely to go there, but they're the exception), so it's easy to imagine the Croatia tourism crew alternately going wild with delight and despair as Emily et al tour the historic walled city of Dubrovnik, drive along its scenic coasts, and shoot a massive advertisement for a film set in another country: Scotland. (It all has to do with this year's movie tie-in, "Brave.") Was Scotland unavailable? Weren't we in London last weekend -- just a short train ride away from kilts and highland games? "Croatia is the perfect place to fall in love," Jef says. Maybe just not quite as perfect as Scotland.
Bing: More about Emily Maynard | 'The Bachelorette'
Emily tells us she' using this week's dates to weed out the weaklings. (Not in so many words.) "I couldn't ask for a better date," Travis says blandly, as he says pretty much everything he says to Emily. "He just has a good heart," Emily says, equally blandly. The entire date -- a  tour of Dubrovnik -- is like watching two bland people walking around the blandest town imaginable. They head to dinner, and Travis says he's hoping to "bust out of the friend zone." He's like the anti-Ryan. "Tonight, I'm really looking for that romance," Emily confirms. "If it's there, I'm going to find out tonight." As dinner progresses, it becomes clear, if it hadn't been for the last several hours, that it's just not going to be, even if Travis is a cutie with a sad story about an ex-fiancée and no other girlfriend for the past two years. "I don't want you to think you did anything wrong," Emily says, trying to let him down easy.
Photos: 'Bachelorette' stars: Where are they now? | This season's contestants
Next comes this year's egregious movie tie-in, "Brave," which is all the more egregious because it is actually in total conflict with, for example, being in Croatia. But: cue the bagpipes! And the kilts! ("The difference between a skirt and a kilt in nothing," Jef says. Then, so egregiously: "But then, love takes bravery." The producers seriously must pay them to say this stuff.) What happens next is not quite as good/mortifying as the open-mic comedy night of "Bachelor" seasons past, but it's still pretty funny. Well, Chris is pretty funny, as he holds the bow and arrow like -- I mean, maybe you'd say, "like a girl," but obviously Katniss would shoot an arrow right through his wobbly heart. ("Chris puts out an interesting vibe when he shoots a bow and arrow," Doug says.) "Hopefully I stand out enough to Emily," he says, and this is pretty much a case of getting what he asked for but not what he wanted. Then he can't exactly hoist a tree trunk (Sean manages to break his in two), and makes the foolhardy decision to challenge the super-built Doug in a Scottish variation of a tug-of-war. He is roundly humiliated in every contest, but Emily (pityingly?) gives him the "bravery" award. They reconnect at the cocktail party. Isn't there something just slightly off about all their interactions? "If I do get that chance, I'm going to take it ... it's just going to get better, I promise," Chris says. Emily interrupts him to go grab something red and flowery. "I'm not giving out a rose based on who threw a tree the furthest," Emily says. That's obvious, since she's giving it to Chris. Also, Jef and Sean kiss her again, while Arie goes for a more full-on make-out session in front of a shop window.
Back at the house, "everybody at the house is up in arms against Ryan -- everyone has caught on to his game," Jef says. This is because he has the night's one-on-one -- and the first second one-on-one of the season. "He shaves his legs and plucks his finger hairs -- it's weird!" What follows is the evening's best exchange (of course, it's Ryan with himself): "The world is our pearl," Ryan says to Emily, when she arrives to pick him up. "No, it's not, it's our oyster. See, I'm always seeing the good in things." The best thing about this is Arie's visible and urgent discomfort. "He's a *%!%," Arie says. (I think it was "douche.")
Back to their date. "I don't really know what to think about Ryan," Emily says as they drive around the coast, ultimately ending up on an oyster boat. "This ain't exactly putting me in the mood," she says as they swallow some oysters. "It's as good as it can get -- this may be the woman that God has chosen for me," Ryan says. Then, idiotically, he tells her again that -- if she's really, really lucky -- she can be his trophy wife. "Trophies dont' talk back," Emily says, unhappily. "She is going to be somebody's trophy wife," Ryan says, "and I'm pretty sure I have a good chance of making her mine."
What happens next is the evening's second best exchange: "I wrote down 12 things that are qualities I would like to find in my wife," Ryan says, which are basically 12 ways a woman can make Ryan's life better. They include: faithful, loyal ("stands by my side good or bad"), logical ("somebody that thinks before they react"), "an encourager" ("always lifting me up and never ridiculing"), confident, a few more that are vaguely repetitive of what's come before, and magnetic ("somebody people are drawn to -- and I think you have that!") Lucky, lucky Emily. The way it's edited, it seems like Emily's immediate response is this: "Can I be honest with you? Sometimes I feel like when I'm around you, I need to be perfect all the time. I don't want to be married because I fit into their mold." Ryan does see this as the game-changer it is. "Your list of things you look for in your future wife -- to be honest, at the top of my list would be a loving family and not a perfect one. That would be at the top of  my list, and it wasn't on yours. While I do have so much fun with you...I don't know if what we want out of a relationship is the same." No rose for Ryan! He's in absolute disbelief. "That is very shocking," he manages. "I think the potential to have something is there. I can't help but maybe think you're making choice." Emily wobbles, but stays firm: Ryan's going home, and he's hoping that the show won't portray him as an "arrogant ass." Win some, lose some.
Inspired by last week's discussion with Emily -- in which she told him to watch out for her better -- Arie stops by Emily's room to make out with her some more and reinforce her decision to kick out Ryan. She gives him a secret rose. It's a little bit like Mel Gibson and his first wife in "Braveheart," speaking of Scotland. "I'm definitely in love with Emily," Arie says. "I could ask that girl to marry me tomorrow.
The rose ceremony is more interesting than it should be because Emily can't totally choose between Doug and John. Doug is a funny one: It seems like we're getting to know him better than Emily is, as a totally stand-up guy with a gentle but sharp sense of humor and the confidence to bring the whole debacle with Kalon to the fore. John also seems like a nice guy, even if he brings out the grandparents-funeral​-card thing to sway her. What can we do, other than cut them both in half and stitch them into one? Emily dashes out of the rose ceremony to find Chris (he's not there the whole time? What?) to share her concerns: She can't choose! Chris reminds us that "there are no rules" (except for the one about her not running off immediately with Arie), and though she starts to fake us out with the whole "I can't give out one final rose tonight" (emphasis: "one"), Chris soon arrives with two. We're keeping everybody!
"The Bachelor" airs Mondays at 8 p.m. ET/PT on ABC.