FEATURED POST
Melissa Gilbert and Roshon Fegan are both sent packing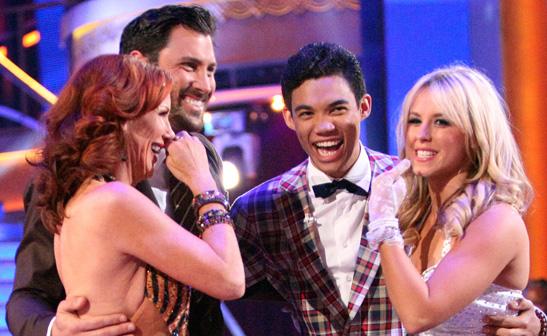 As promised, we said goodbye to two stars this week. Roshon Fegan and Chelsie Hightower were the first couple eliminated – it was tough to watch, since they finished near the top of the leaderboard in this round. Never forget that life is a popularity contest, kids. Roshon said he was happy to be able to add ballroom dancing to his skill set, and Chelsie praised Roshon's upbeat attitude throughout the competition.
Bing: More about 'Dancing With the Stars' | Photos: See the dancers in action

Melissa Gilbert and Maksim Chmerkovskiy were the second couple to head home – and it was poor Melissa's birthday. She called Maks "an incredible teacher and an incredible friend." Maks said he was proud of Melissa, and referred to her as "the comeback kid."
Last Night on TV: Watch recaps | Video: Watch clips and more

As tough as it was to say goodbye to two worthy contenders, the show must go on. Here's a quick look at how the semifinalists did in the last round:
Donald Driver
Donald had his best week ever! His large-and-in-charge tango was a hit with the crowd and his "trio" jive was the judges' pick for the encore dance. I can't wait to see what Donald does in the semifinals next week.
William Levy
William's foxtrot had a perfect balance of sexiness and dueling tension and earned him his first perfect 30 of the season. Bruno called him a heartbreaker and praised him as a debonair, suave dancer. The paso doble William danced with Cheryl and Tony was flawless, aside from some timing errors. After two great performances he finished the week at the top of the judges' leaderboard.
Maria Menounos
Maria's Viennese waltz was simply gorgeous. Bruno praised her seamless transitions and emotional involvement and Carrie Ann commented on the (always on!) connection between Maria and Derek. Maria's eye-popping harem-themed samba with Derek and Henry Byalikov from the "DWTS" troupe split the judges' votes. Len gave the routine a 7 due to lack of samba content and Maria's score took a nosedive. Good thing her fans voted her through to the semifinals!
Katherine Jenkins
Katherine's lyrical Viennese waltz never let up on thrilling choreography – lots of spins, including one that almost left her on the floor. Bruno called Katherine's technique superb but wanted to see more focus in this particular routine. Katherine's Victor/Victoria cha-cha showed us her fun side. The routine was classy and comical – like when she got her discarded slacks stuck to her stiletto pump and just kept dancing. Katherine is a beautiful dancer, but so are her competitors. This is anyone's game.
Who won the week: William
Who needs to step it up: Maria
"Dancing With the Stars" airs Mondays at 8 p.m. ET/PT and Tuesdays at 9 p.m. ET/PT on ABC.