FEATURED POST
The buff banker is the latest castaway to be blindsided off the island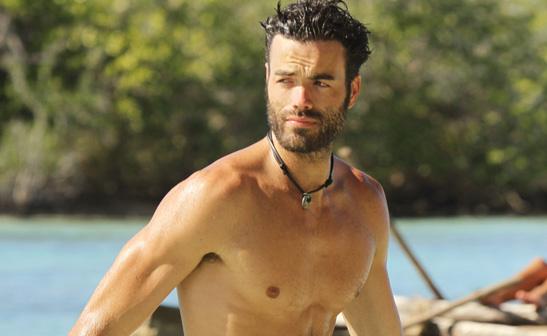 Blindside alert! Buff banker Michael Jefferson, 30, was definitely not expecting to be the next castaway voted off "Survivor: One World," especially because he thought he had two strong alliances going. But the women's team trifecta of Chelsea, Kim and Sabrina seems to be calling the shots these days -- and they're all about eliminating the threats. 
MSN TV: You seemed genuinely surprised to see Jeff call your name as the next castaway eliminated. 
Michael: I was truly surprised. I didn't see this coming at all. I really thought I'd covered all my bases. I had an alliance with the men, but I was also in pretty tight with the Salani ladies. Or at least that's what I thought anyway. Turns out I was wrong. But I was hurt by that. I really trusted Kim. I thought we were all tight. 
It's funny. Last week they really Jonas tried to get you out, but no go. What changed this week?
I guess they saw me as the biggest threat. This season has definitely been unique. We've seen a lot of the strongest players get taken out really earlier -- Matt, Bill, Monica. So I knew I had to watch my back a bit, but I felt so confident about Salani, I thought I had a free pass for a while. I thought I could coast. But Jonas really put the spotlight on me on his way out, so it was my turn this week.
Troy seemed really upset when Kim told him you were plotting against him, which clearly was a ploy. What's up with that?
Actually, Troy and I didn't really get along, unfortunately. He and Jonas really didn't want to have anything to do with me. I made the effort. They would not reciprocate. So that was that. 
Did you see Jonas as a threat?
I don't really see at all how Jonas would be a threat. He was a really nice guy, but he was really about following the leader. I didn't understand what that was all about. For me, it made sense to get rid of the dead weight. I thought they'd send Christina home, or maybe Tarzan. 
You and Jay were pretty tight, but he voted against you. Surprised?
No. I can't really blame him. He's trying to cover his ass, and that means going with the flow, at least for now. It's strategy, and it's a smart way to play it, at least for now. He knows who's got the power at the moment, so it's like he's driftwood, just floating along, hoping he's not the next target. He may eventually have to make a power play if he wants to stay in the game, but when you're out there, you've got to do what you have to do to make it to the end. 
Do you think he has it in him to make a big move?
I do think he can -- I think he may have too eventually. I think with the guys, right off the bat, it was me and Matt and Jay who were the contenders. Matt got taken out of the game really quickly, and that set the tone, really. So it's smart to lay low for now. But I think Jay may have to do something to undermine this girls' alliance. 
"Survivor: One World" airs Wednesdays at 8 p.m. ET/PT on CBS.