FEATURED POST
This season's 'shocking secret' lives up to its billing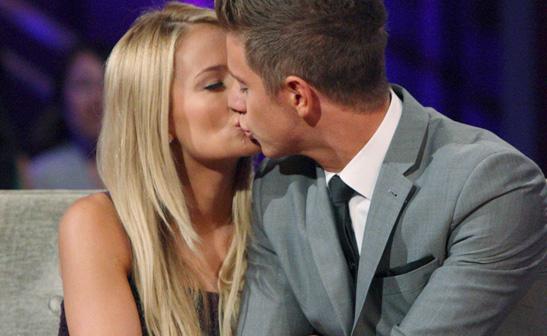 By Diane Vadino
Special to MSN TV
Remember that time Emily came on "After the Final Rose" and looked like she might break into angry, hot tears any minute? That was then. Now, Emily looks happy as can be -- especially when discussing her new fiancé, Jef Holm. The Southern belle and the SLC hipster made it work, demolishing the race car driver in the process. Who would have thought?
Bing: More about Emily Maynard | 'The Bachelorette'
After a quick debriefing from Chris Harrison, first-runner-up Arie is brought on stage for a confrontation (or, as it's also known, closure) with Emily, who repeats much of what she said in Curacao: It was nothing he did or didn't do. "I learned I need to be more direct, especially with things that might hurt people's feelings," she says. Having seen the footage of her pre-breakup powwow with Chris, Arie says he wishes she had just told him what she'd told Chris -- because what she provided him wasn't anything like closure.
Also: Why 'The Bachelorette' was so great this season
Unfortunately, the post-show search for closure (or "a new beginning," Arie says, menacingly) took Arie all the way to Charlotte, where he planned to stalk (or, you know, meet up with) Emily -- and presumably woo her back. When he got there, though, he was too respectful of Jef and Ricki (or, perhaps, mortified) to go through with his planned meet-up. Instead, he channeled his inner seventh grader and left his journal on her doorstep. (Really.) "I just wanted her to know what I was feeling," he says. Chris asks Arie if he thought that her reading the journal made have changed things: "Of course," he says. Chris promised us "shocking secrets" at the top of the show, but never did I imagine they'd involve Arie regressing to the emotional life of a 13-year-old. And oh, about that journal? Emily brought it. And she never read it, also out of respect for Jef. "It wouldn't have helped anything," Emily says to Arie. This is actually, in its own way, worse than watching Emily break up with him -- her total, unemotional shutdown of his journal-centric Hail Mary is utterly cringe-y. Emily passes Arie back the journal. "I'm so glad he [wrote] it," she says, looking for a silver lining. Chris asks Arie if he's disappointed that Emily never bothered to read it -- he is, he says, but he reveals that Jef, of all people, was the one to convince him to drop the Emily issue, by convincing Arie that the three of them were happy together. Three's family, four's a crowd, Arie. It's a weird, heartbroken segment. Emily says that if Jef hadn't been on the show, "It would have been Arie and me up here [as a couple]." You know, just in case his heart hadn't already been smashed into 1000 pieces. 

Photos: 'Bachelorette' stars: Where are they now? | This season's contestants

Luckily for all of us, Jef is up next, and he's beaming like a massive ball of energy. Why? He and Emily are happily engaged. We re-watch the footage of the proposal, which is probably a lot more interesting for the two of them than it is for us, since we just saw it 45 minutes ago. Chris asks Jef what's so great about Emily. "Are we live? How much time do we have?" Jef says. He then reels off a list of adjectives in which "funny" and "kind" place more highly than "gorgeous."
More interesting are their plans for the future: First, Emily will be traveling to Africa with Jef and his company, People Water -- the Tom's shoes of "sustainable water." (More details are presumably available on the firm's website -- which is, at this moment, down, probably from all the knock-on post-finale traffic.) Then, instead of starting somewhere fresh right away, Jef will, in fact, be moving to Charlotte -- so that Ricky's life is interrupted as little as possible. (Separate apartments, Jef points out.) And after that? A wedding, of course. They don't want to say the date: "Everyone holds you to it," Emily says. (A couple minutes later, she croaks out, "a spring wedding.") They do know where though: "Charleston," they say, in unison. That is, unless they get married in Africa. It won't be their first trip, though, and before we say goodbye to the new couple, Chris shows up a picture of the three of them at what looks like a dude ranch, three blondes in a photo dressed for a day outside involving frogs and catching fish. Who says dreams don't come true?