FEATURED POST
Crazed fan steals the show as auditions continue in San Francisco and Providence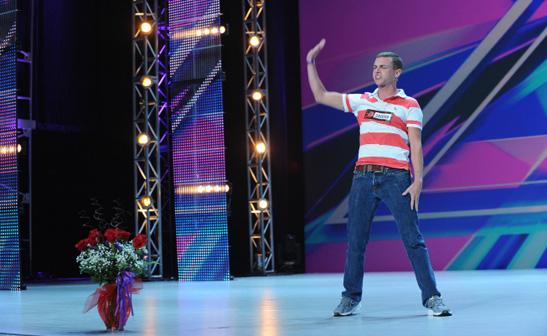 By Jilliane Johnson
Wednesday night's first installment of "The X Factor" Season 2 premiere more than lived up to expectations. Demi Lovato and Britney Spears are looking to be great additions to the show, displaying great compassion and voicing what viewers can't exactly express from the wrong side of their television screens. Who would have thought that the show could run so smoothly without a Ryan Seacrest clone!
Bing: 'The X Factor' | Preview: 'The Voice' vs. 'The X Factor' | LNOTV: Watch recaps

Thursday night the auditions continue as Demi, Britney, L.A. Reid and Simon Cowell continue to scour the country for talent. This show is about finding the next best act in America, yet this particular episode will have you talking about that one crazy guy who really loves Britney Spears.

Let's skip back to San Francisco.
More: 'The X Factor' on BuddyTV | Video: Watch clips & more | Photos: See the hopefuls

"Are we going to find some stars?" Simon asks a focused Demi. "I hope so," she answers. Well, I hope so, too. Wouldn't that be ironic that, after a full season of traveling the country, not one artist is worthy? It won't happen here because a talented young student is gracing the stage next.


Johnny Maxwell, "All These People" (Original song)

It's not hard to see that Johnny has a look and swagger about him. The girls are screaming after every word he speaks. His vocals are nowhere near the best we've seen, but he gets everyone hyped up once his rap kicks in.

"You have swag," gushes Demi. I think this is probably better news to his ego than hearing a "yes." "I think you're here at the right time," smiles Simon. "I get you." All four judges pass him with a yes, and an army of people rush out to swarm him.

Two women stand outside in the lines, entering the stadium. One is dressed to kill with an attitude to match. The other is humble and wondering why she feels she's being intimidated. At the mention of modeling, the cleavage-bearing beauty laughs in the girl-next-door's face. I think we know where this is headed.

Lexa Berman, "Too Close" by Alex Clare

This is a horrible choice for audition material. Lexa would be better off standing around somewhere and not opening her mouth or even talking, because her attitude is unattractive.

"It was really boring," comments Britney. To make it even worse, as Demi talks, Lexa swings her long hair around as if she's bored. Simon sends Lexa and her cleavage through, but three more nos equal a fail.

"I'd love it if somebody hot came in who could actually sing!" Demi is definitely attracted to some of the acts gracing the stage. Unfortunately, the vocals are horrible. Apparently, everyone thinks that flirtation will get them to the next round. "I need to see some talent," comments a frustrated L.A.

Jason Brock, "New York State of Mind" by Billy Joel

I had absolutely no faith in this guy. None. Jason walked out and immediately began explaining his vision for his stage show once he makes it big -- fog and glitter included. Then he started singing, and this old soul belted out – a wonderful surprise!

L.A., Britney and Demi jump up to give him a standing ovation. "You are completely flawless," lends LA. Everyone is in agreement, and Jason will be seen in the next round.

Providence, R.I., still has talent to spare.

"I can't believe I'm meeting Britney Spears," says one very eager fan. "It's like meeting God!" I know there has to be a sense of drama for these types of shows, but no one thought it might freak Britney out to have a potential stalker in close proximity?

Patrick Ford, "Circus" by Britney Spears

"Are you ready, Britney?" yells Pat, just before he explodes into this terribly choreographed display of raw lack of talent. He begins singing way too early, so the music doesn't match the timing of the lyrics, which he doesn't even get right half of the time. I don't think there's a need to mention how bad the vocals are.

"You got into an argument with Britney, got drunk and decided to scream the song at her," explains Simon. All Britney can manage to say is, "No," and this upsets Patrick. He stands in place, a vase of flowers for his idol sitting at his feet. Simon breaks the awkward silence by taking the flowers and sending Pat on his way. Creepy!

L.A., Demi, Simon and Britney receive an "X Factor" cake from the city of Providence. To celebrate, Simon slaps some icing in Demi's face. It's a bit cheesy, but I happen to like seeing the interaction between such heavyweights in the entertainment industry.

Carly Rose Sonenclar, "Feeling Good" by Nina Simone

This young lady cannot be only 13-years old! She could possibly have the best vocals I've heard of any of the female artists topping the charts today. The control she has is incredible. This little girl is money.

"Miss thang!" starts Britney. "You are a little diva!" All four of them are dumbfounded. "A star has just walked out on that stage," Simon assures her.

All I can do is think about Patrick Ford, who was seen leaving with friends. Did they not think to tell him, "You might want to keep your obsession to a minimum, Pat"? I suppose there was bound to be, at least, one loon amongst the crowd.

We have reached the end of this week's premiere episodes of "The X Factor," but tune in next Wednesday when the show returns. From the looks of it, we are in for muscles, arguments, someone being handcuffed and someone ultimately taking home that $5-million-dollar recording contract this season!
"The X Factor" airs Wednesdays and Thursdays at 8 p.m. ET/PT on FOX.