'The Voice' Recap: Votes and Victories
Ashley De La Rosa and RaeLynn are sent packing from the quarterfinals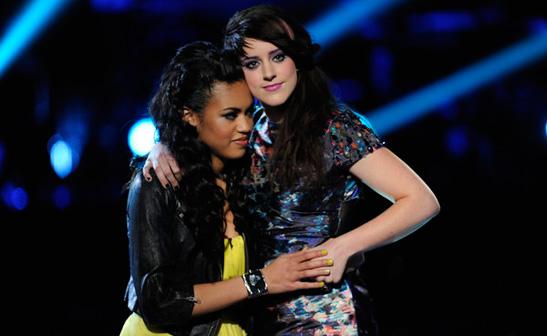 The results show began with Christina Aguilera basically having to answer for dumping Jesse Campbell the night before. "I'm no stranger to controversy," the fighter declared, acknowledging message boards, Twitter, and the like. "I do have a strategy."
Bing: More about 'The Voice' | Photos: Meet the contestants
And after a pointless "Team Blake" performance (if you can call it that) with UK band The Wanted, we got to the results. Christina's crew was up first and, curiously (at least for me), Chris Mann gets to get all Groban for another week. Jermaine Paul was the victor -- according to America -- in the Shelton fold.
Last Night on TV: Watch recaps | Video: Watch full episodes and clips
Thus, the "pick me" performances began, first with Ashley De La Rosa nervously rocking Gaga's "You and I." Then Lindsay Pavao delivered an emotional "Please Don't Go," getting teary-eyed in the end, and taking Xtina with her. Someday a producer will write the words "basket case" on a Post-It when Pavao is cutting a record in his studio. But, hey, it worked. Christina saved her.  
Erin Willett kicked the Adele to the curb for a rousing "Proud Mary" by the time the dust settled and the Bieber fever subsided (he popped out to debut a clip of new video for his latest single "Boyfriend"). Then it was RaeLynn with the Band Perry's "If I Die Young," a bit too safe, if you ask me -- and I'm a RaeLynn fan. So is Blake. But, as the credits rolled and RaeLynn banged into Willett and looked as if she'd seen a ghost, it became abundantly clear ... neither of us just so happened to be tonight.  
What did you think of this episode? Tell us on Facebook
"The Voice" airs Mondays at 8 p.m. ET/PT and Tuesdays at 9 p.m. ET/PT on NBC.