'America's Next Top Model' Exit Interview: Terra
One of a pair of sisters cast this season, Terra gets dismissed after the makeover madness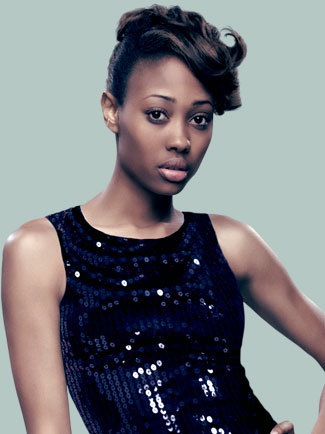 And here I thought "America's Next Top Model" was all about the drama. But last week, the panel of judges, which features creator Tyra Banks, photographer Nigel Barker and Vogue editor Andre Leon Talley, voted off one of two sisters cast on the show this season -- a move that surely eliminated some surefire sibling drama down the line. Or maybe not? According to the eliminated sister, Terra White, she and her kid sis Chris don't get competitive much. We caught up with the Arlington, Texas, native to chat about getting kicked off, her makeover and watching her sister take the title -- she hopes!
Were you surprised that you were sent packing, given the drama a pair of sisters competing could bring?
Yeah, I guess that part wasn't as important to them. But Chris and I aren't competitive and we never really have been. We've always gotten along great. Plus, we have different looks and different personalities, so we're not really competing directly with each other. I wasn't really even going to try out this time. I actually tried out three times before this season, and it never worked out. So I was at the point where I was like, "I'm not going to try anymore." But Chris was going to try out, and she kept trying to convince me, like, "We should try again one more time. Don't give up." So that made me rethink it. But it wasn't like we both planned to end up on the show together. I was going to try again and at the last minute, she was like, "Well, I'm going to go, too." So it was a spur of the moment thing. And it worked out.
You mentioned that you were surprised about being dismissed this week.
Yeah, it was immediately after the makeovers, so it doesn't really make any sense. Yeah, I hadn't done so well before the challenge, but what's the point of giving someone a whole new look if you're not really going to explore the potential that the person has once they have the look. They eliminated me right after the makeover, so it came as a shock.
Do you think it was because you were crying?
Yeah, I think that might have had a lot to do with it. Chris kept telling me to keep it together and not cry, but I couldn't help it. Yeah, it's just hair, but as a black woman, you're very attached to your hair. It takes forever to grow back. Tyra knows. But they just cut off all my hair and then they just up and dismissed me. It was horrible. I'm not saying I wouldn't have done the makeover if I knew there would be an elimination at the end of it. But I maybe would have liked to have known that there was a chance of that happening. It just seems really unfair.
So am I right to presume you'll be watching and rooting for a certain someone to take the title?
Yeah, the whole family will be watching. It will be hard for me, having been through it, but I'm so excited for Chris and I can't wait to see her succeed. She's going to do great and I think she has a real shot at the title. I'll still be modeling, too. I just have to go about it in my own way. But Chris has what it takes to get to the top. I'm confident she will be "America's Next Top Model."