'The Amazing Race' Exit Interview: Ron and Tony
A great start, a sad finish, as the early leaders bow out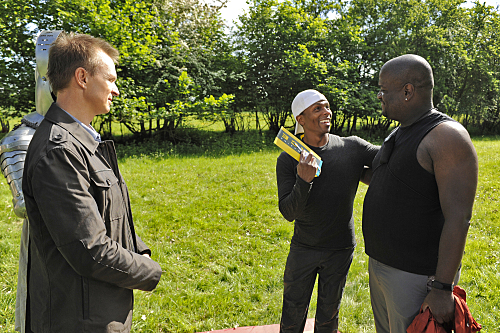 A fantastic start turned into a miserable finish on last night's debut episode of "The Amazing Race," as likable early leaders director/choreographer Ron Kellum and PhD candidate Tony Stovall fell victim to a navigational debacle. We talked to the lifelong best friends about their all-too-short time on the race, including the single traffic error that led the team to its last-place finish. 
MSN TV: When did you know it was over? 
Tony: We knew when we got to the castle. We were, like, we're going to go out strong, and we're not going to give up. Those boats were our nightmare. You didn't see it on the show, but we probably sank 40 times. We called them the "coconut shells. The minute I would get in, it would sink. I'd step in, dead center, and it would sink. I can swim like a fish -- but that was tough. 
It must have been miserable, to know the race was over without really starting. 
Ron: It was a moment of sheer disappointment. We thought we would make it to the end. We were, like, this is a nightmare that will not end. I think that was the hardest part to digest—it wasn't losing, or losing publicly. It was that we were the first to go. 
You started so strong. What happened out there? 
Ron: What you didn't see on the show was that we were on the motorway, and we were in the right-hand lane -- but we had to go to the left. So we missed our exit, and there wasn't another one for 25 miles. We drove 25 miles in rush-hour traffic, knowing we were going the wrong way.
Tony: So that was 50 miles, total, once we were able to turn around. 
Did you ever think about just winging it and bushwhacking off the highway? 
Ron: This was like being on the 405 freeway or the West Side Highway -- you just couldn't turn around. I just kept thinking, "I'm a really aggressive driver, I'm from L.A.! I can make up the time!" But I drove for eight hours that day. 
Was there an air of doom in the car as you drove those 50 extra miles? 
Tony: There wasn't silence -- we were keeping our eyes peeled, thinking there had to be an exit. When we finally did get off, it's not like freeways, where you can just pop a U-turn. You have to go through a village and sort of meander through it. All this time we were like, "Stay calm, stay calm. Surely someone else made a wrong turn." 
Do you have a highlight from the leg you ran? 
Ron: When Phil said, "Go!" We're both in our 40s, and it felt like we were 16 again. In that moment you're given permission to play like a kid again. You leave your life behind you and all you're responsible for is what's in front of you -- and that's the world.