'The Amazing Race' Exit Interview: Jamie and Nary
Undercover agents on their last-place finish, matching T-shirts and more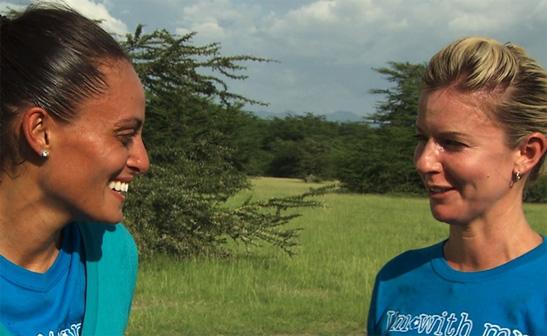 By Diane Vadino
Special to MSN TV
The season's only remaining all-female team exited "The Amazing Race" last night, after a challenge on the previous episode put them so far back they couldn't catch up -- even after two other trailing teams were U Turned.
Bing: More about 'The Amazing Race' | Photos: Meet the teams
We spoke to Nary Ebeid and Jamie Graetz about their undercover stint as kindergarten teachers, the border patrol agents' aggro investigation into their true identities, and Bopper's crush on Jamie. 
Last Night on TV: Watch recaps | Video: Watch clips and more
MSN TV: You guys wore matching "I'm with my BFF" T-shirts last night. Were you saving them for what you thought might be your last leg? 
Nary: That was a completely Jamie's idea -- not mine at all. She was just like, "There's these really cute shirts with an arrow [pointing at each other]."
Jamie: I saw them online and was like, Holy cow, these are so awesome. 
Nary: We knew that this could potentially be our last leg, and we didn't want to go home without wearing them. 
What was so impossible about the tent-building challenge from last week?  
Jamie:  It really was a height thing. We had a really hard time getting the base set up -- one person would have to hold several of the angles [poles] while the other person grabbed [another one] -- that was really hard for us, being as small as we were. Once we got the base, though, we were chugging. 
Nary: It was really tough. I thought I was going to break a finger. Even the guys were having some problems -- maybe if there was a male on the team, we would have gotten through it a little faster. And if there was another all-woman team, they might have struggled with it like we did. 
Looking back now, what do you make of your decision not to tell the other teams your real occupations? 
Jamie: It was funny. There happened to be several teams in law enforcement and military -- they might say, "Hey, let's stick together," or "I don't want to be compared to them, I want to get rid of them ASAP." The U Turns [where they might have been penalized for being feds] came later in the game, and [by then] it was kind of irrelevant.
Art and J.J. were so bullying about pinning down your occupations. 
Nary: They were very arrogant. Once they won three legs, the arrogance just went through the roof. I don't necessarily think they were bullying us -- just trying to intimidate us or steer us. We were, like -- guess what, dudes, we don't care what you know. We were just annoyed that they took that approach, rather than a professional approach. 
So what about that Bopper crush on Jamie, which Mark told Nary about? 
Jamie: It was all in good fun. I love those guys -- I would have done anything in my power -- besides us losing -- to have helped them along. They're just genuinely great people.
Nary: It wasn't, like, "Oh, I'm in love with Jamie," in a nasty way. Bopper gave us his jacket when it was freezing cold out -- he was just such a gentleman; he was all about helping us. He always said, "You girls are such great girls." 
What do you think the race meant for your friendship? 
Nary: I think it was great to begin with. Jamie is like my sister -- we were dreading this last episode, but we went out well, and we left knowing that there was nothing also we could have done. 
"The Amazing Race" airs Sundays at 8 p.m. ET/PT on CBS.