'Tia & Tamera' placenta-tasting upsets fans
Viewers take to Twitter to air their disgust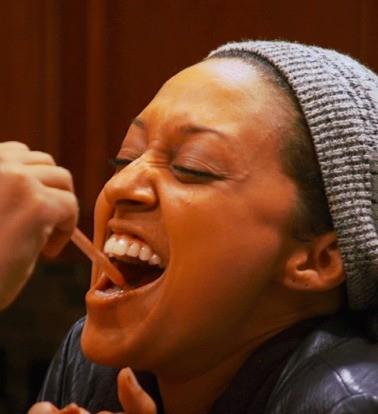 Fans of "Tia & Tamera" are still saying "Ewwww" after Tuesday night's season finale.
In case you missed it and haven't been on Twitter, Tamera Mowry-Housley gave birth to a beautiful baby boy named Aden and, shortly after, wanted her twin sister, Tia Mowry-Hardrict, to partake in a little placenta with her. To be clear, the placenta belonged to Tamera.
Bing: More on 'Tia & Tamera'  | Tia Mowry-Hardrict | Tamera Mowry-Housley
Tamera mixed the placenta with brandy in an attempt to make it more appealing, but Tia resisted, at least at first, and said she saw "residue" on the medicine dropper. But in the end, Tia tasted Tamera's placenta and said, "Mmmm. It's kinda good."
Plus: Biggest TV interview revelations |  10 things guaranteed to happen on 'American Idol'
And that's what sent viewers over the edge.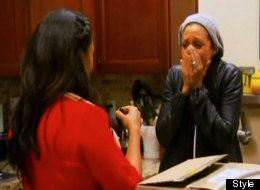 "Tia and Tamera took it too far," tweeted Stormi Brock. "Tia just tasted her (sister's) placenta. Ewww!" While Marissa tweeted: "Tia and Tamara -- worse than Kourtney giving Khloe her breast milk."
Fans might not recall, but this wasn't the first time the twins have shared each other's post-pregnancy fluids. When Tia had her son Cree nearly two years ago, she got Tamera to drink some of her breast milk.
Later, Tia defended her actions on her blog, writing: "Tasting Tamera's encapsulated placenta was very interesting! If you think about it too much, you're not going to like it, because all you're going to think about is that you're consuming placenta. But I was really, really surprised that it tasted pretty good mixed with a little bit of alcohol. It was definitely Tamera paying me back for making her taste my breast milk. I tasted my own breast milk and I still think my breast milk was sweeter than Tamera's placenta!"
So, there you have it. Fans can be disgusted all they want, but these sisters are tasters, and they're not afraid to lose fans over it. What do you think? Did the Mowry twins go too far with their placenta cocktail?
And there was a point to this article that the general public was beating down the door to get to?   Sometimes a little too much information is definitely a bad thing.  Don't think many of the readers had a grand desire to share this touching moment between the twins.....and, sorry to say, but it is disgusting and should have been left untold.
Are you sure you want to delete this comment?