Britney Spears Frustrates TV Critics at 'X Factor' Panel
Pop star gives spacey answers, fails to show her 'mean' side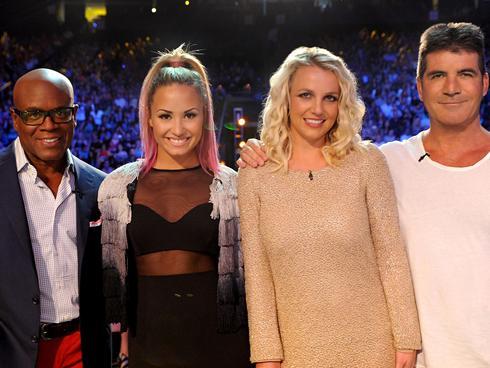 To kick off its "X Factor" panel, FOX showed a trailer teasing the second season, which features a very candid and confident Britney Spears flat out telling one contestant he lacked talent.
Bing: More on 'The X Factor' | Britney Spears
But reporters at the Television Critics Associations' press tour, who were expecting the same no-nonsense version of Spears in the Q&A portion that followed Monday in Beverly Hills, were sorely disappointed.
Spears, 30, is one of two new judges to join the reality competition. She plugged the show via a live feed from Miami with the help of head judge and creator Simon Cowell, fellow newcomer Demi Lovato, record exec/judge L.A. Reid and executive producer Andrew Llinares.
Critics wasted no time peppering Spears with questions about everything from why she joined the show to her musical tastes and were in turn greeted with some rather, um, spacey responses.
Asked why she wanted to be a judge, Spears said "I've seen the show a couple of times, and I was such a fan."
OK, you can give her a pass on that one. Maybe it only takes two viewings of "The X Factor" to become a fan. Her answer on what she knows now about reality competitions that she didn't before, was less decisive.
"Well, I just feel like being with Simon and L.A. and Demi, just the package that we are together and the team that we are together, it makes it so much fun to do the show," Spears said. "It's inspiring to be around people like that, and it's made it a lot of fun for me."
Realizing his newest judge hadn't quite answered the question, Cowell quickly interjected "Britney's quite mean, which you'll discover," which then set off a brief debate between Cowell and Lovato about Spears' meanness. For the record, Lovato thinks Spears is tough, sweet and honest, not mean.
Plus: The fate of your favorite shows | 2012 Primetime Emmy nominees
Another reporter asked Spears what she thought of the claim that the judges benefit from reality competitions more than contestants. The question sparked this labored exchange:
Spears: Huh?
Reid: He's asking do you think it's more about us or the singers?
Spears: I think it's about the talent definitely.
Cowell: A little bit of us as well?
Spears: A little bit of us.
Yikes. Notice how Reid and Cowell had to help her out? Yeah. Unfortunately, during the panel there was a lot of that too.
And finally, on her taste in music, Spears said, "Well, I'm actually a huge fan of hip hop. I like hip-hop music. I love rap. I don't know the definition, like the proper way to rap. I don't rap. But, you know, I appreciate it, and I like it. I like cabaret music as well. I love live music. I love bands."
The best part about this answer is Spears seemed completely unaware of the irony that she, an artist known more for lip-synching than singing, would say she loves live music.
But that's Brit. She quixotic and fascinating but never predictable. Word on the street is she can even be mean.
Season 2 of "The X Factor" premieres Wednesday, Sept. 12, at 8 p.m. ET/PT on FOX.