'American Idol' Recap: Wild Night, Indeed
On a night full of surprises, 13 singers chosen to advance to the finals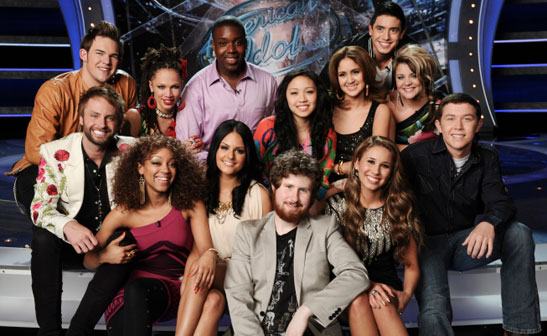 By Carla Patton
As the Top 10 -- based on viewer votes -- is revealed, we'll see how much of an effect the introduction of online voting will have. Is anyone else hoping for an upset, just for the excitement of it all?
Last Night on TV: Watch recaps | Photos: See the top 24 singers

Oh, wow. We're already into the reminiscing montages … and to "Moonlight Sonata," nonetheless! Let's get to the results, instead of pretending like anyone who hasn't watched up to this point will tune in just for a results show. Isn't this season all about being real? I don't think anyone ever said that, not even Randy.
More: "American Idol" on BuddyTV | Bing: More about "American Idol" Season 10

Jennifer Lopez is dressed like Poison Ivy, or some other plant-based super villain this night.
Ryan tells us that 40 million votes came in, like we care about math. Judging by Thursday night's looks, the stylists haven't arrived yet. But someone did tell James Durbin his Mohawk was too flat. Rachel Zevita is, again, dressed like a witch. Is her specter tormenting you?

Randy tells us that once the Top 10 are revealed, the judges will decide who of the remaining 14 will sing for a Wild Card spot. Jennifer confirms that they are just making this show up as they go. Ryan promises us "drama like you've never seen before." I don't know, Ryan -- I watch "The Real Housewives" and this season of "Survivor."

A package recapping Tuesday night's performances reminds us that Clint and James screamed at us, and that this could be the best season of "American Idol" yet. Jovany was there. Jordan wasn't great. And Brett wasn't either, but he shook his hair. Paul has a unique style, and Robbie, Tim, Stefano, and Scotty were somewhere in the middle. Jacob hit it out of the park, and Casey sent us off dreaming of sexy, musical Seth Rogen.

They all still like each other like this isn't a competition. Another montage! What is Scotty wearing! A camouflage visor and a hockey jersey? I am forever distracted and have no choice but to ignore the rest of this clip package. Ryan makes a comment, and Scotty has no excuse for his ensemble.
Results Time!

Scotty and Robbie head to center stage. If one is safe and the other going home, I think Scotty will stay. America voted and ... Scotty McCreery is in the Top 10. Robbie Rosen is not. Predictably, the audience boos.

Clint, Jordan and Jovany move to the center stage next. I think none of them are moving through. Clint is crying, fogging up his tiny glasses with hot tears. Jordan is full of regrets, and Jovany seems ambivalent. Clint Jun Gamboa and Jordan Dorsey are not in the Top 10, and Clint looks like he just can't believe it. Jovany Barreto is not in the Top 10, either. "Take it to the stools," Ryan tells them. Indeed.

Next up, the ladies are getting some results. On Wednesday night, there were a lot of ballads, with some performances more memorable than others. Like that sentence, this montage is basically meaningless and without consequence. The package did note, however, that Ta-Tynisa, Rachel and Julie faltered. I also liked the footage of Julie Zorrilla crying, underscored by Pia Toscano's performance, making it look like Pia was sending Julie into hysterics.

I have nothing to say about that second clip package. We can just pretend it never happened, as we gaze longingly at a framed photo of Scotty in that camouflage visor.

Make way for more obvious results! Pia and Lauren A. make their way to center stage. Jennifer stares at Pia knowingly, but also very creepily. Look out, Pia, Plant-Lo can be very cunning.
Lauren Alaina is in the Top 10, and so is Pia Toscano. Pia didn't even look very surprised.

Dim the lights again, Kieran! Ta-Tynisa and Julie are next to hear their results (and probably to be sent home). Julie acknowledges that a lot of people were rooting for her, or at least expecting more. If only she had her guitar! Oh, well. There's always the Wild Card show.

Ta-Tynisa Wilson is out ("Ta Ta, Ta-Tynisa!" says my husband, Captain Obvious Joke). Julie Zorrilla is also out. By the way, my husband has been waiting to say that joke using Ta-Tynisa's name since he discovered her yesterday. Men, you know?

Kendra, Ashthon, and Karen join Ryan "Peaches" Seacrest next. Kendra felt great about her performance, Ashthon seems to know she may not have been memorable enough and Karen didn't get asked a question. Ashthon Jones is not in the Top 10. To the stools! Jennifer and Randy have some sort of significant exchange. Kendra Chantelle is out, and Karen Rodriguez is in the Top 10. We saw some booty when Karen sat down, for all the menfolk out there.

More dimming of the lights. Seacrest beckons to Tim, Casey and Jacob. Jacob Lusk is in the Top 10. Yes! I love when he's happy about stuff. Ryan tells them that one of them is in the Top 10 and one is not. Well, duh. Casey Abrams is in the Top 10, and Tim Halperin is not. No upsets here tonight. This result does not allow any audience members to boo, though, so that's good.

Thia, Lauren T. and Naima are next to face the 'Crest (there are only so many ways I can say the same thing). Thia is already crying. One of them is in the Top 10 (only one?!). Naima Adedapo is not in the Top 10, and this is a travesty of Lilly Scott proportions. Seacrest almost seemed moved by it. Thia Megia is in the Top 10, and Lauren Turner is not. I object! Lauren Turner is awesome.

Look out, Paul, Brett's a hugger! Even though Kieron dimmed the lights, or kept them dim, Paul's smile is like looking directly into the sun. When I close my eyes, I can still see it. Paul McDonald is in the Top 10 and will glisten another day. Brett Loewenstern is out. Song choice, man.

Haley and Rachel come forward for that final spot in the Top 5 Girls. It's definitely going to be Haley, based on style alone. I'm not a Haley fan at all, because she sings with all the colors of the wind and seemed sort of bratty when reacting to negative feedback. But Haley Reinhart is in the Top 10. Rachel Zevita is out.

Stefano and James are up next. How many slots are left? James Durbin and his tail are in the Top 10, while Stefano Langone is not. So no big upsets in the Top 10, unless you count the omission of Lauren Turner.

Apparently the Wild Card performances are tonight? They really are just making this up as they go, aren't they? And I doubted "Idol's" two-hour power! I don't even have time to digest all the results that just happened. Randy says he never goes against the public (He's showing fear! Never show them you're scared, Randy!) So, that's a pretty good Top 10. Thanks, Randy.

Six performers will be singing again for those two Wild Card spots. Three boys and three girls (ugh). The first choice is Ashthon Jones!

Wild Card Performances

I'm a fan of Ashthon Jones, so I'm delighted to hear her sing "And I'm Telling You I'm Not Going" from "Dreamgirls." It's not technically by Jennifer Hudson, but she's probably too young to know that. She's the girl who had never heard a Beatles song, need I remind you. The performance was far better than "Love All Over Me," but she sort of pooped out at the end a little. This is far too intense a night for these kids.
As the judges choose Stefano Langone to go next, I actually said, "So many ups and downs!" out loud. Stefano is singing "Need You Now," but not the Lady Antebellum one. I'm not familiar with the song, but Stefano's talent is undeniable. I really like his vocal quality, and this song showed it off better than Bruno Mars. Stefano left it all on stage, per Randy's request. Jennifer is too nervous for everyone to make sense.

Ryan Seacrest was spot on when he said this night would hold drama like we've never seen before. This Wild-Card pressure cooker is a really tasty little bit of television. The judges elect Kendra Chantelle to sing next.
She's singing "Georgia on My Mind," and showing us a new aspect of her voice with that lower register. I like this performance much better than "Impossible." It was pretty insane.

Why is everyone doing so much better this time, like they were just phoning it in until now? Anyway, to my surprise, the judges chose Jovany Barreto to sing next. He's hoping the Spanglish angle will work for him as well as it worked for Karen Rodriguez. He's a good singer and did better than his previous performance, but I'm bored by him. I was hoping to see performances from Brett and Tim, and this one felt a little wasted.

The next spot goes to Naima Adedapo, and I am incredibly upset about Lauren Turner not even getting a second chance. Seriously, what is that about? "Let's just do it," Naima says, and slips into "For All We Know." There are a lot of girls in the Top 10, and Naima sings like a woman, you know? She'd better make it. Randy looked moved for a second, before he caught himself on the monitor and tried to go back to a blank stare. Naima was moved, too, holding it together just long enough to finish the song.
The final Wild Card spot goes to Robbie Rosen. Then the world went, "What?!" Brett gets a final hug from the judges, and I'm pretty upset to see him go the way of Lauren Turner. "So much for an interesting Top 12!," I say like Maxine.

Robbie Rosen sings some Elton John, but I'm just over it. I guess I'm just hoping Stefano will get a spot, if they're going to stick with gender parity. Annoying. "This is the toughest night ever," Randy tells Ryan. These Wild Card picks, given the talent pool, make me wonder who they might have let slide by in earlier rounds.

The judges tell Ryan, after the break, that they are not ready. Well, Jennifer and Randy aren't ready. Steven might not know what's going on.
We'll have to watch Jennifer's music video for "On the Floor" first. This is truly the toughest night ever. I forgot to even watch the viewers' choice ending. They must have planned it this way all along, because Ryan cuts away to a break again just as the judges announce they've made their choices.
The judges have chosen Ashthon Jones (Really? She didn't believe it either), Stefano Langone, and (we have a Top 13) Naima Adedapo. What a crazy night!
Are you stressed out from this show? Can you believe the events that just transpired? Anyone you're sad to see go? Who do you think will be gone the first week?


What did you think of Thursday night's episode? "American Idol" message board
"American Idol" airs Tuesday, Wednesday and Thursday this week at 8 p.m. ET/PT on FOX.