'American Idol' Recap: Finalists Revealed
Top 13 singers announced on night capped by memorable wild-card performances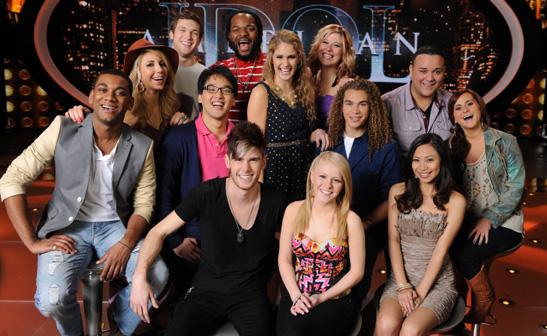 By Carla Patton
Thursday is the night when 25 become some number between 10 and 14. Such excitement! All bets are off. Anything can happen. Jokers are wild … I think it was easier to determine which girls would be safe, due in part to the judges realizing they needed to be, you know, judges. They gave such positive feedback to all the guys that we had to determine entirely on our own which were the best singers. And no offense, America, but I don't totally trust you yet. Not that Jennifer or Steven have proved trustworthy or reliable judges either … Randy, you're our only hope.
Bing: More about 'American Idol' | Photos: See the semifinalists
Maybe it's because I only had candy and coffee for lunch, but I'm genuinely excited to see how things turn out. And I'm nervous for some of the contestants. And my leg won't stop shaking. Don't worry about it.
More: 'American Idol' on BuddyTV | Plus: Non-winner 'Idol' successes

The painful part of this emotional introduction is how badly all 25 of them want it. Only one can win, and half of them will be cut! "Somebody's gotta go home," Aaron Marcellus notes. Yes, that's why I like you, Aaron. You are a real person, ready to face reality. We'll find out who will continue on in this version of reality tonight -- at the end of what has been both a sprint and a marathon in programming.

Oops, Jennifer forgot to wear pants. Crotch slip! Not really, though. Just a dowdy, sequined tunic dress. The Top 25 look mostly unremarkable, aside from Elise Testone's amazing hat. Thank you for wearing that, Elise. I hope you're here to stay. "Don't miss a minute!" Ryan encourages us, after five very miss-able minutes.

First to get some results: the guys. Chase, Phillip and Jeremy are first to face the music. I'm rooting for Phillip, if it must be one. Chase is subdued, bless his heart, and Jeremy is adorable. Speaking of adorable, I love your jacket with the yellow flower, Randy! Let's hear the no-B.S. opinion of Jimmy Iovine (Welcome back, Jimmy, apple of my eye, yellow flower of my suit jacket). Jimmy says: Jeremy is nice but might not have everything it takes; Chase is good looking but might not have everything it takes (he wasn't fresh or exciting -- agreed!); Phillip is original and not affected -- Jimmy would sign him on the spot.

What did the voters think? Jeremy is not in the Top 10. Chase is not either. Phillip is in the Top 10 (yay!).
The girls are up next. Jessica, Hollie, Hallie and Brielle are next to receive results. Is it half and half? Jimmy says: Hollie could have been more believable, but she could do some damage in this game; Brielle doesn't have a very Staten-Island name or the ability to choose good songs for herself; Hallie had a good show, but there are too many blondes on the show; Jessica has talent from A to Z and Jimmy would sign her, too!
Brielle is not in the Top 10. Neither is Hallie. Hollie and Jessica are in the Top 10! Everything is going according to plan ...
Joshua, Heejun and Adam hit the stage. They are all contenders for the Top 10, so this will be interesting. Let's see what Jimmy has to say, though. Jimmy says Joshua is the real deal and there's no question in his mind that he'll get through, but it could easily turn into "Sister Act 3" (I would love that!). I hate that Adam said, "They get me!" And I love that Jimmy doesn't like the whole "White Chocolate" idea. Jimmy is confused by Heejun: "This isn't 'American Comedian!'" he complains. Heejun's response to that was just as delightful as the rest of his "shtick." I'll take it!

After the vote, Joshua is in the Top 10 (whispered in his ear by the increasingly creepy Ryan Seacrest). Heejun is in the Top 10, and Adam is not. I think Adam kind of knew that. I love Heejun's sweater.

Shannon, Skylar, Baylie and Chelsea are summoned to Seacrest, and this one seems pretty clear. Shannon and Skylar are in? Baylie and Chelsea certainly are not. Jimmy loves Skylar's blend of soul and country. Baylie lost her footing despite having "all the pieces." Chelsea has a nice voice but isn't original enough with her "Carrie Underwood karaoke." But what will Jimmy say about Shannon? He likes her but not her prom dress.

Shannon is crying because she's just "so happy to be here," and so on and so forth. Sounds like someone else only had candy and coffee for lunch!


Shannon is in the Top 10, so she will cry some more! And Ryan spews -- somewhat disrespectfully to Chelsea and Baylie -- that Skylar is in the Top 10, and Chelsea and Bailey are not. Chelsea and Baylie are shooed off to wait for a Wild Card spot that will never come. Bless Baylie's heart for saying next time she would "sing on key, I guess."

Aaron, Creighton and Reed meet Ryan next, and this group is a big question mark. It could go either way for them, although I think Reed will make it in for sure. Jimmy thought Reed was way too kitschy (Ha! I love Jimmy again) and Aaron was cheesy ("It's not cutting it for me!") and looks like Don Cheadle. Jimmy thought Creighton was annoying and screechy. Jimmy Iovine is not having it with this group.

Jennifer threatened Jimmy with physical violence, but not in a good way like she did Joshua. Randy says Jimmy's got some points. Just for our information, Jennifer would not choose to say it the way Jimmy did. She is a lady. Aaron has not made the Top 10, and this is the first one I am really sad about. Creighton is not in the Top 10, and neither is Reed. Whoa! Whoa!
Let me catch my breath! But no, Elise, Erika, Haley and Jen step forward before we can recover. Jimmy likes Jen's voice but would stay miles away from Adele and the vocal pyrotechnics, and he likes Erika's voice and restraint ("Something this show needs more of, not less"). Jimmy says Haley sang out of tune the entire time, and he can't get over the robotic mimicry, but he likes Elise and wants her to sing something specially crafted for her. There's only one spot left for a lady's butt on those chairs! I hope it goes to Elise, who is still distracted by some of those guys just getting eliminated. She looks so cool tonight!

Haley is out. Erika is out, too. Jennifer shakes her head sadly. Whose Adele rendition was superior? The final spot goes to Elise and not Jen. All right, Elise! I'm just so happy it finally feels like a girls' season.

Deandre, Eben, Colton and Jermaine head to their destiny. The crowd went nuts for Eben, so I think we know one result! Ryan promised results ... after the break, and I knew he would do that because I am more anxious to hear what Jimmy has to say about Eben than the results.

Jimmy, it turns out, loves Jermaine. He wants a whole album of his voice and wants him around to add variety. Jimmy wants to coach Deandre, who has a lot of potential. Eben has potential, too, but Jimmy says he's not ready for prime time, and the song was too mature for him ("The way the rules work, he can't come back. They've got to change the rules," Jimmy declares). He thought Colton did too much too soon with all that jumping on the piano. It just isn't sensible! And get off my lawn.

After the vote, Deandre is not in the Top 10 (ouch). Colton is in the Top 10, after a lil' Ryan Seacrest fake-out. One stool remains. It will undoubtedly go to Eben. Why can't they duet? But, holy crap, Jermaine is in the Top 10! His mother will be thrilled! Eben is out.


Now, who will be the Wild Card picks? I am just thrilled to pieces right now. The addition of Jimmy Iovine's candid opinions made these entire two hours worth watching, in my opinion.

The judges will choose six people to perform again and then each can choose one finalist.

Jen Hirsh is the first pick. She's singing "Oh! Darling" by the Beatles. The Top 10 are enjoying it way more than the Couched 15. She totally killed it. This is a very worthy performance! I agree with Jimmy on the vocal pyrotechnics, though.

The judges like when these singers have to sing for their life. Classic Nigel Lythgoe, who loves making people sing and dance and juggle for their lives.

Jeremy Rosado gets another chance! I'm glad because he just seems so kind. He's singing "I Know You Won't" by Carrie Underwood. And, wow, he is just killing it! This is a much better demonstration of his ability than "Gravity" was. He made Jennifer leak tears all over her Revlon, and he felt it so much that he couldn't get the last note out. I loved it! I almost cried when I realized Jennifer feels human emotions.

Brielle Von Hugel gets another shot, and I feel confused about this. I wonder if her mom bullied them into choosing her. She made a speech before announcing her song, and I have a feeling this program will run long. I hope you set your DVRs to record extra! Sadly, Brielle is singing yet another Adele song -- "Someone Like You." You can't be Adele. No one can! But Brielle's mom loved it. Calm yourself, Mrs. Von Hugel!

The judges didn't think it was great, and I'm not sure this is the place for honesty. Can't they just know she wasn't good and then not let her through?

The next spot goes to Deandre Brackensick, who seems incredibly grateful for a second chance. Disappointingly, he is going to sing "Georgia on My Mind." That song needs to take a rest. I see what Jimmy means about Deandre just needing a coach. His voice is a little loose, but the potential is there. I would like to see Deandre in the Top 13, just because he will be fun for everyone to imitate. The performance was a little schizophrenic, though. I don't know.

Erika Van Pelt, of course, is next. She's perfect for the Wild Card. She has chosen "Edge of Glory" by Lady Gaga. Oh, my god. Her voice. How will the judges choose? She is so professional -- just spot-on. I am dying for her to go through so we can hear more. "She's singing like she's gotta have it!" Randy screams.

One spot remains, and I'm just not sure it will go to my pick, Aaron Marcellus. Is it raining everywhere or just in my heart?
The last person is (as the audience screams, "Reed!") Reed Grimm. He is going to scat the crap out of whatever kitschy song he picks. Oh, that poor remaining group. They all look so heartbroken -- especially Adam Brock and Creighton Fraker. Oh, I hate it. I don't want any of them to be sad or humiliated. Except maybe Brielle's mom, who probably got her butt up on stage with those kids ("I'm like everyone's mom! New York!")

Reed Grimm took his shirt off to sing "Use Me Up" by Bill Withers. Always with the theatrics. He began singing the song, but it quickly disintegrated into beedeebopbopadoodeec​hoos. Randy praises Reed for his uniqueness, which I bet Creighton Fraker was super annoyed to hear.


So who gets those three spots? I think it will be Erika and Jeremy, then either Jen or Deandre. Maybe both! There aren't any rules this season, I don't think.
Randy has chosen Erika Van Pelt to move through. Yes! We all support this: She is amazing. Jennifer's pick is Jeremy Rosado! I typed that before she even said it, because we just knew! Oh, my god. He is such a sweet guy. I love him. I will probably cry every time I see him now. He hugs all the judges, crying. What a sweetheart. But hurry up, there're only two minutes left!

The last spot goes to Steven's pick -- Deandre Brackensick. I feel bad for Jen Hirsh, who just kind of got overlooked in a group of really strong female voices -- but not that bad because, as John has pointed out, her family owns a vineyard. Ryan ushered Reed, Brielle and Jen off stage quickly, so he could introduce the 13 remaining contestants.

Next week, the guys will honor Stevie Wonder, and the girls will pay tribute to Whitney Houston (We all knew a Whitney week was coming!). Mary J. Blige will mentor them. I really hope someone sings "I Wanna Dance With Somebody"!

Any major upsets? I thought the audience would have put Reed through into the Top 10, but I'm pleased to see Jermaine there.
What do you think of Thursday night's results? Did the judges and America get it right?
"American Idol" airs Wednesdays and Thursdays at 8 p.m. ET/PT on FOX.